We all know this famous quote by Hippocrates
"Let food be thy medicine and medicine be thy food."
Using organic produce alongside a Herbal DETOX program is the ideal combination.
Nothing could be truer, and as a health practitioner, I know this is central to achieving results with any client. The secret is getting extra high quality healthy nutritious food and this can be tough in today's profit-driven supermarkets.
The reason the food growing industry commercially spray and fertilize foods is to make them grow bigger and to poison the insects and deter birds so they don't eat it, maximizing yield and profitability. In the process, we are poisoning our population and actually consuming hollow, artificially enhanced, nutrient devoid food.
Everyone is becoming more conscious of how food affects their health and awareness of the negative aspects of industrial farming is increasing.

Detoxification and Healing
If you want to allow your body its full potential to grow, heal and tap into life energy then going organic makes perfect sense. Using organic produce alongside a Herbal DETOX program is the ideal combination to get a quality natural internal body cleanse. By using herbs to enhance your body's natural detox processes and by eating organic produce alongside you can potentially double the nutrient levels in your body. This can encourage rapid healing and cleansing simultaneously.
We highly recommend going organic if you want the best health results from a detox or weight loss products like those in the Ultimate Herbal Health Program.
Learn more about the Ultimate Herbal DETOX program

Global Trend
Organic food is produced by farmers who focus on using reusable resources. Foods are grown on small, family-run farms, and in order to conserve the soil and water so as to ensure environmental quality for future generations. Organic food production emphasizes sustainability such as conservation of water and soil, environment concerns, reusable resources and eliminating the use of harmful pesticides and chemicals in food.
By 2015, data for organic production and consumption are recorded annually from more than 160 countries, and regulations are in force in more than 80 countries or regions. (5)
The global organic food market is expected to grow from US$ 57.5 billion in 2010 to US$ 104.7 billion in 2015. Europe has the largest market share with revenue of $28 billion. The Rest of the World which includes Latin America, Australasia, and others is expected to grow at the highest Annual Growth Rate of 16.5%.
The global organic food market is growing due to increasing concerns for improving overall health, rising consumer awareness about organic food benefits, increased organic farming in the world, an increasing number of retailers providing a variety of organic products and implementation of government regulations. (4)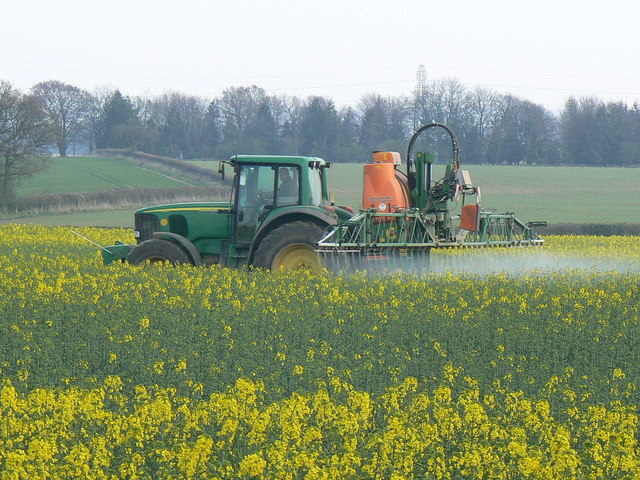 Full of poisons
Pesticides, due to their intensive use and their peculiar chemical features, can persist in the environment and enter the food chain, thus representing an environmental risk for the ecosystems and human health. (7)
Over 66% of commercially spayed produce have pesticides present when they sit on the supermarket shelves. Tests were performed on produce available on the American market and the results were staggering. Nearly two-thirds of the 3,015 produce samples tested by the U.S. Department of Agriculture in 2013 contained pesticide residues – a surprising finding in the face of soaring consumer demand for food without agricultural chemicals.
For example:
Apples: 98% of conventional apples had pesticides.
Celery: tested positive for 57 different pesticides.
Capsicum: up to 15 pesticides on a single sample.
Peaches: More than 60 pesticides have been found on peaches
Grapes: Grapes have more types of pesticides than any other produce, with 64 different pesticides.
Lettuce: 78 different pesticides were found on lettuce samples.
Cucumbers: 81 different pesticide residues were found on cucumbers.
Much Higher nutrient levels
In another study researchers were open to finding an outcome that might show a very slightly higher content in the organic produce than in the commercial production, which they thought would be due to the chemicals used to grow the commercial plants, the outcomes of the study shocked the researchers!
When they saw that the amount of iron found in the organic spinach was 97% higher than in the commercial non-organic spinach and that manganese was 99% higher in the organic over the commercial, they were truly amazed. In commercially grown vegetables, many trace elements were completely absent compared to the organic produce where they were abundant. (3)
See just two examples of this study below.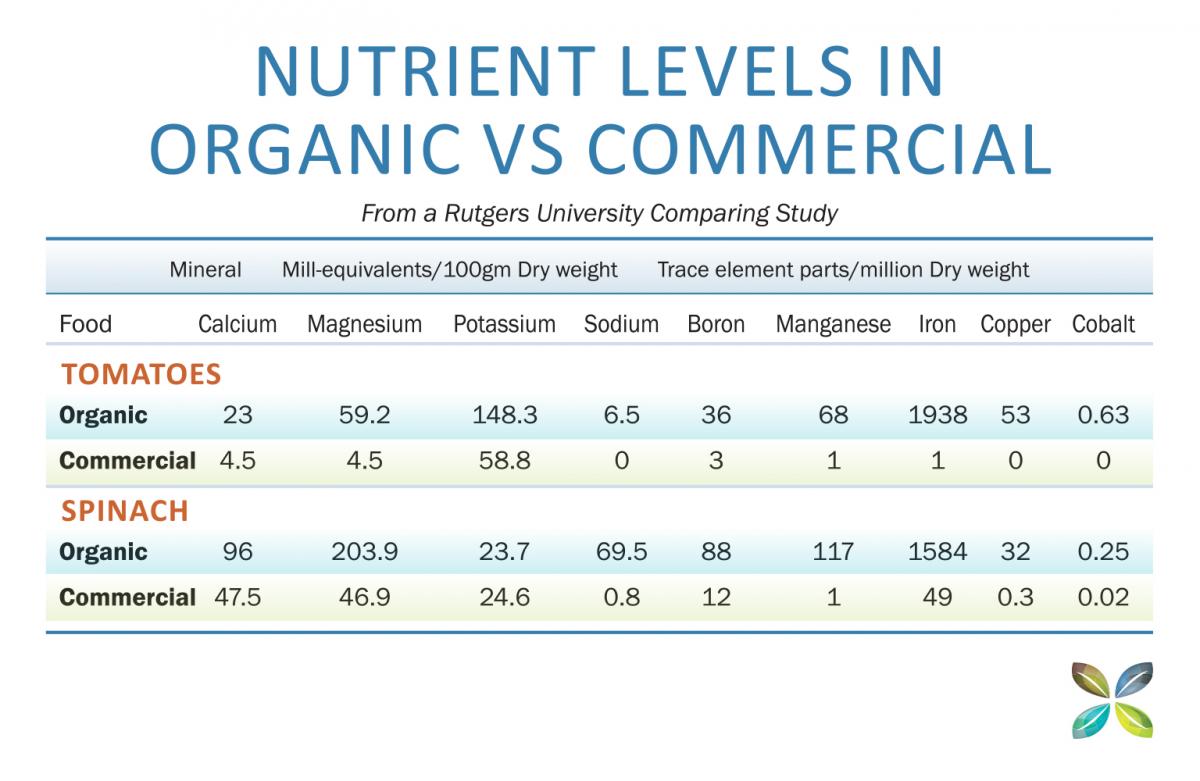 Here's a shocking outcome of this study – in all 5 of the tested vegetables: snap beans, cabbage, lettuce, tomatoes and spinach the organic vegetables, all contained healthy levels of cobalt, an essential trace mineral compared to the commercial vegetables which contain none. (3)
According to one study when considering the consumption pattern of organic consumers, an increase in intake of a selected set of nutrients and contaminants was observed. (6) People who eat organic are therefore better nourished in general. Not only do they tend to eat more vegetables and fruit, but this produce is of higher nutritional value.
On the flip side, the combination of ingesting pesticides and chemicals while eating mineral deficient food must certainly lead to an unhealthy state in the rest of the population over time.
Health benefits of eating organic
Another study compared Non-Organic Food Consumers with Organic Food Consumers and found those who ate organic had a lower risk of type II diabetes, hypertension, and Cardio Vascular Disease. This effect was significant for men. (1) Is it any wonder when you consider what all these chemicals must be doing once they enter our bodies.
Rachel at the Wild Earth, in Tauranga, says, "Only 50 years ago most children were raised on naturally grown food, eaten ripe, fresh and in season. Now even an apple may have up to 20 chemicals and can be transported from the other side of the world and be artificially ripened or fumigated. Is it still healthy food for your child's lunchbox?"
I would ask, is the apple even suitable for my fruit bowl?
Going organic where possible definitely seems the logical choice.
Many Blessings
Brett Elliott ®
Sign up to learn more about the Benefits of Cleansing & Detoxification on your Health
---
References:
(1) Health and dietary traits of organic food consumers: results from the
NutriNet-Santé study. http://www.ncbi.nlm.nih.gov/pubmed/26429066
(2) EWG's 2015 Shopper's Guide to Pesticides in Produce http://www.ewg.org/foodnews/summary.php
(3) Rutgers University Study: Organic vs. Non-Organically Grown Produce http://www.oceangrown.co.uk/documents/FirmanBear-variationsinmineralsinvegetables1948.pdf
(4) Organic Food Market – Global Industry Size, Share, Trends, Analysis And Forecasts 2012 – 2018 http://www.transparencymarketresearch.com/organic-food-market.html
(5) How the Organic Food System Supports Sustainable Diets and Translates These into Practice. http://www.ncbi.nlm.nih.gov/pubmed/26176912
(6) Consuming organic versus conventional vegetables: the effect on nutrient and contaminant intakes. http://www.ncbi.nlm.nih.gov/pubmed/20691244
(7) Trends and Perspectives in Immunosensors for Determination of Currently-Used Pesticides: The Case of Glyphosate, Organophosphates, and Neonicotinoids. https://www.ncbi.nlm.nih.gov/pubmed/30720729