Description
Get 2 x BodiTune DETOX 'n SLIM smoothie packs for only $199 (save $51)
A full 2 month supply, that's 64 sachets for only $2.95 each.
You've found it !!
If you're looking for a completely natural, herbal, vegan friendly, additive and sugar free, instant super-food protein smoothie, then look no further.
BodiTune is exactly that.
It combines 40 natural herbal ingredients designed to detox your body, boost your metabolism and curb addictive food cravings, along with massive online support material and live chat.
On this page, we will outline the ingredients and show you how the program works.
Maybe it's time to turn over a new leaf, make a positive change, or just generally feel great again?
Either way, you've found it.
Click Here to Download the Ultimate Herbal BodiTune User Guide NOW
The Benefits of choosing a Herbal BodiTune?
You may be looking for a nice easy program to get you started or you may have already completed one of our Ultimate Herbal DETOX or SLIM programs and thinking "what do I do after that?" Simply mix the contents of one sachet into water, juice, milk or your favorite smoothie recipe once or twice daily. It's that easy!
Not only does BodiTune detox smoothie combine all of the 40 ultimate detox and weight management herbs, but it also provides 7.5gm of protein, equivalent of 2 eggs per serving. Now you can boost your protein intake and maintain your ideal detox and slim program continuously, in between the annual intensive programs.
The Ultimate BodiTune DETOX 'n SLIM herbal protein drink keeps you on track, all for less than the cost of a daily take-out coffee.
Gain all these benefits:
100% vegetable based
Suitable for vegans
40 Ultimate vegetables, fruits and herbal ingredients
Can be mixed with water, juice or as a smoothie
Tear-top sachet, fits in your pocket or bag
Rice and pea proteins
Superfoods and enzymes
Metabolic support
Weight maintenance
Inner body cleansing
Digestive support
Increased energy
Liver cleanse
Balanced blood sugar (suitable for diabetics)
Better bowel function
Reduce bloating
Help manage food cravings
Fruit and herb flavored, great for mixing into smoothies
Time tested formula
No artificial colors or flavors
No artificial sweeteners
No added sugar
Antioxidant
Low GI
Over 100,000 satisfied customers have used Brett Elliott's Ultimate Herbal DETOX and SLIM programs, so you can be certain that this formulation will help you feel alive, energized and nutritionally supported.
What your BodiTune program includes:
32 sachets of BodiTune DETOX 'n SLIM protein drink, each containing 15 grams of herbal protein mix. (see ingredients below)
Recipe leaflet with drink recipe ideas.
Other lifestyle tips, plus food do's and don'ts.
Free membership to Brett's newsletter which includes special offers, video recipes
Live Chat online support.
Ingredients and research links:
Pea protein
Rice Protein
Pineapple extract (Bromelain)
Orange peel
Kiwifruit
Banana
Bilberry
Acacia gum
Guar gum
Spirulina
Kelp
Wild Yam root
Black pepper
Guarana seed
Bitter orange
Beetroot
Alfalfa leaf
Kidney Bean
​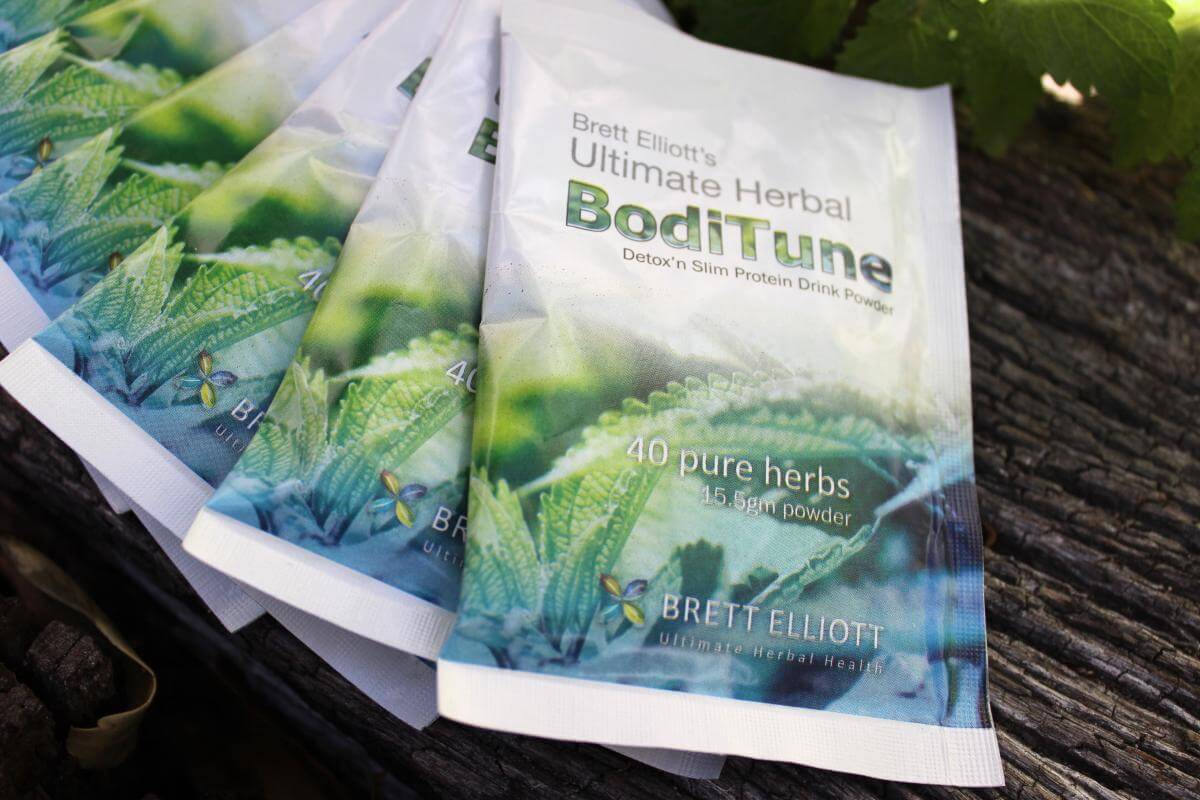 The pack contains 32 individual 15gm sachets giving a total weight of 500gm (1 month supply on maintenance plan)
BodiTune DETOX 'n SLIM drink contains 40 herbs from both the Ultimate Herbal DETOX and Ultimate Herbal SLIM programs combined into one convenient and delicious drink sachet. The sachet can instantly be made up with juice, water or into smoothies.
Each sachet contains the ingredients from 8 capsules of pure herbs – this is equivalent to one capsule from every bottle in the Ultimate Herbal DETOX and Ultimate Herbal SLIM programs.
One month's supply comes in an attractive recyclable plastic carry box which looks great on your kitchen counter.
Watch Brett make a Super-food Antioxidant smoothie using BodiTune Detox 'n Slim in this video
Easy to use:
You can quickly tear the sachet and add to water any time of the day. Simply stir for a few seconds, during work or play, for a quick pick-me-up.
Add to your morning smoothie along with any fruits, juices or yogurt to make a delicious high-protein breakfast drink.
Add a sachet to your drink bottle with juice (e.g. orange, apple or pineapple) to keep you going on a long trip or sustain you at the gym.
BodiTune Detox 'n SLIM is the ultimate energy lift while still giving long-term benefits that you will experience for years to come. The longer it is used the better the results.


Ways to use BodiTune DETOX 'n SLIM Herbal Smoothie drinks
As a detox snack
BodiTune DETOX 'n SLIM protein drink/detox smoothie is an extra healthy snack to replace other less healthy snacks such as muffins, cakes, canned drinks, chocolate bars and even sandwiches. By using BodiTune as a snack you will curb cravings, improve your stamina and energy levels, plus boost the general health of your body.
After Brett's Ultimate Herbal DETOX or Ultimate Herbal SLIM
Once you have completed one of Brett's Ultimate Herbal DETOX or SLIM programs this BodiTune drink is the ideal follow-up plan. It will keep the benefits of all the herbs working in your body and keep you on track with good food and lifestyle habits to help you gain the full long-term benefits of your program.
As an entire DETOX and SLIM program by itself
By consuming up to 4 sachets daily you can use the BodiTune drink as a complete detox and weight management program. Simply follow the recommended eating program and other basic guidelines. This is a short-term plan.
As a long-term maintenance program
If you are already at your ideal weight and just want to maintain your health and metabolic rate, then use one or two sachets daily. This will give you that little extra boost you need to stay on the path to good health for the long term.
However you decide to use BodiTune, the benefits will continue to roll in year after year. Nothing beats the power of herbs for both the short term and long-term benefits.
If you not quite sure which program is perfect for you to reach your goals then try YOUR ULTIMATE HEALTH PROGRAM CALCULATOR
Nutritional Information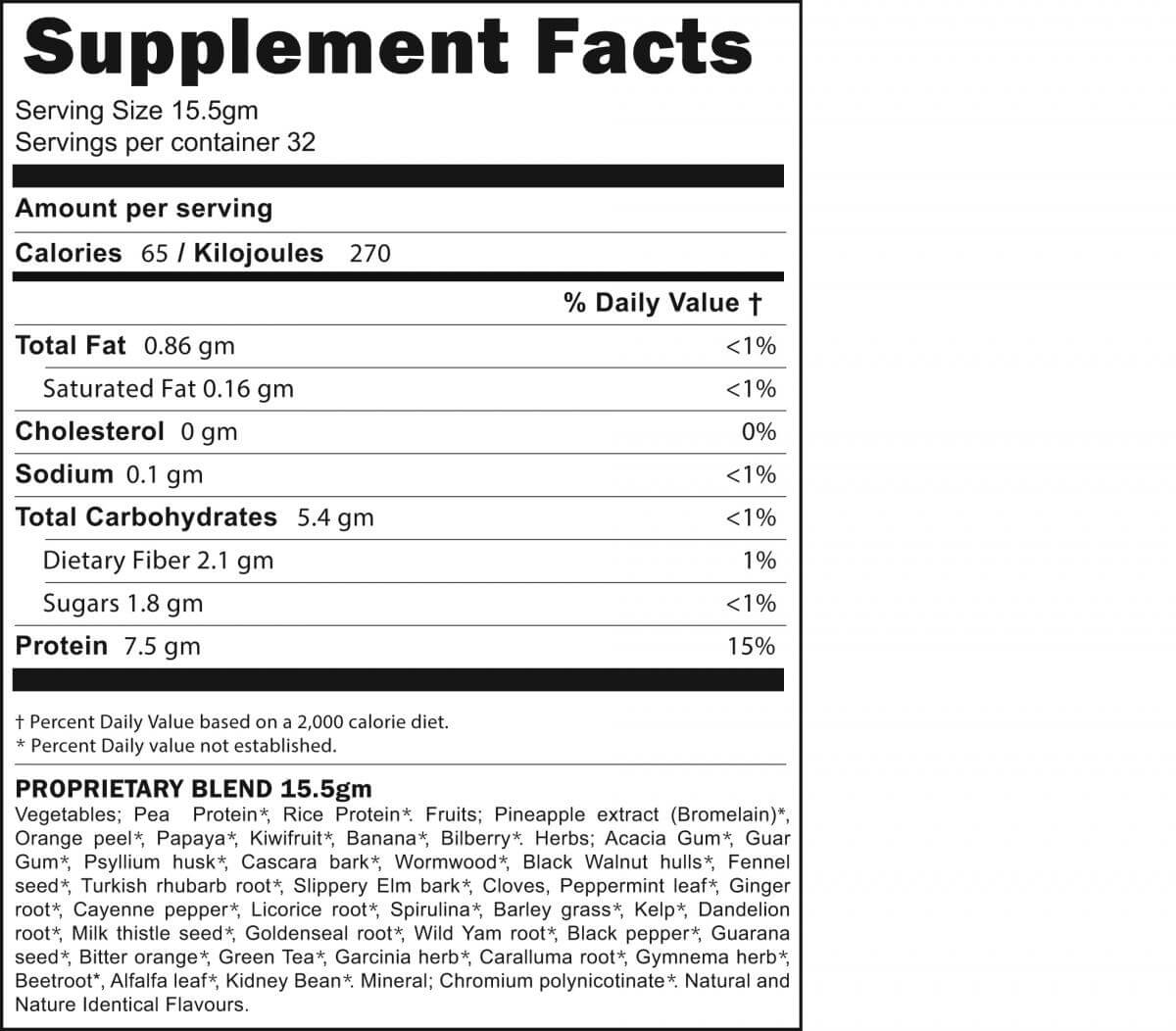 Disclaimer – Results will vary in time frame and intensity from person to person. All testimonials and reviews 
are authentic and submitted from actual Ultimate Herbal Health customers.