Description
Pay only NZ$415 for up to 6 months supply (save $182) 
FREE DELIVERY ANYWHERE IN THE WORLD
Here it is!!
Possibly the most holistic Herbal SLIM program in the world. This 4 part herbal program boosts metabolism, curbs addictive cravings, provides super-foods, and gently stimulates and cleanses the colon.
Thousands of people have already used Brett Elliott's Ultimate Herbal SLIM to reach their ideal weight management goals, improve their health and transform their lives without leaving the comfort of their own home.
Brett Elliott's Ultimate Herbal SLIM comes with four 100% pure herbal products manufactured in New Zealand. The herbs are carefully selected for their specific benefits and combined to give you the kickstart and balance you need.
You also receive the beautifully illustrated User Guide and Recipe Booklet which guides you step by step through the Herbal SLIM program.
The herbs and the user guide come in a stylish carry box for your convenience.
Are you ready to take control of your weight?
Click Here to Download the Ultimate Herbal Slim User Guide NOW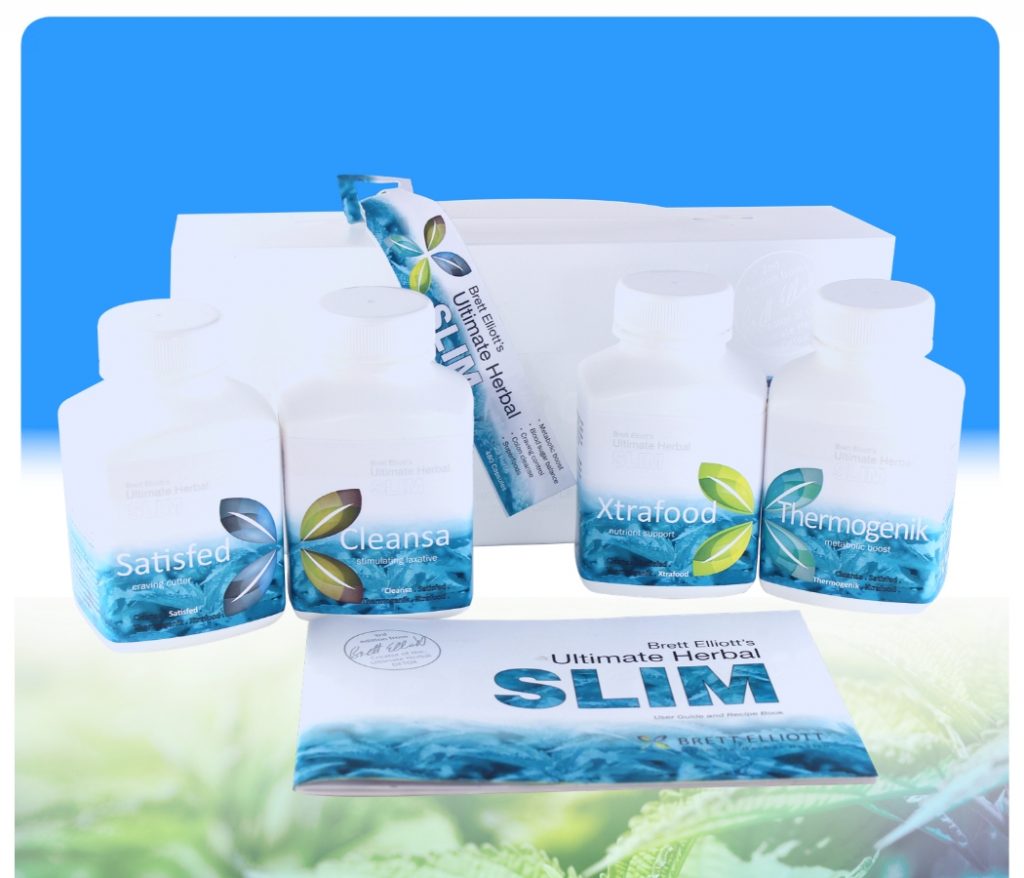 The Benefits of Choosing a Herbal SLIM?
100% Natural
No Side effects
Pure Herbs
Weight management requires regulating a combination of these key areas for long-term results including:
Metabolic rate; by boosting your metabolism you get more energy, allowing your body to burn fat
Blood sugar; regulating blood glucose gives a steady level of fuel to the cells and controlling cravings
Nutrient supply; keeping the body nourished and not deficient.
Digestive function; encouraging optimal, comfortable and regular intestinal movement.
A whole-food diet; providing optimal nutrient supply and optimal digestion.
By using herbs you can safely achieve all of the above without side effects and without developing dependency.
No Chemicals
Nothing artificial
No Caffeine
What results can you expect?
We can't make any claims about weight loss, but you can see testimonies from people who have completed our program below. For best results, we do recommend completing the Ultimate Herbal DETOX first. This clears the digestive system and liver so the Herbal SLIM can work even better. Some things you can experience include.
Increased energy due to the thermogenic herbs
Decreased appetite due to craving controlling herbs
Improved bowel function due to colon stimulating herbs
Balanced blood sugar due to pancreas supporting herbs
See details on the herbs below with links to research
What do I Get in the Herbal SLIM?
See a full breakdown of the four products and links to their herbal ingredients below.
The products in the Ultimate Herbal Slim program are natural, herbal and safe and are designed to cover these key areas.
In combination with the recommended dietary advice, the Ultimate Herbal Slim program should bring you back to your ideal weight. If this is not entirely achieved, then at least you will have made a major step in the right direction.
The program can, however, be repeated until you have reached your target.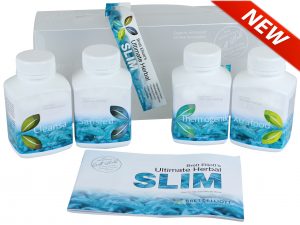 If you're not quite sure which program is perfect for you to reach your goals then try YOUR ULTIMATE HEALTH PROGRAM CALCULATOR
See how this lady lost 20kg in only 10 weeks
What others are saying…
For some time I had been unhappy with my weight and finally, I made the decision to lose at least 5 kg. The Herbal Slim Kit fitted my lifestyle, not a serious or fad diet but a healthy eating plan.
– Lesley
I feel fantastic, energized, happy with myself, and pleased to feel back in charge of my health. I aim to lose more weight to attain my goal of approx 62 Kilos
Linda – Australia
Disclaimer – Results will vary in time frame and intensity from person to person. All testimonials and reviews are authentic and submitted from actual Ultimate Herbal Health customers.
See some of Brett's articles about weight management here:
Metabolic Syndrome and Pre-diabetes
The Super Vegetarian Diet
Fast and Fabulous – Fasting for Health
Herbs to Balance your Metabolism
The Best Way to Manage Your Weight