Description
BodiTune Protein Drink 32 Sachets + BodiTune 120 capsules
This one-month multi-pack contains a one month supply of BodiTune Detox 'n Slim protein drink in a convenient 32 sachet pack along with 120 BodiTune capsules.
This program for one month is designed to balance your metabolism, detox your body, curb your cravings and help you lose weight if needed. It's the ideal dosage of herbs and protein to get the ball rolling and keep it rolling.
Unique protein drink
This wonderful, natural protein, vegetable and herb drink will help take away cravings; support your energy and blood sugar balance; maintain your weight long term; support your metabolic rate; improve natural digestive function and nourish and strengthen your body. It has a low GI, is suitable for vegans and is free from harmful chemical additives.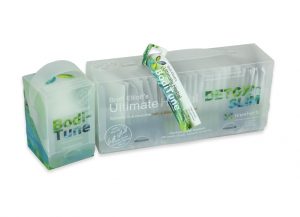 Extra benefits:
● Reduce cravings
● Balance blood sugar
● Maintain your ideal weight long-term
● Support your liver
● Support metabolic rate
● Improve energy
● Improve digestion
● Great for smoothies
● Concentrated nutrients
● Rice and pea protein
● Vegan-friendly
● Low Glycaemic Index
● No capsules or tablets
● Allows you to eat real food
● More cost-effective than protein powders or meal replacements
Even more Benefits:
● Colon health
● Liver detox
● Smooth digestion
● Energy
● Superfoods and enzymes
●100% pure herbs
● Heart health
● Antioxidant, anti-aging
● Real, live food diet recommended
● Convenient 1kg bulk powder pot with 15gm scoop
FREE FROM: synthetic vitamins, hydrogenated fats, artificial sweeteners, artificial flavors, colors, lactose. No added fructose, glucose or other refined, simple sugars.
Superior benefits of pea protein:
High in the necessary branched-chain amino acids: isoleucine, valine, arginine, and lysine.
Allergen-free
Highly digestible
Better regulation of appetite than some other forms of protein
Helps restore muscle fibers and nitrogen levels after intense workouts
Maintains blood fats, cholesterol, and sugars
Safe protein for the kidneys
Environmentally friendly
Enough said about this product by us, visit the product reviews page to see what people are saying after trying it for themselves.
Disclaimer – Results will vary in time frame and intensity from person to person. All testimonials and reviews are authentic and submitted from actual Ultimate Herbal Health customers.