Description
Available in New Zealand and Australia Only
Twice as Good as a Nutribullet and 1/2 the price of a Vitamix!
Never waste pulp again!
If you're looking for one of the best ways to support your healthy lifestyle the LadyShip Organic Essence Extractor is it. A perfect companion to the DETOX 'n SLIM Protein smoothie and the perfect companion to getting the very best from fresh fruit and vegetables.
I use mine every day and it is so good I decided to offer it to my clients.  It is a blender, juicer and soup maker all in one. With an extremely solid build and 16,000RPM high speed, makes the smoothest drink in seconds.
This blender will turn carrots, almonds, whole oranges with skin on and almost any fruit, nut or seed into 100% smooth drinkable liquid in only seconds. You will see I use it in all the recent smoothie videos.
The Ladyship Organic essence extractor equals and surpasses other machines that cost thousands.
If you really want to know everything about this machine then watch the full demo sessions in my kitchen here
One of the greatest things about this machine is the huge 2-liter jug and how easy it is to clean. Its all in one piece so no pulling it apart, simply rinse with water and you're cleaned in seconds. It also has a tap at the side for easy pouring. The flexible jug will never go hard, crack or splinter and is so light and easy to handle. It's really a pleasure to use.
It's Features Include:
Auto Smart Programming
60-second auto pulse function
60-second auto high-speed function
Manual Pulse function
Jar lid safety lock and safety switch
User-friendly jar tap
Full flow jar tap spout
Electric overload reset switch
6 point high-speed serrated blade
2-liter capacity jar
See the full specifications sheet here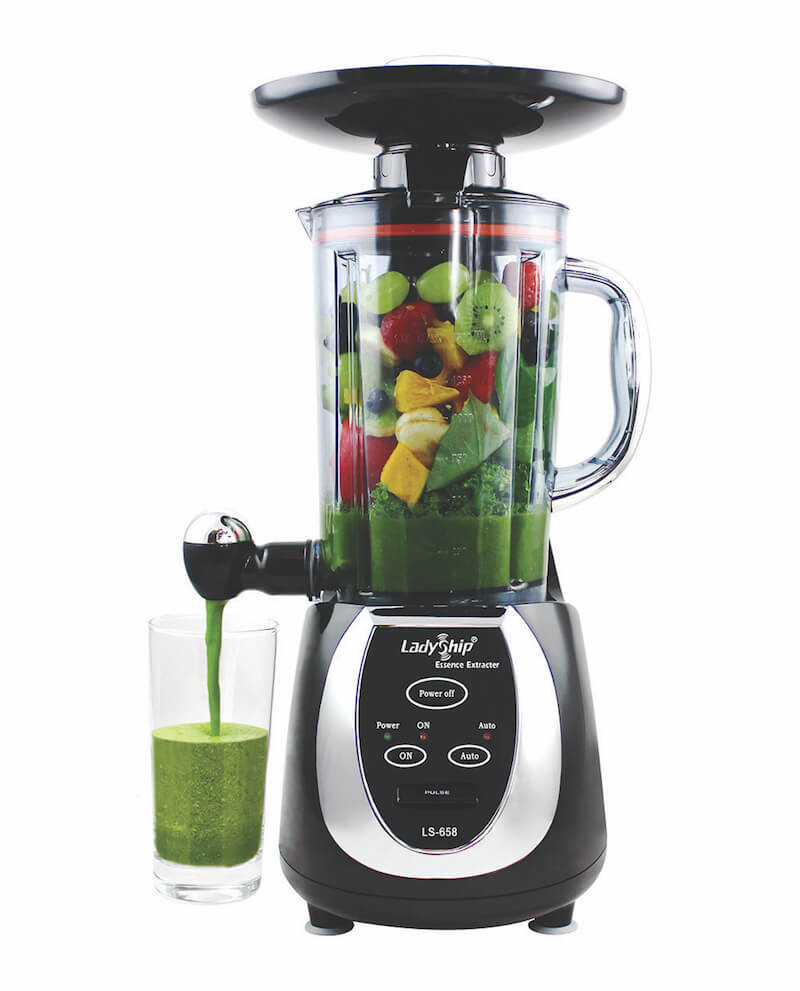 Accessories:
Easy to use jar food funnel/collector
No 1 fine filter Patented pulp extraction filter
No 3 coarse filter Patented pulp extraction filter
LadyShip "Natural Organic" Recipe Book
BPA Free Jar (Tritan™)
Specification:
Power Source: 220 – 240V ~ 50/60HZ
Power Rated: 600 Watts
Revolutions: 16,000 Rpm
Bare Weight: 3.0 kg Bare
Unit Size: 270(L) x 250(W) x 480(H)mm CE / CB
International Approvals Australian Approval: A/12765EA Included