Description
Liver protection and support
Look after your Liver! It's the hub of your metabolism performing over 250 different functions and processing almost every substance that enters your stomach. In today's man-made chemical-rich world our livers are under more load than ever before.
Herbs have a long history of supporting liver function, protecting the liver, and assisting with detoxification.
Livafood is a nutrient-rich formulation that supports liver function and provides a broad range of naturally occurring nutrients including superoxide dismutase which supports phase 2 liver detoxification plus 700mg of Milk Thistle herb per capsule.
The addition of Cilantro and Chlorella promotes the process of a heavy metal detox, helping to remove lead and mercury.
The perfect companion for an inner body cleansing and liver detoxification program. Give your liver the love and support it needs with this natural formulation designed by Medical Herbalist, Brett Elliott.
Disclaimer – Results will vary in time frame and intensity from person to person. All testimonials and reviews are authentic and submitted from actual Ultimate Herbal Health customers.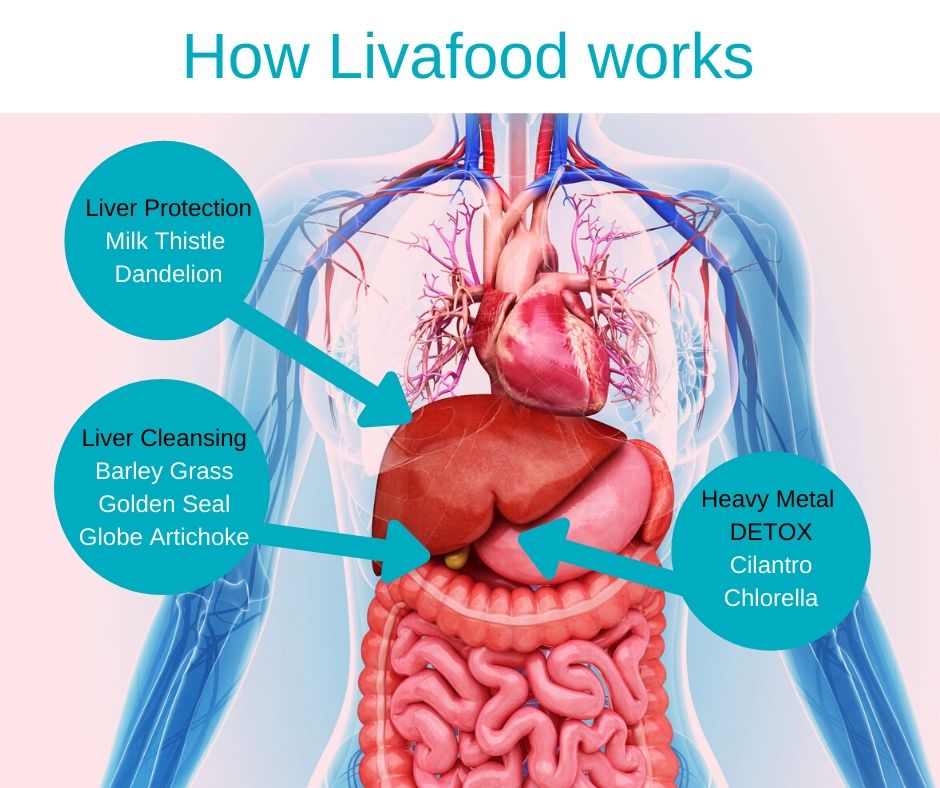 How to take LivaFood
Take 2-4 Capsules Daily Before Food
Please Note – Capsules are Gelatin

LivaFood can be used as a stand-alone Liver tonic for long-term use and is an ideal maintenance product for your Liver after completing the Ultimate Herbal DETOX program.
As part of the 4-part Ultimate Herbal Detox, you can take up to 10 capsules daily. For more details see the Ultimate Herbal Detox program here.
LivaFood is recommended along with regular exercise and a healthy diet.