Description
Liver protection and support
Look after your Liver! It's the hub of your metabolism performing over 250 different functions and processing almost every substance that enters your stomach. In today's man-made chemical-rich world our livers are under more load than ever before.
Herbs have a long history of supporting liver function, protecting the liver, and assisting with detoxification.
Livafood is a nutrient-rich formulation that supports liver function and provides a broad range of naturally occurring nutrients including superoxide dismutase which supports phase 2 liver detoxification plus 700mg of Milk Thistle herb per capsule.
The addition of Cilantro and Chlorella promotes the process of a heavy metal detox, helping to remove lead and mercury.
The perfect companion for an inner body cleansing and liver detoxification program. Give your liver the love and support it needs with this natural formulation designed by Medical Herbalist, Brett Elliott.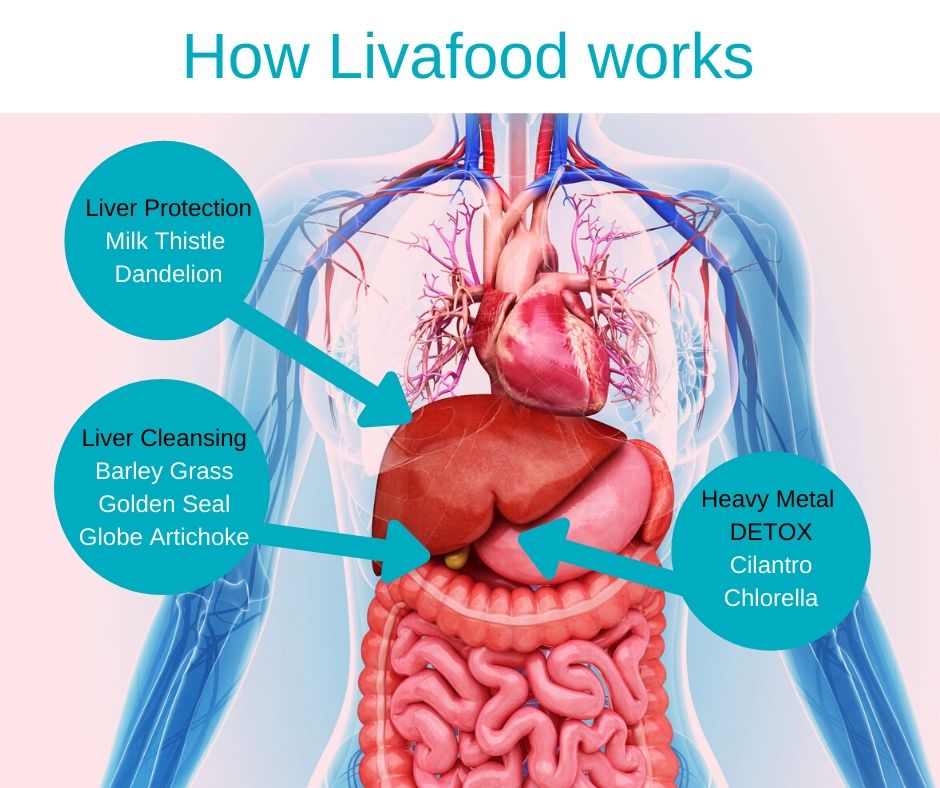 Ingredients
Livafood (120 capsules)
Proprietary Blend
Click on the individual ingredient names for detailed information on how each herb works, or see a brief description below.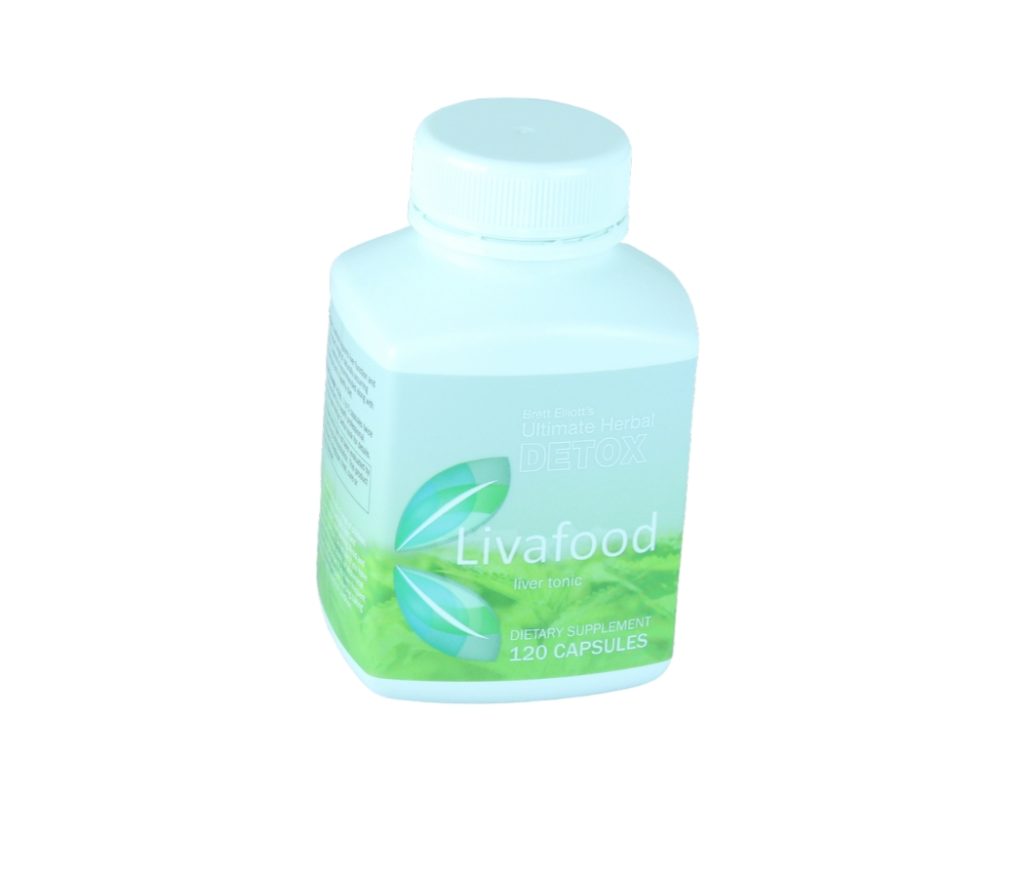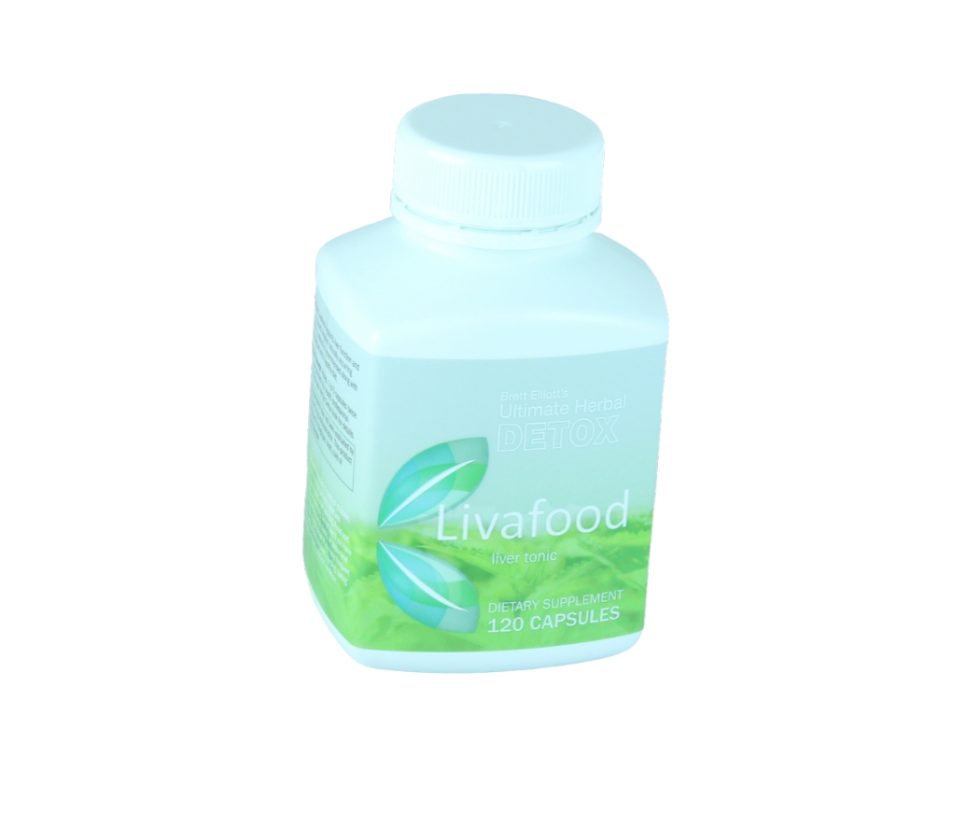 Please Note – Capsules are Gelatin
Disclaimer – Results will vary in time frame and intensity from person to person. All testimonials and reviews are authentic and submitted from actual Ultimate Herbal Health customers.
Ingredients in detail
Barley grass (Hordeum vulgare) The beneficial effects observed in chronic disease may be related to bioactive compounds contained in Barley Grass such as superoxide dismutase (SOD). SOD plays an important role in protecting against environmental adversity, as it can remove the free radicals caused by environmental adversity and improve stress tolerance.
Globe Artichoke (Cynara scolymos) root. The pharmacological and therapeutic effects of the artichoke on the Liver had already been well known in the 17th century. Modern studies started in the last century confirmed the stimulating properties of artichoke extracts on the liver and gallbladder.
Dandelion (Taraxacum officinale) root. Results of one study suggest that the extract of Dandelion root has a protective action against alcohol-induced toxicity in the liver by elevating antioxidant potentials. Dandelion can also increase bile secretion from the gallbladder by up to 40%.
Cilantro (Coriandrum sativum). This herb is used for its ability to remove heavy metals from the body. Researchers found Cilantro (Chinese parsley) accelerates the excretion of Mercury (Hg), Lead (Pb), from the body through the urine.
Chlorella (Chlorella Vulgaris) Biosorption has always been reported as a promising method to treat various kinds of pollutants. Microalgae is one of the most important biosorbents and Chlorella can absorb a high concentration of lead. During the removal of Amalgam (mercury) fillings chlorella can be placed under the teeth. This helps to intercept particles and to chelate dissolved metals that seep under the dam.
Golden Seal (Hydrastis Canadensis) root. Known as the healer and sealer of the gut, Goldenseal is a powerful bitter herb and can be used as a bitter liver stimulant. Multiple bacteria and fungi, along with selected protozoa are susceptible to berberine, an active component in Golden Seal. These include Helicobacter pylori, Streptococcus, Staphylococcus aureus among others.
Milk thistle (Silybum marianum) seed. Milk Thistle is totally unique in its powerful effect of liver protection. It also acts by stimulating liver cell regeneration and cell membrane stabilization. It has absolutely no competition in the pharmaceutical world. In fact, in cases of poisoning with Amanita mushrooms (which can destroy the liver), milk thistle is the only treatment option. The list of toxins that Milk Thistle can protect the liver from is far too long to list here. An important herb when detoxing.
Instructions
Take 2-4 Daily Before Food
LivaFood can be used as a stand-alone Liver tonic for long-term use and is an ideal maintenance product for your Liver after completing the Ultimate Herbal DETOX program.
As part of the 4-part Ultimate Herbal Detox, you can take up to 10 capsules daily. For more details see the Ultimate Herbal Detox program here.
LivaFood is recommended along with regular exercise and a healthy diet.