Unique protein drink
This wonderful natural protein, vegetable, and herb drink will help with food cravings; support your energy; help manage your weight long term; support healthy metabolism; natural digestive function and nourish and strengthen your body. It has a low GI, is suitable for vegans plus it's free from harmful chemical additives.
†
† This statement has not been evaluated by the Food and Drug Administration.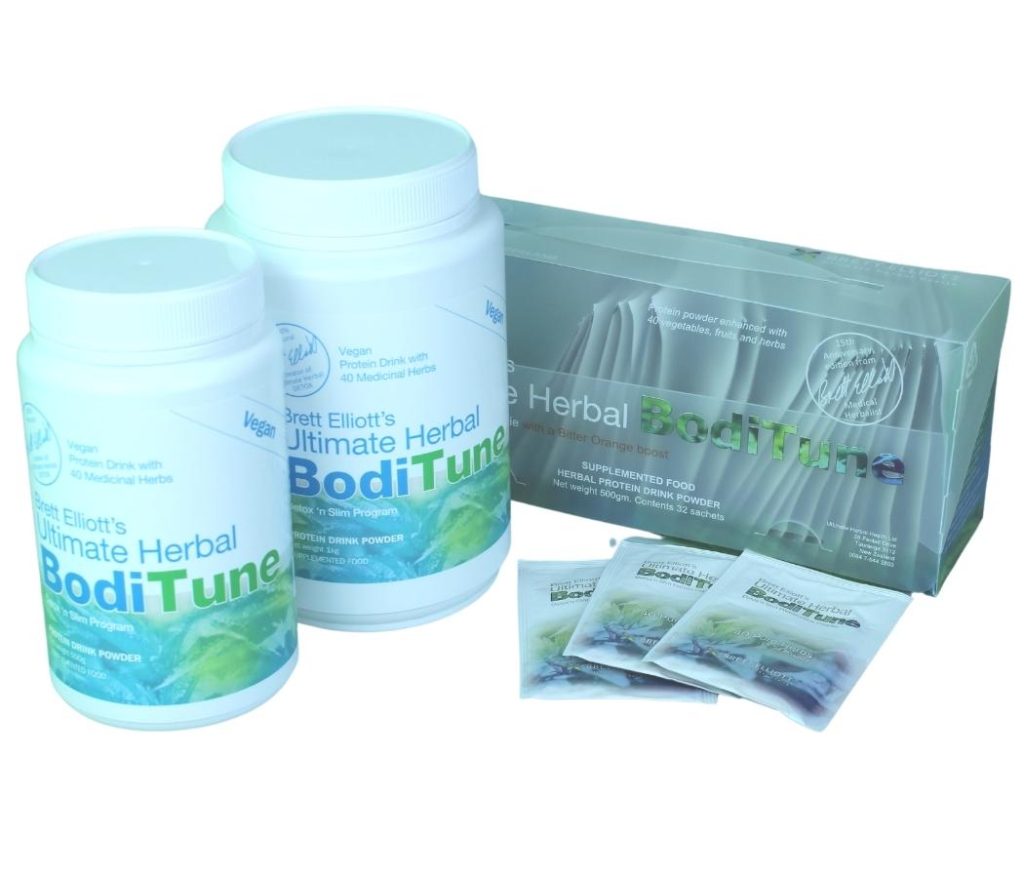 BodiTune comes in these three sizes.
32 x 15.5g Sachets
500g Bulk Pot (33 x 15g scoops)
1kg Bulk Pot  (66 x 15g scoops)
How to take BodiTune  You can have the BodiTune Detox 'n Slim drink daily for long-term health maintenance. It can be stirred into water, but it's extra tasty when mixed into milk (eg dairy, coconut, soya, almond, or rice milk), diluted juice, or as part of a smoothie with your favorite fruits and yogurt. Click here to search for some great smoothies made with the DETOX n SLIM protein drink.
When?
Whenever you like! As a snack, as a meal, or as part of a meal. For most people, a BodiTune Detox 'n Slim protein drink is best taken earlier in the day because it is so energizing and will help to see you through the day.
Choosing a plan
There are no hard and fast rules, and you can chart your own destiny! There are three plans to choose from, but you can make your own plan by moving from one to another as you progress. You can start on the rapid plan, then go steady, and finally move to the maintenance plan. Set your goals, and hit the blender!
You can download the free BodiTune DETOX n SLIM User sheet from inside the pack by requesting it here
. Remember to be realistic and not expect too much too fast. Herbal medicine has been used around the globe for thousands of years and it has a reputation for long-term results. Choosing your plan can be as easy as starting on the rapid plan for one month, moving to the steady plan for two or three more months, and then settling into the maintenance plan thereafter. Remember, if you have not completed one of our 
Ultimate Herbal DETOX
or
Ultimate Herbal SLIM
programs already then we highly recommend checking
 t
o see if one of these might be worth completing alongside your drink. They are the perfect kickstart.
Plan One: Rapid Plan: 4 sachets daily This is the ultimate detox and weight management plan "all in one". By taking 4 sachets daily, you will give your body all it needs to cleanse the colon, liver, and other organs of build-up and toxins. You will also be giving your metabolism a huge boost and get blood sugar and cravings balanced.
Set your goals, focus on the eating tips in the recipe section on this website, to help you get there fast. If you want to lose weight fast or if you prefer to use the drink powder instead of the herbal capsules then this is the plan for you.
Once you reach your goal or find your body is following a regular pattern of weight management then you can drop back to the steady plan.
Plan Two: Steady Plan: 2 sachets daily 2 sachets daily will give you nice steady energy and provide a gradual balancing effect. Depending on your body size and type you could lose weight steadily on this plan.
The steady plan helps avoid any rebound effect and gives your body the time it needs to find metabolic balance, while you practice the good eating and lifestyle habits recommended. This is my favorite plan to use alongside the
Ultimate Herbal DETOX
or
Ultimate Herbal SLIM
programs. If you take the capsules plus have two BodiTune DETOX 'n SLIM sachets daily, your energy will increase while your appetite will be reduced naturally. Steady is good.
Plan Three: Maintenance Plan: 1 sachet daily Use the BodiTune DETOX 'n SLIM maintenance plan in between your annual 14-day DETOX or two-month SLIM program for maintaining health, energy, digestion, and ideal weight.
A car needs regular maintenance because it gets used every day, it combusts fuel and it has many moving parts. Why should our bodies be any different? We shop for food but sometimes we go for convenience. The herbal ingredients in BodiTune DETOX 'n SLIM sachets provide us with the missing bits. The ultimate activating factors to our metabolism are found in 1-2 BodiTune DETOX 'n SLIM sachets daily.
This is just enough to hold you at your ideal weight and metabolic rate if you have nearly achieved it. You could still lose that last stubborn bit of weight if you stay on this plan for a couple of months but for long-term continuous use, this plan is also ideal.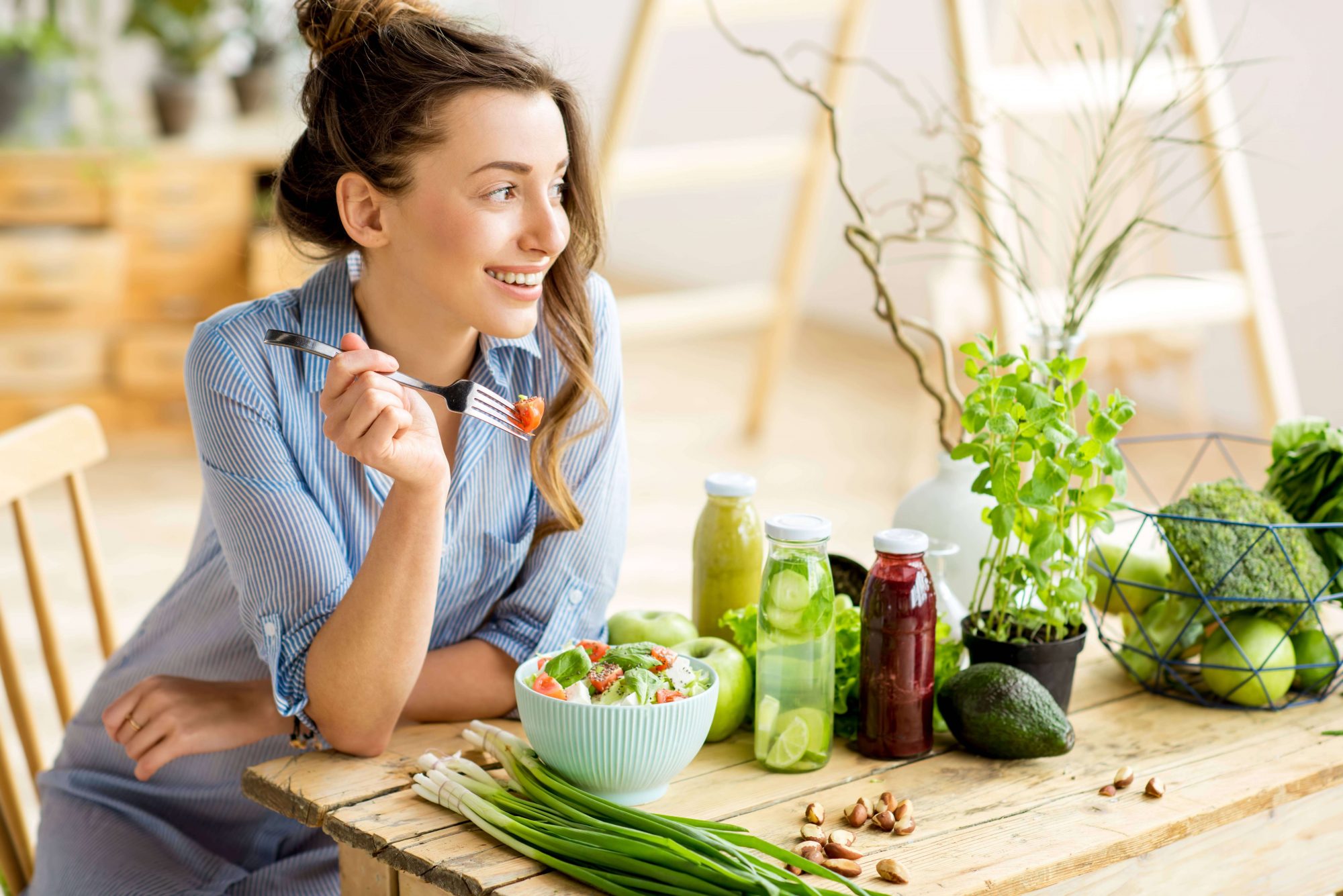 What can I eat?
You can any food as long as it is unprocessed. See some suggested foods below which are perfect for this program.
See all the recipes options here
Almond or rice milk
Apple juice
Apples/oranges
Apricots
Asparagus
Avocado
Baked beans
Bananas
Beetroot (fresh or canned)
Blueberries
Broccoli
Brown rice
Cabbage (red or white)
Capsicum
Carrots
Cauliflower
Celery
Cheese
Cherries
Chickpeas (garbanzos), dahl & lentils
Chicken
Cider vinegar
Cinnamon & spices
Corn on the cob
Courgettes
Cucumber
Dates
Free-range Eggs
Flaxseeds
Figs
Fresh herbs (a variety)
Fresh fish
Fruits
Garlic
Grapefruit
Herbal teas
Herbs & spices
Honey
Hummus
Kiwifruit
Kumara (sweet potato)
Lecithin
Lemons or lemon juice
Leeks
Lettuce
Mango & passionfruit
Millet
Mung beans for sprouting
Mushrooms
Raw nuts (mixed)
Olives
Olive oil
Onions
Oranges
Organic, farm, or un-homogenized whole
milk
Passionfruit
Peaches
Pineapple
Potatoes
Prunes
Pumpkin
Quinoa
Raisins
Raspberries
Rolled oats
Sunflower & pumpkin seeds
Silverbeet
Spinach
Spring onions
Sprouts
Squeezed orange juice
Strawberries
Tamarillo
Canned tuna & salmon
Tomatoes (fresh & canned)
Tomato juice
Unsweetened yoghurt
Vegemite or marmite
Disclaimer – Results will vary in time frame and intensity from person to person. All 
testimonials and reviews
are authentic and submitted from actual Ultimate Herbal Health customers.