You have been asking for this, to make life easier during your detox program. Now's your chance to get the 'ALL NEW' Ultimate Herbal Detox in a Vegan protein drink! A simple, effective, and delicious herbal detox drink with an extra easy program guide. Simply make the smoothies and eat clean for your best cleanse ever.
If you've tried the Ultimate Herbal Detox before then you will know how effective it is. Not only do you get the amazing experience of an inner-body-cleanse and metabolic reboot, but also the bonus of gut health, enzymes, prebiotic fibre, and liver support. † BodiClenz contains Pea protein plus 28 key Detox herbs including anti-parasitics, heavy metal chelators, and gentle stimulant laxatives. † This statement has not been evaluated by the Food and Drug Administration.
Ingredients
BodiClenz contains all of the active herbal ingredients from the Ultimate Herbal Detox capsule program, which Brett has been providing for over 20 years. This time-tested and proven formula has been mixed into a protein and natural fruit powder blend enabling you to easily drink the herbs, instead of taking the normal 40 capsules daily. (click ingredient names to learn more)
Protein Drink Base
Pea Protein Isolate (2.5g), Banana Powder, 
Bitter orange
(Citrus aurantium) peel, Acacia Gum, Guar Gum
Colonaid Herbs
– To help stimulate the bowels and support a healthy gut microbiome
Wormwood
 (Artemisia absinthium) bark
Cascara
 (Rhamnus purshiana) bark
Turkish rhubarb
 (Rheum palmatum) root
Black Walnut
 (Juglans nigra) green hulls
Cloves
(Syzigium aromaticum) bud
Digezaid Herbs –
To encourage healthy comfortable digestion during your cleanse
Papaya
 (Carica papaya) extract (Papain)
Pineapple
 (ananas comosus) extract (Bromelain)
Kiwifruit
 (Actinidia chinensis) whole fruit
Peppermint
 (Mentha piperita) leaf
Fennel
 (Foeniculum vulgare) seed
Licorice
 (Glycyrrhiza glabra) root
Ginger
 (Zingiber officinale) rhizome
Cayenne
 (Capsicum annuum) fruit
LivaFood Herbs – 
To support and protect the liver during your detox process
Milk thistle
 (Silybum marianum) seed
Globe Artichoke
 (Cynara scolymos) root
Dandelion
 (Taraxacum officinale) root
Barley grass
 (Hordeum vulgare)
Cilantro
(Coriandrum sativum)
Chlorella
 (Chlorella vulgaris)
Golden Seal
 (Hydrastis canadensis) root
Symlax Herbs –
Providing bulking fibre and natural prebiotics for bowel health
Psyllium
 (Plantago ovata) seed husk
Slippery Elm
 (Ulmus rubra) bark
Chia
 (Salvia Hispanica) seed
Aloe Vera
 (Aloe Barbadensis) Leaf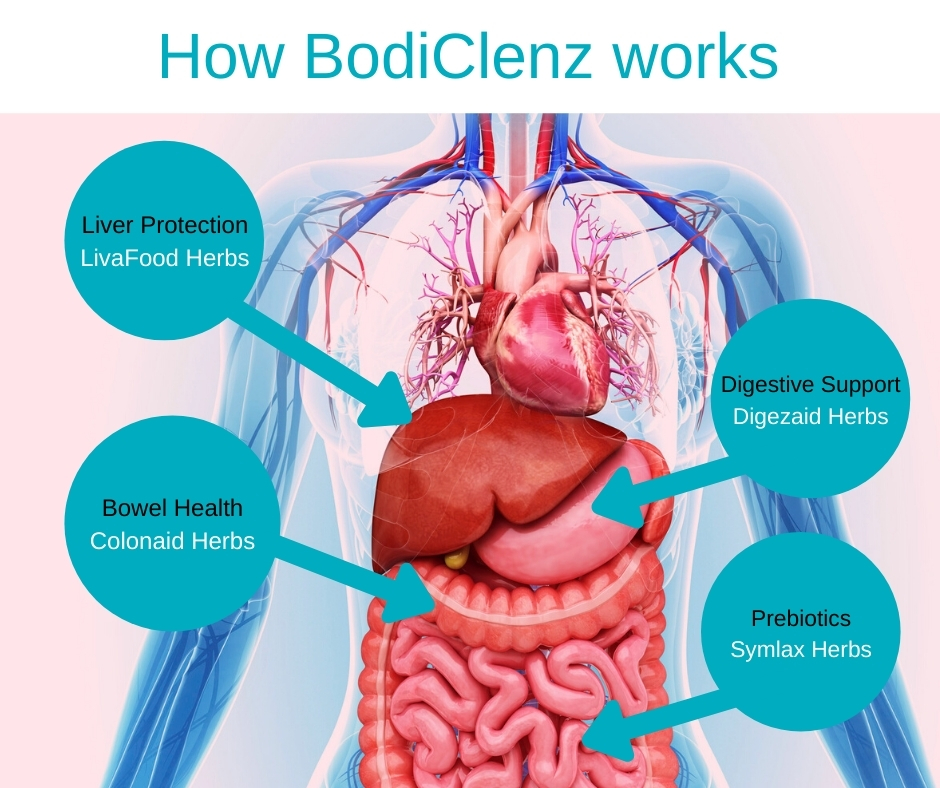 Instructions – Plan Options
Power Cleanse Program
– 4 Scoops Daily. Over a period of 7 days you will consume nothing but superfood smoothies and a little fresh fruit. Smoothies will include a range of fruits and vegetables and can be your breakfast, lunch, and dinner. Great for a quick full body cleanse.
See the 7 Ultimate BodiClenz Recipes here
Deep Cleanse Program
– 2 Scoops daily. Over a period of 14 days you will consume superfood smoothies for breakfast and lunch along with a little fresh fruit during the day. You can still have a hot dinner, but only made from fresh or stir-fry vegetables.
See the Deep Cleanse Diet plan summarized here
Gentle Cleanse / Maintenance Program
– 1 Scoop daily. Can be used for long-term digestive health, and to keep you on track with healthy eating.

Diet plan – Detox recipes
Because this program is basically designed to achieve the same thing as the Ultimate Herbal Detox, you can apply the same dietary guidelines. This means avoiding meats, processed food, starches like rice, pasta, potatoes, and bread, as well as all grains, nuts, seeds, and legumes.
See a brief outline of the DETOX diet plan here
You can also tailor the BodiClenz program to suit your specific needs by targeting the various systems of your body. Brett has designed 7 specific recipes that aim to support these various systems including stomach, liver, colon, kidneys, heart, brain, and blood.