Description
The Instant Detox & Slim Herbal Super Food Smoothie in a Pot!
If you're looking for a completely natural, herbal, vegan-friendly, additive, and sugar-free, instant super-food protein smoothie, then look no further! These powder pots contain either one or two months' supply of BodiTune Detox 'n Slim herb and protein drink in a convenient 500g or 1kg pot, at a dose of one scoop daily. Each individual 15gm scoop contains the ingredients from 8 capsules of pure herbs. This is equivalent to one capsule from every bottle in the Ultimate Herbal DETOX and Ultimate Herbal SLIM programs. Plus you get over 7.5 grams of high-quality protein per serve. BodiTune Detox 'n Slim drink contains all 40 herbs from both the Ultimate Herbal DETOX, Ultimate Herbal BodiClenz, and Ultimate Herbal SLIM programs, all combined into one convenient and delicious vegan drink powder.
Ingredients:
Vegetables, fruits, and herbs: Pea protein, rice Protein, Pineapple extract (Bromelain), Orange peel, Papaya, Kiwifruit, Banana, Bilberry, Acacia gum, guar gum, Psyllium husk, Cascara bark, Wormwood bark, Black Walnut hulls, Fennel seed, Turkish rhubarb root, Slippery Elm bark, Cloves, Peppermint leaf, Ginger root, Cayenne fruit, Licorice root, Spirulina, Barley grass, Kelp, Dandelion root, Milk thistle seed, Goldenseal root, Wild Yam root, Black pepper, Guarana seed, Bitter orange, Green Tea, Garcinia herb, Caralluma root, Gymnema herb, Beetroot, Alfalfa leaf, White Kidney Bean. Mineral; Chromium polynicotinate. natural and nature-identical flavors.
Unique protein drink
This wonderful, natural protein, vegetable, and herb drink will help take away cravings; support your energy and blood sugar balance; maintain your weight long term; support your metabolic rate; improve natural digestive function and nourish and strengthen your body. It has a low GI, is suitable for vegans, and is free from harmful chemical additives.
How?
You can have the BodiTune Detox 'n Slim drink daily for long-term health maintenance. It can be stirred into water but it's extra tasty mixed into milk (eg dairy, soya, almond, or rice milk). It is great in diluted juice or as part of a smoothie with your favorite fruits and yogurt. See my smoothie recipes HERE
When?
Whenever you like! As a snack, as a meal, or as part of a meal. For most people, a BodiTune Detox 'n Slim shake is best taken earlier in the day because it is so energizing it will help see them through the day.
Choosing a plan
There are three plans to choose from but you can make your own plan by moving from one to another as you progress. There are no hard and fast rules. Remember to be realistic and not expect too much too fast. Herbal medicine has been used around the globe for thousands of years and it has a reputation for long-term results. Choosing your plan can be as easy as starting on the rapid plan for one month, moving to the steady plan for two or three more months, and then settling into the maintenance plan thereafter. Remember, if you have not completed one of my Ultimate Herbal DETOX or Ultimate Herbal SLIM programs already, then I highly recommend checking HERE or HERE  to see if one of these might be worth completing alongside your drink. They are perfect companions.
Rapid Plan: 4-6 scoops
This is the ultimate detox and weight management plan "all in one". By taking 4-6 scoops daily you will give your body all it needs to cleanse the colon, liver and other organs of build-up and toxins, give your metabolism a huge boost and get blood sugar and cravings balanced. Set your goals, focus on the eating tips in the recipe book as well as on our website, to help you get there fast. If you want to lose weight fast or if you prefer to use the drink powder instead of the herbal capsules, then this is the plan for you. Once you reach your goal or find your body is following a regular pattern of weight management then you can drop back to the steady plan.
Steady Plan: 2-4 scoops
2-4 scoops daily will give you a nice steady energy and provide a gradual balancing effect. Depending on your body size and type you could lose weight steadily on this plan. The steady plan helps avoid any rebound effect and gives your body the time it needs to find metabolic balance, while you practice the good eating and lifestyle habits recommended throughout the program. This is my favorite plan to use alongside the Ultimate Herbal DETOX or Ultimate Herbal SLIM programs. If you take the capsules plus have two BodiTune DETOX 'n SLIM scoops daily your energy will increase while your appetite will be reduced naturally. Steady is good.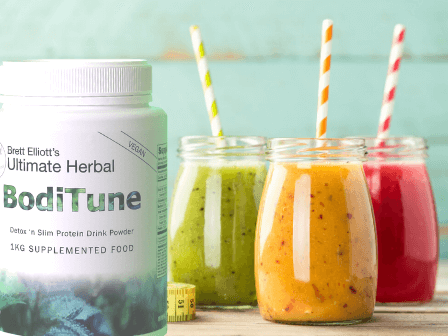 Maintenance Plan: 1-2 scoops
Use the DETOX 'n SLIM maintenance plan in-between your annual 14-day DETOX, 30-day, or 60-day SLIM program for maintaining health, energy, digestion, and ideal weight. A car needs regular maintenance because it gets used every day, it combusts fuel and it has many moving parts. Why should our bodies be any different? We shop for food but sometimes we go for convenience. The herbal ingredients in BodiTune DETOX 'n SLIM provide us with the missing bits. The ultimate activating factors to our metabolism are found in 1-2 BodiTune DETOX 'n SLIM scoops daily. This is just enough to hold you at your ideal weight and metabolic rate if you have nearly achieved it. You could still lose that last weight if you stay on this plan for a couple of months but for long-term continuous, this plan is also ideal.
Extra benefits:
● Reduce cravings ● Balance blood sugar ● Maintain your ideal weight long term ● Support your liver ● Support metabolic rate ● Improve energy ● Improve digestion ● Great for smoothies ● Concentrated nutrients ● Rice and pea protein ● Vegan friendly ● Low Glycaemic Index ● No capsules or tablets ● Allows you to eat real food ● More cost-effective than protein powders or meal replacements
Even more Benefits:
● Colon health ● Liver detox ● Smooth digestion ● Energy ● Superfoods and enzymes ●100% pure herbs ● Heart health ● Antioxidant, anti-aging ● Real, live food diet recommended ● Convenient 1kg bulk powder pot with 15gm scoop FREE FROM: synthetic vitamins, hydrogenated fats, artificial sweeteners, artificial flavors, colors, lactose. No added fructose, glucose or other refined, simple sugars.
Superior benefits of pea protein
High in the necessary branched-chain amino acids: isoleucine, valine, arginine, and lysine.
Allergen-free
Highly digestible
Better regulation of appetite than some other forms of protein
Helps restore muscle fibers and nitrogen levels after intense workouts
Maintains blood fats, cholesterol, and sugars
Safe protein for the kidneys
Environmentally friendly
Enough said about this product by us, visit the product reviews page to see what people are saying after trying it for themselves. Disclaimer – Results will vary in time frame and intensity from person to person. All testimonials and reviews are authentic and submitted from actual Ultimate Herbal Health customers.