Description
If you're looking for a completely natural gentle detox, herbal, vegan-friendly, additive, and sugar-free, instant super-food protein smoothie, then look no further. BodiTune is exactly that!
It combines 40 natural herbal ingredients designed to detox your body, support healthy metabolism and appetite. †
† This statement has not been evaluated by the Food and Drug Administration.
Each individual 15gm sachet contains all the ingredients from 8 different capsules of pure herbs. This is equivalent to one capsule from every bottle in the Ultimate Herbal DETOX and Ultimate Herbal SLIM programs. Plus you get over 7.5 grams of high-quality protein per serve.
BodiTune Detox 'n Slim drink contains all 40 herbs from both the Ultimate Herbal DETOX, Ultimate Herbal BodiClenz, and Ultimate Herbal SLIM programs, all combined into one convenient and delicious vegan drink powder.
On this page, we will outline the ingredients and show you how the program works.
BodiTune can be used as a gentle detox and weight loss program or as a daily supplement to keep your energy up and your body cleansed. Maybe it's time to turn over a new leaf, make a positive change, or just generally feel great again? Either way, you've found it.
See How To Do This Program Here 
The Benefits of choosing a Herbal BodiTune?
You may be looking for a nice easy program to get you started or you may have already completed one of our Ultimate Herbal DETOX or SLIM programs and thinking "what do I do after that?" Simply mix the contents of one sachet into water, juice, milk, or your favorite smoothie recipe once or twice daily. It's that easy!
Not only does the BodiTune detox smoothie combine all of the 40 ultimate detox and weight management herbs, but it also provides 7.5gm of protein, the equivalent of 2 eggs per serving. Now you can boost your protein intake and maintain your ideal detox and slim program continuously, in between the annual intensive programs.
The Ultimate BodiTune DETOX 'n SLIM herbal protein drink keeps you on track, all for less than the cost of a daily take-out coffee.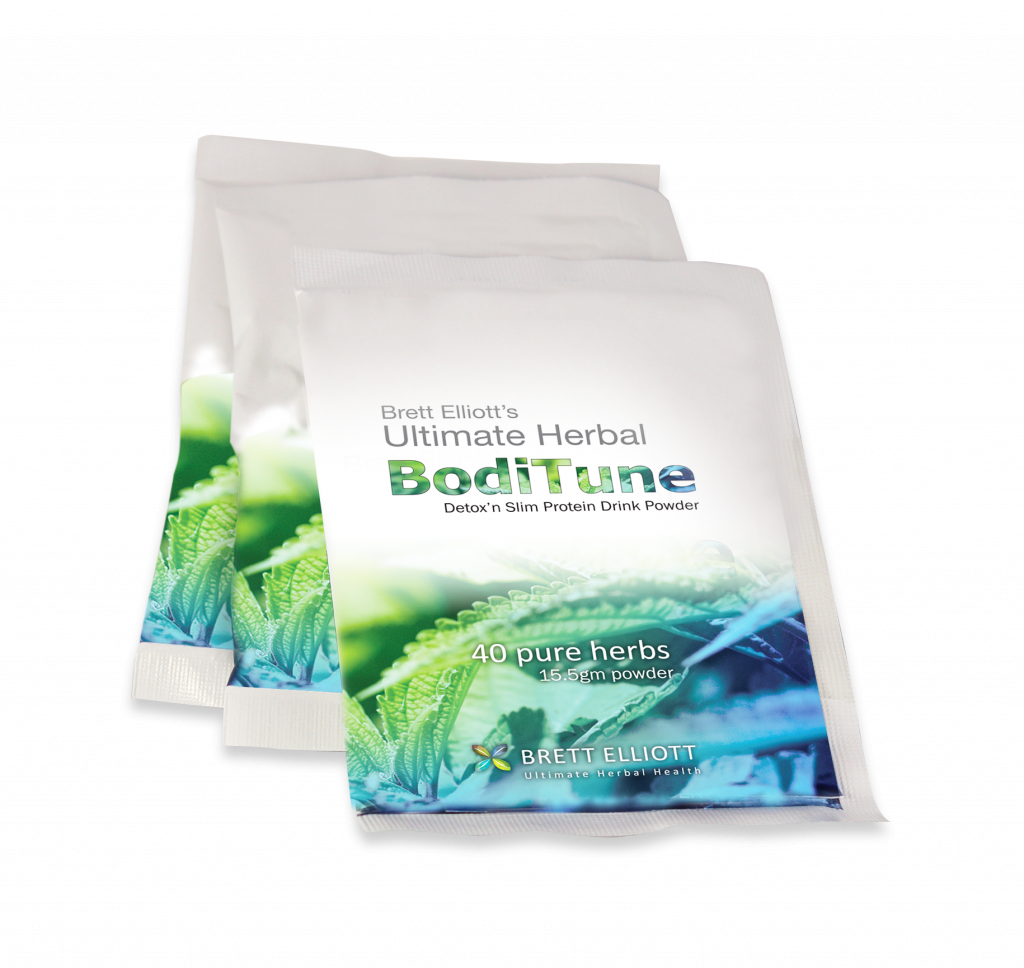 Gain all these benefits:
100% vegetable-based
Suitable for vegans
40 Ultimate vegetables, fruits, and herbal ingredients
Can be mixed with water, juice, or as a smoothie
Tear-top sachet fits in your pocket or bag
Rice and pea proteins
Superfoods and enzymes
Support metabolism 

† 

Support weight management 

† 

Inner body cleansing 

† 

Support digestive health 

† 

Fruit and herb-flavored, great for mixing into smoothies
Time tested formula
No artificial colors or flavors
No artificial sweeteners
No added sugar
Antioxidant
Low GI
† This statement has not been evaluated by the Food and Drug Administration.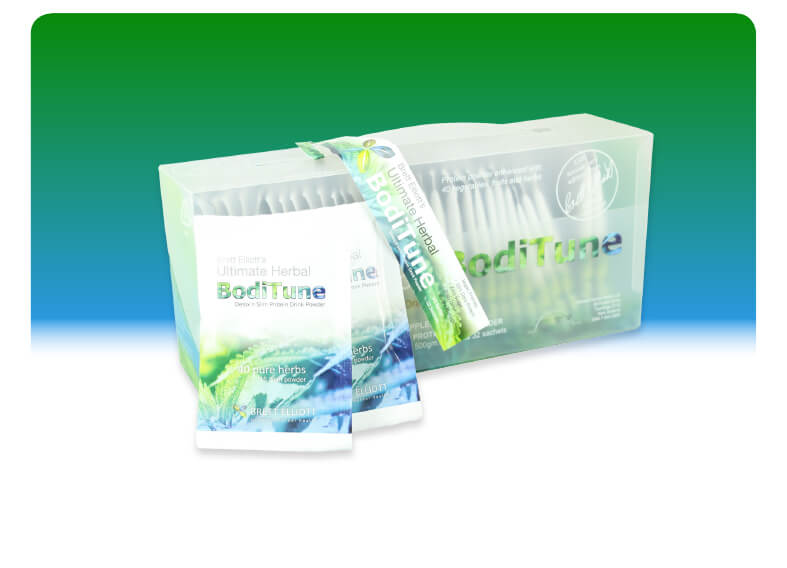 What your BodiTune program includes:
32 sachets of BodiTune DETOX 'n SLIM protein drink, each containing 15 grams of herbal protein mix. (see ingredients below)
Recipe leaflet with drink recipe ideas.
Other lifestyle tips, plus food do's and don'ts.
Live Chat online support.
Ingredients and research links: