When you're Detoxing or Slimming simplicity with food is crucial, and you couldn't get any simpler than this recipe. It only has two major ingredients, Cauliflower, and Brussels sprouts.
Cauliflower rice is a great alternative to normal rice because cauliflower has almost no simple carbohydrate content with a Glycaemic index of zero. It's also very high in fibre which makes it extremely filling.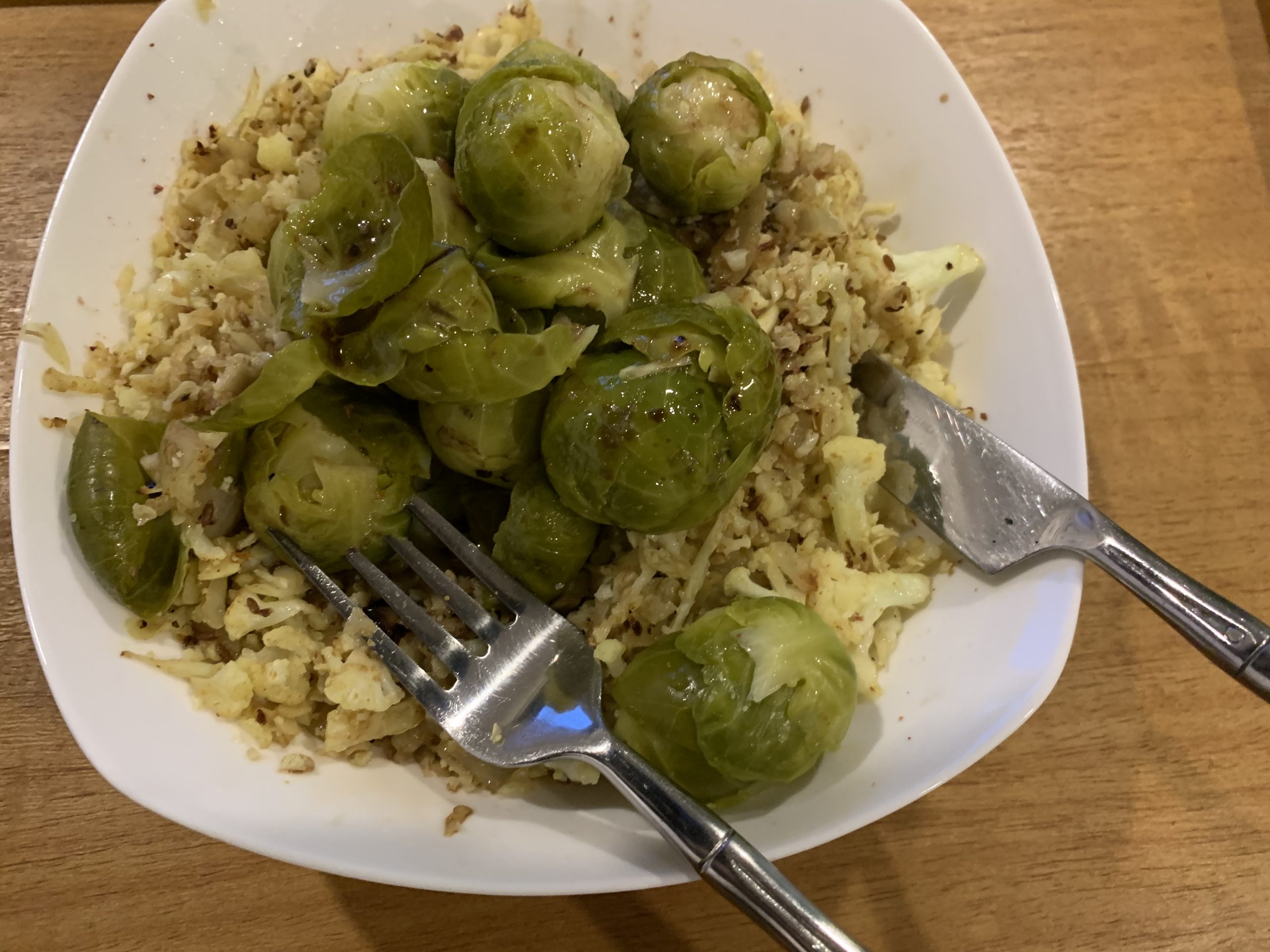 Serves 2-4.
Depending on the size of your Cauliflower.
Ingredients: 
1 whole Cauliflower
12 Brussel Sprouts
2 small white onions
6 large cloves of garlic
1 Tsp Black cumin seeds
3 tsp Indian curry powder
Coconut and Olive oil
Method:
Chop the ends of Brussels sprouts and place into a saucepan, then place over the heat and bring to the boil while preparing the rest of the meal. Finely chop onion and garlic and place aside. Chop centre out of cauliflower and cut into 4-6 large chunks. Grate large chunks of cauliflower with a coarse cheese grater or grater attachment on the food processer. Heat oil in a large pan and add onions, garlic, and cumin seeds. Saute until soft, then add the cauliflower. Sprinkle over the curry powder and stir in evenly. Cover and allow to cook for 2 minutes. Drizzle with olive oil and stir again. Cover and allow to cook for another 3-4 minutes. Drain the Brussels sprouts. You are ready to serve. Place cauliflower rice into bowls, cover with Brussel Sprouts, and drizzle with balsamic vinegar and more olive oil. You could also Tomato salsa, Aioli, or even guacamole if you're adventurous. Enjoy!