Get ready to tantalize your taste buds with this mouth-watering recipe. The great thing is that it's super healthy and perfect for a gentle cleanse, and both the Herbal SLIM or BodiTune programs.
This gourmet salad and will make you look like a restaurant cook!
Preparation time 30 minutes
Serves 2
Main Ingredients:
1 x medium head cauliflower (approx. 1-1.2kg), cut into large florets then thinly sliced

5-6 tablespoons of olive

Sea salt and cracked pepper to taste

1 cup sliced almonds

1 ½ cups of parsley (or fresh coriander) finely chopped

2 teaspoons coriander seeds, to serve
Curried yogurt:
1

1/2

cup of yoghurt (or coconut yogurt)

3 tablespoons of Curry powder

3 tablespoons lemon juice

2 tablespoons of Olive oil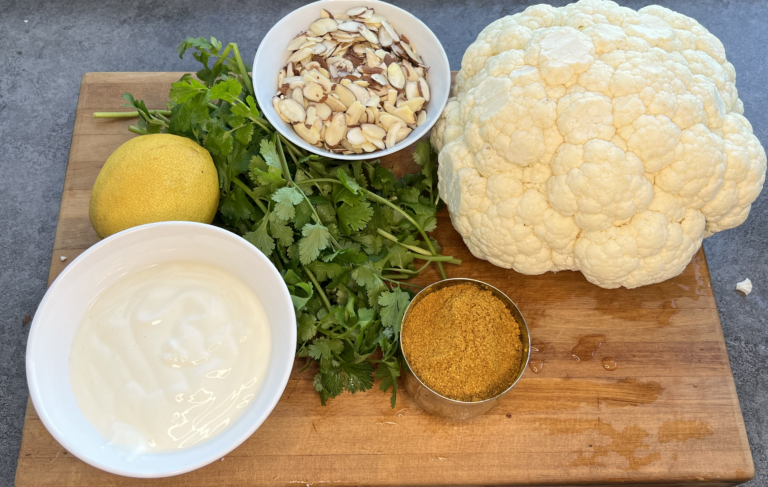 Method:
Pre heat the oven to 200 degrees fan bake. Drizzle a large roasting dish with olive oil. Place the cauliflower on the prepared baking tray and spread out into a single layer you might need to use two trays! Drizzle over more olive oil, and lightly season. Bake for 30 to 45 minutes until tender.
For the curried yoghurt, place all the ingredients in a bowl and whisk to combine.
Meanwhile, heat a frying pan over medium heat. Add the almonds and cook, tossing frequently to avoid burning, for about 2 minutes, until fragrant.
Place the cauliflower, parsley, almonds and yoghurt dressing in a large bowl and mix to combine. Scatter over the coriander seeds. Season with more cracked pepper.