This is a super delicious Indian coconut curry using multiple coloured capsicums with the addition of fish.
I have also added a sweet potato to give it a little more substance, but you could substitute that for cauliflower, broccoli or even potato.
Preparation time 45 minutes
Serves 4
Ingredients:
2 fillets or 500g of fish (I have used Travelly)
2 medium-sized or 1 large sweet potato
3 large capsicum bell pepper cubed (mixed color)
2 Coconut Oil (or Olive Oil)
1 medium onion finely chopped
1 medium onion cubed and layers separated
1 cup tomatoes chopped
1 teaspoon red chili powder (or 2 tsp chili flakes)
¼ teaspoon cumin seeds
2 green cardamoms
1 tablespoon fresh ginger (finely chopped)
6 cloves garlic (crushed)
½ teaspoon salt
6 tablespoons of raw cashews
1½ tablespoon desiccated coconut
1 x 400ml can of Coconut cream
400ml Tomato Passata (or 200ml Tomato paste abnd 200ml water) 
¾ tablespoon white sesame seeds
2 teaspoon garam masala
½ teaspoon coriander seeds
1 bunch fresh coriander leaves fine chopped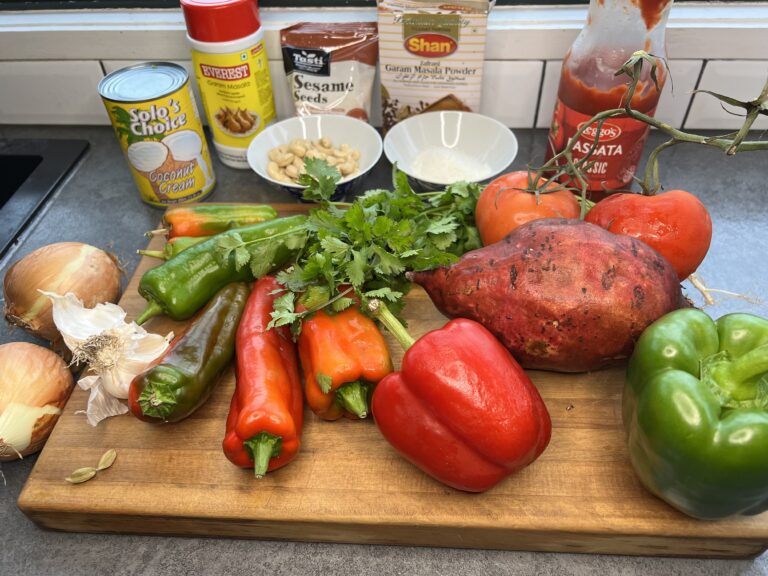 Method:

Preparing the Sweet Potato
Peel and chop the sweet potato into bite-sized cubes. Boil for 10 minutes until just soft. Drain and place aside.  
Preparing the gravy
Dry roast half the cashew nuts on medium heat until deep golden and aromatic (or just use pre-roasted Cashwews). 
Reduce the heat and then briefly add coconut and sesame seeds. Stir and lightly roast until the seeds begin to splutter, being careful not to burn them. Transfer to a plate and set aside to cool.
Pour 1 tablespoon coconut oil into the same pan. Add one finely chopped onion, ginger, and garlic, and chili flakes and fry for 2 minutes.
Add tomatoes and fry till they turn mushy. Add salt, turmeric and garam masala. Fry till the mixture gets cooked well and begins to leave the sides of the pan. Remove and place to one side.
Blend the can of coconut milk and 400 to a smooth paste together with the other half of the cashews, coconut, sesame seeds, and onions tomato mixture, until smooth.
Preparing the Capsicum
Finely chop one onion and cube the other one and separate the layers. Cube capsicum and set aside.
Heat the same pan with 1 tablespoon coconut oil. Then add cumin, coriander seeds and cardamom. When the cumin begins to sizzle, add capsicum and the other onion (cubed and layers separated).
Stir fry on high heat for 2 mins. Add the ground tomato mixture. Bring it to a boil on a medium flame.
Cover and simmer until bell peppers are tender yet crunchy (about 1o minutes).  
While this is cooking, in another pan heat some more oil and fry the fish on medium/high heat for 3-4 minutes until cooked.  
Reintroduce the sweet potato, half the fresh coriander, and the other half of the roasted cashews, and fish in the last 2 minutes before serving.
Serve capsicum curry sprinkled with fresh coriander.