Description
Thermogenik contains herbs that may support a healthy metabolism, provide cellular energy, increase cellular energy expenditure and metabolic rate, support weight management, and boost circulation.
Recent investigations have identified that commercially available dietary supplements, containing a combination of thermogenic ingredients, can increase resting metabolic rate. Thermogenic dietary supplements can have a positive influence on resting metabolic rate, but the magnitude can vary based on the active ingredient and/or combination of active ingredients.
Various herbal extracts have been shown to increase metabolism, decrease body fat, and increase markers of lipolysis (fat burning). Additionally, thermogenic supplements containing Garcinia cambogia, and Green tea extract have also been shown to increase calorie expenditure.
Here we have combined several of the best known thermogenic herbs into one powerful formula. Just 2-4 capsules daily can make a real difference. It should be used early in the day to help with energy levels, but also to encourage fat burning.
Give your body a kickstart!
You can see in this picture how the combination affects the various systems of your body to trigger fat burning from several different angles.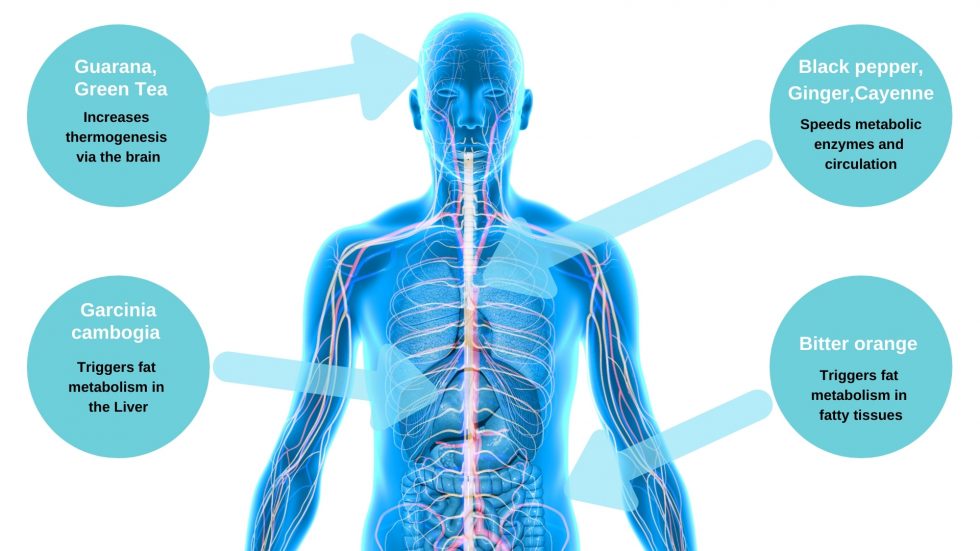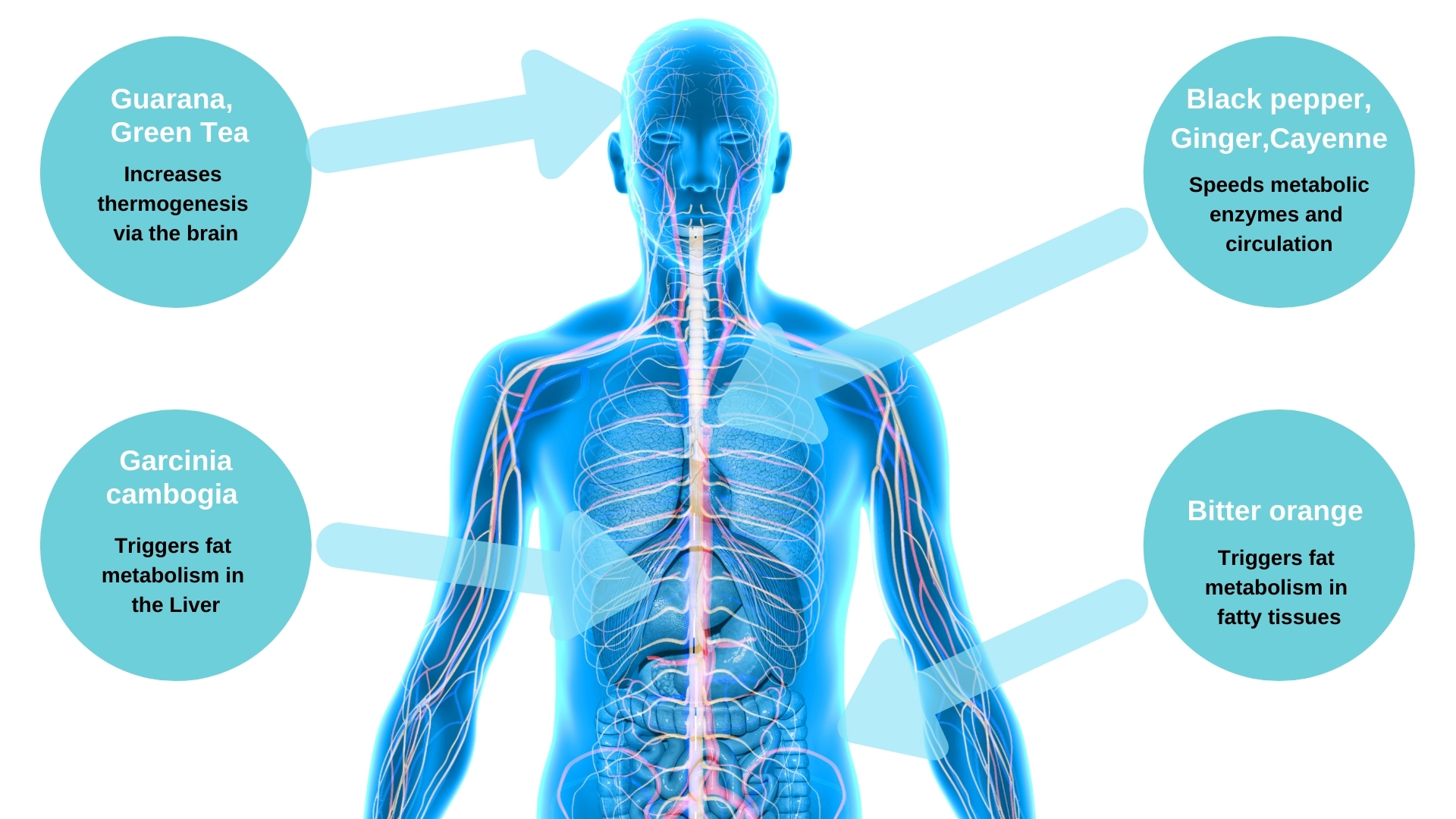 Thermogenik (120 capsules)
Ingredients:
PROPRIETARY BLEND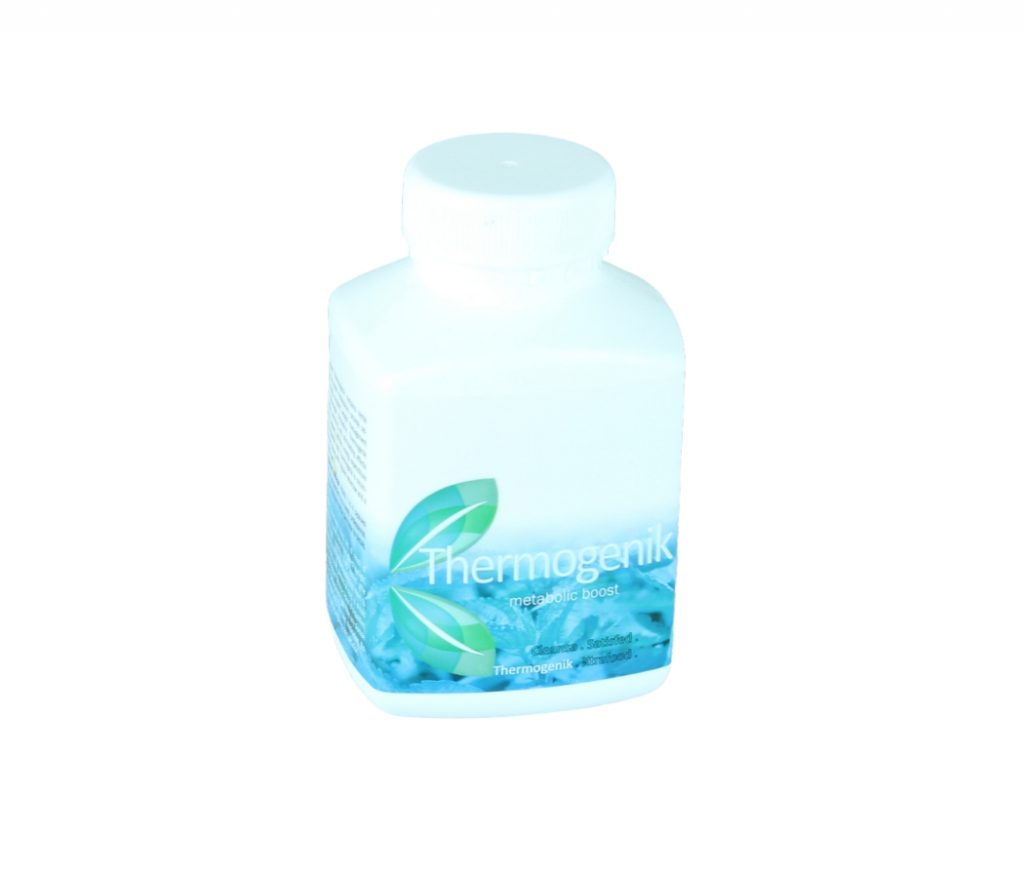 Ingredients in Detail
A brief summary of each ingredient is found below. For a more detailed insight into each ingredient including links to the research, click on the ingredient name.
Black pepper (Piper nigrum)
In addition to its culinary uses, pepper has important medicinal and preservative properties, and, more recently, black pepper extract (piperine) has been shown to have fundamental effects on many enzyme systems.
Present data support a potent lipid-lowering action of a combination consisting of "curcumin with piperine and quercetin" thus further corroborating its potential in the treatment of glucose tolerance associated with excess dietary fat intake, obesity, and type 2 diabetes.
The results from one study demonstrated that co-administration of curcumin plus piperine is better than administration of curcumin alone against Hyperlipidemia resulting from a high-fat diet, providing a promising combination for the treatment of Hyperlipidemia.
Another study showed results suggesting that piperine possesses potential fat reducing and lipid-lowering effects, without any change in food appetite.
Guarana (Puallinia cupana) fruit
Guarana's stimulant properties are usually attributed to its caffeine content (2.5–5% of dry weight), which is known to modify cognitive function and mood state and enhance exercise performance.
Considerable evidence from studies in humans supports the hypothesis that coffee consumption induces weight loss by increasing thermogenesis. Findings suggest that caffeine could help individuals lose weight by reducing body fat, possibly by increasing lipid metabolism.
Bitter orange (Citrus aurantium) peel
Citrus aurantium extract and its primary proto alkaloidal constituent p-synephrine are extensively used in weight management products and as thermogenic agents.
They are also used in sports performance products to enhance stamina. Various studies indicate that the lipolytic (fat burning) activity of p-synephrine is due to binding to β-3 adrenergic receptors in adipose tissues.
In 10 Healthy human subjects consuming synephrine capsules, at the two and three-hour time points after ingestion of synephrine, 13.4 %, and 8.9% increases, respectively, were observed in the basal metabolic rate. An increase in the thermic effect of food was seen, increasing by 29% when the bitter orange extract was used in conjunction with the protein meal.
Green Tea (Camellia sinensis) leaf
The polyphenols found in tea are more commonly known as flavanols or catechins and comprise 30-40% of the extractable solids of dried green tea leaves.
Clinical studies suggest that green tea extract may boost metabolism and help burn fat. One study found that the combination of green tea and caffeine improved weight loss and maintenance in people who were overweight and moderately obese.
Some researchers think that substances in green tea known as catechins are responsible for its fat-burning effect.
A human study of green tea extract containing 90 mg EGCG taken three times daily concluded that men taking the extract burned 266 more calories per day than did those in the placebo group and that green tea extract's thermogenic effects may play a role in controlling obesity.  Research on green tea's thermogenic properties indicates a synergistic interaction between its caffeine content and catechin polyphenols may result in prolonged stimulation of thermogenesis.
Garcinia cambogia (Hydroxycitrate complex)
Hydroxycitrate complex (HCA),
 from Garcinia cambogia
 is the active ingredient of brindle berry and is synthesized from the rind of the fruit. HCA is a substance that has been studied extensively for more than twenty years. Various studies have shown that HCA supports the liver's fat digestion and sugar storage processes, helping to regulate appetite and body weight.
In extensive animal studies, Garcinia cambogia was found to reduce food intake by suppressing the appetite thus decreasing body fat. Some double-blind studies using Garcinia cambogia and a placebo showed the HCA group as doubling or tripling weight loss over a 12-week period as compared to the control group.
Studies have shown that the extracts as well as hydroxycitric acid (HCA), a main organic acid component of the fruit rind, exhibited anti-obesity activity including reduced food intake and body fat gain by regulating the serotonin levels related to satiety, increased fat oxidation, and decreased de novo lipogenesis.
Ginger (Zingiber officinale) rhizome
The major pungent compounds in ginger have yielded potentially active gingerols, which can be converted to shogaols, zingerone, and paradol. The compound 6-gingerol appears to be responsible for its characteristic taste.
Four clinical studies reported that ginger reduced platelet aggregation, which is responsible for blood coagulation. Ginger is included in this formulation mainly for its ability to improve circulation, enhancing the effects of the other herbs.
Cayenne (Capsicum annum) fruit
Cayenne has been shown to encourage weight loss. Three main areas of potential benefit for weight management were found: increased energy expenditure increased lipid oxidation and reduced appetite. Findings suggest that daily consumption of capsaicinoids may contribute to weight management through reductions in energy intake. Subsequently, there may be potential for capsaicinoids to be used as long-term, natural weight-loss aids.
Capsaicin consumption 1 hour before low-intensity exercise is a valuable supplement for the treatment of individuals with hyperlipidemia and/or obesity because it improves fat burning. Capsinoid ingestion increases energy expenditure through the activation of brown adipose tissue in humans.
Disclaimer – Results will vary in time frame and intensity from person to person. All testimonials and reviews are authentic and submitted from actual Ultimate Herbal Health customers.