A number of specific health conditions respond well to general detoxification and weight management. Because many of the underlying causes are similar our programs work effectively in many areas of health.
Click on the links below for specific advice and find yourself a tailor-made program.
Online Consultations with Brett Elliott are also available by clicking here 
Health Conditions
Blood Pressure – Reducing High Blood Pressure Naturally
Candida Albicans – The Ultimate Candida Program
Cholesterol – How to Lower Cholesterol Naturally
Chronic Fatigue Syndrome – The Ultimate Herbal Chronic Fatigue Program
Constipation and Bloating – Causes and natural treatment
Crohn's Disease – Ultimate Chrohn's Program 
Diabetes Type 2 – Prevention & healing
Fertility – How detox can increase fertility
Irritable Bowel Syndrome – IBS Program 
Intestinal Parasites – Ultimate Parasite Cleanse
We conducted a survey asking people why they used our program. The chart below shows the popularity of the program for each condition.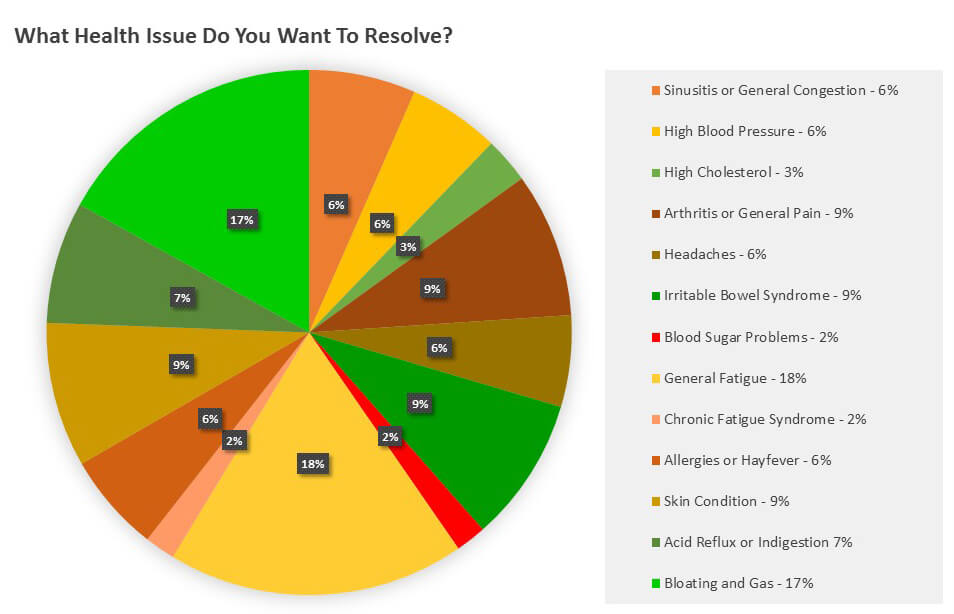 Self Healing
Brett has 20 years of practice in herbal medicine and natural healing. Over this time he has developed a method of energy healing and has written many articles related to this subject. Follow the links below to read some of these interesting articles.
Cellular Healing – Can it be achieved?
Energy from living food – My personal theory
Inner Peace – Making it your priority
Internal Communications – Why are they so important?
Losing weight – address the next level
Meditation – Finding spiritual illumination
Sunlight – Can we tap into this source of energy?The Great Cycle of Personal Progress