You might be doing a Herbal Detox program because of arthritis, rheumatism, or just general aches and pains. Comfrey is one of those amazing plants with almost miraculous healing properties. It has compounds in it which promote increased bone cell growth and speeds the healing of ligaments, cartilage, and tendons.
In one study involving patients with acute contusions and strain traumas of the knee joint, efficacy was proven to be good or even very good and a significant therapeutic impact on the damaged joint became apparent. Forty patients suffering from knee joint injuries, sprains and bruises were treated with ointment containing comfrey extract, achieving a significant reduction of pain (pain at rest and on movement) and swelling. The mobility of the affected joint increased significantly. Treatment took place over a period of 8 days and had a good to very good effect on 85% of the patients. See Research Here
Here are a couple of other interesting studies explaining how Comfrey works
1. A Symphytum officinale Root Extract Exerts Anti-inflammatory Properties
2. A Comprehensive Review on Chemical Composition, Food Applications and Phytopharmacology
3. Efficacy of comfrey root extract in the treatment of ankle distortions
The healing effects of comfrey extracts are attributed to several chemical compounds. Allantoin has been claimed as the active ingredient of comfrey, which is responsible for triggering cell division and wound healing, also promoting conjunctive tissue, bone, and cartilage growth. S. officinale root extract contains allantoin and phenolic acids (e.g., rosmarinic, p-hydroxybenzoic, caffeic, chlorogenic and p-coumaric acids), and displays remarkable antioxidant effects, besides exerting a positive impact in human skin fibroblasts, encouraging growth and healing.
Today I am going to share with you my method for making a healing comfrey root rub. The process is quite involved so it's best to watch the two videos below, but here is a brief outline.
Ingredients:
Fresh Comfrey root (you will need to find some growing)
About 500 ml Olive oil (reduces down to 400ml after cooking comfrey)
50 gm Beeswax (to thicken)
Liquid Herb Extracts 100ml (3.3 ounces)
Yarrow 30%
Gotu Kola 30%
Arnica 20%
Bilberry 10%
Ginger 10%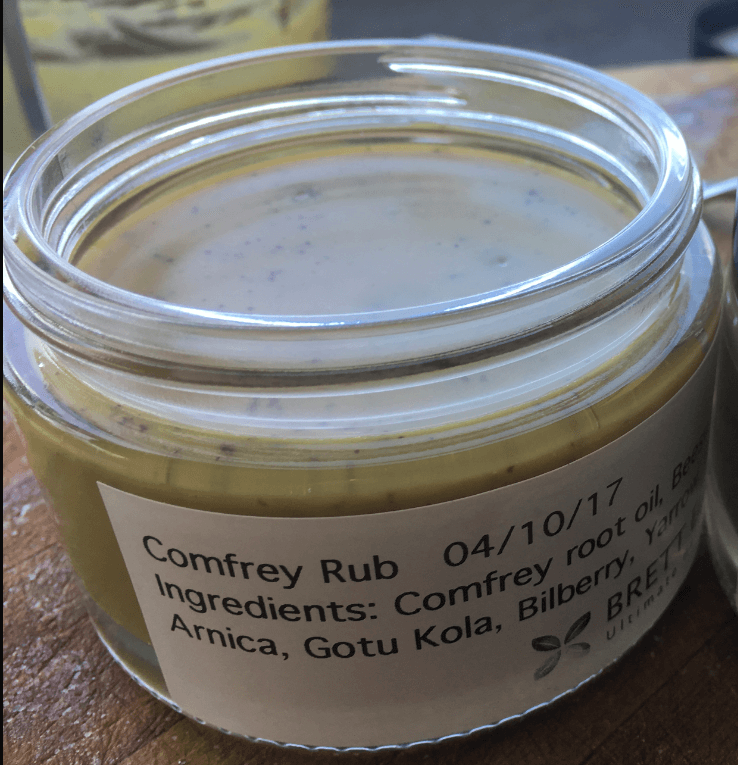 Method:
Dig the root and clean thoroughly
Chop the root into thin slices and place between paper in a drying cupboard for 2-3 weeks
Soak the root in olive oil for up to 6 weeks (use a suitable jar)
After 6 weeks, place the roots and oil over a double boiler and simmer for about an hour.
Strain off the oil
Allow to cool naturally while grating in a little beeswax to thicken
Pour into jars before the oil and beeswax sets
See more herbal remedy recipes here