Truly incredible how this dish tastes as good if not better than traditional spaghetti Bolognese with minced beef and pasta noodles, but this one is completely vegetarian and has almost zero calories in comparison.
This dish can be a revelation!
Serves 4 to 6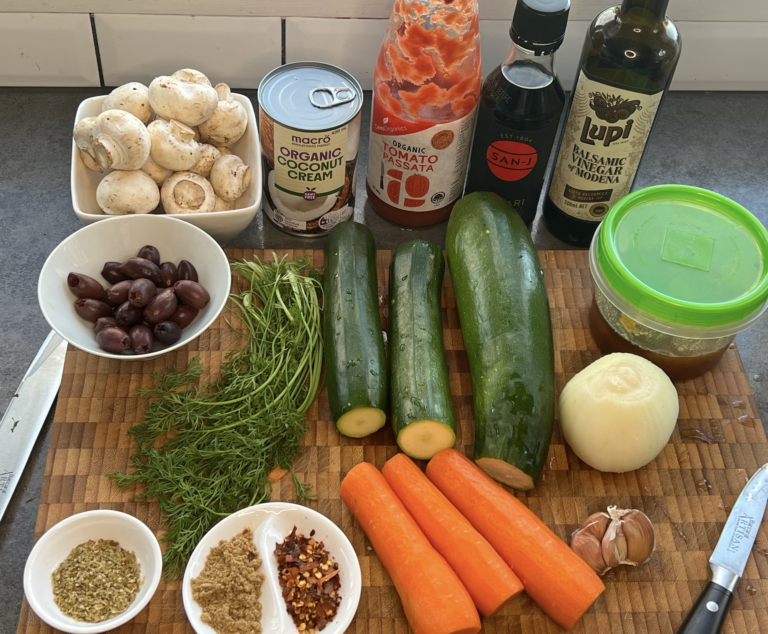 Ingredients for lentil bolognaise
1 tablespoon olive, avocado or coconut oil optional

1 large brown onion, diced

4 cloves garlic, diced

2 large carrots, peeled and grated

2 cups button mushrooms, sliced

2 cans brown lentils, drained and rinsed or 3 cups cooked lentils

2 cups tomato passata

1 cup coconut milk from a can

2 tablespoons tamari (or coconut aminos)

1 tablespoon balsamic vinegar

1 ½ teaspoons ground cumin

1 tablespoon dried oregano

2/3 cup whole black olives

2 teaspoons honey

1 teaspoon chilli flakes

Half cup fresh dill

4 large zucchini, trimmed
To serve coconut yogurt and fresh dill optional
Method for the Bolognaise:
If needed, precook lentils and drain.

Spiralize the zucchini, dice onions, and garlic, slice mushrooms, shred carrots, and also place side. 

Heat the oil in a large frying pan over medium-high heat. 

Add the onion and garlic and cook for 5 to 7 minutes, stirring frequently until soft and fragrant. 

Add carrots and mushrooms and cook for additional 3 minutes.

Add lentils, passata, coconut milk, tamari, balsamic vinegar, cumin, oregano, olives, honey and cayenne pepper. 

Reduce the heat to low and simmer for eight to 10 minutes, stirring occasionally, until fragrant.

Quickly saute the zucchini noodles with a little butter just to warm them up. 

Mix the fresh dill in just before serving

Serve the boloneaise on a bed of zucchini noodles, with a dollop of yoghurt. Add more fresh dill if desired.