A stunning combination of flavours using cilantro, capers, green olives, and pistachio nuts along with black rice to stuff these capsicums. They're a meal in themselves but would be perfect alongside some white fish or chicken breast.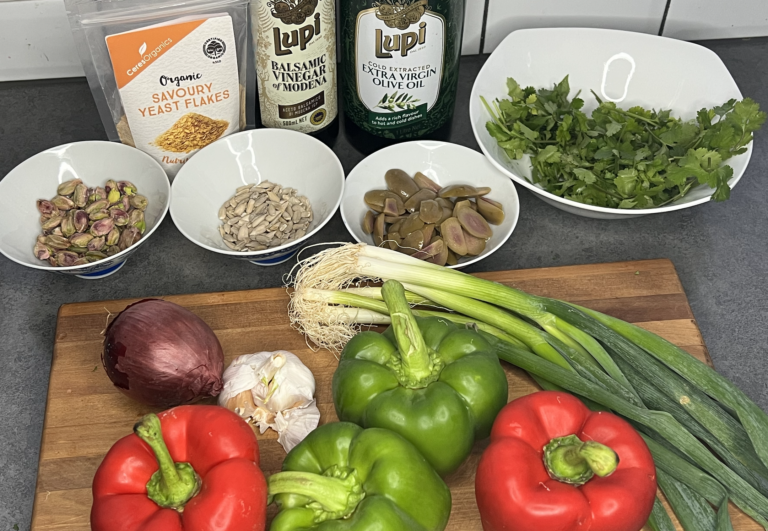 Cooking and Preparation time – About 30 minutes
Serves 4
Ingredients:
1 cup black rice or wild rice mix

2 cups water

4-5 x large capsicum

1 x tablespoon olive or coconut oil 

5 x spring onions, sliced

1 x red onion, finely diced

4 x garlic cloves, diced

Half cup raw pistachio nuts

¼ cup raw sunflower seeds

Half cup of green olives, sliced

Large handful fresh cilantro (finely chopped)

3 tablespoons balsamic vinegar

3 tablespoons nutritional yeast flake
Ingredients for caper and parsley yogurt:
2/3 packed cup cilantro

1 cup coconut yogurt

1 tablespoon capers

1 x squeezed lemon juice

1 teaspoon apple cider vinegar

1 garlic clove, diced

¼ teaspoon sea salt
Cooking Method:
For the caper and parsley yoghurt, place all the ingredients in a blender and blend for 20 to 30 seconds, until smooth. Transfer to a small jug and place in the fridge for 30 minutes to set.

Pre heat the oven to 180 degrees fan bake. Find a larg baking tray or roasting dish.

Place the rice and water in a saucepan, cover and bring to the boil. Once boiling, reduce the heat to low and simmer for about 5 minutes. Then allow to sit until the water has been absorbed and the rice is soft.

Place the capsicums on the prepared baking tray and bake for 15 to 20 minutes, until soft and juicy.

Meanwhile, heat the oil in a small frying pan over a medium-high heat. Add the spring onion, red onion, and garlic and cook, stirring frequently, for 5 to 7 minutes, until soft and fragrant.

Add the pistachios and seeds and cook, stirring occasionally, for another 3 minutes.

Remove and transfer to a large bowl. Add the rice, olives, parsley, balsamic vinegar, and nutritional yeast, and mix to combine all the ingredients.

Remove the capsicums from the oven and divide the filling evenly among the capsicum halves.

To serve, top with a dollop of caper and parsley yoghurt and serve with a side white fish, chicken breast or mushrooms.