A little hot number – and such a simple recipe. I often end up with a few too many carrots and apples in the fridge and this is a great way to use them up, not to mention it's super healthy.
With just the right amount of fresh chili, this is guaranteed to get your taste buds going. If you're not against eating a little fish, you can include the traditional Thai fish sauce and it tastes amazing. That's OK on your detox too.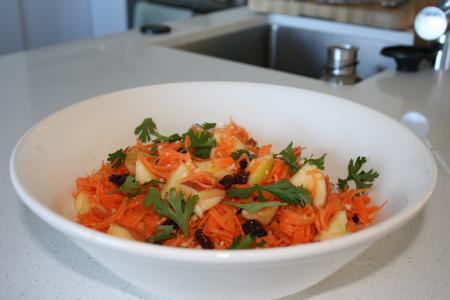 Serves 2 people
Ingredients:
6 x cloves of garlic
2 tbs chili flakes
1 tbs honey
2 tbs olive oil
1 tbs lime juice
4 x large carrots
1 x crisp red apple
½ cup of raisins
¼ cup chopped cilantro leaves
Fish Sauce (optional)
Method:
Shred the carrots, dice the apple and mix together in a bowl with the raisins, finely chopped garlic, cilantro and chilli flakes. Blend olive oil, honey, fish sauce and lime juice in a separate bowl until smooth and then pour over salad. All ready to eat.

Perfect for: