Description
Often people embark on a weight management program with the goal of kicking a negative habit or making a lifestyle change. It's a great idea to take up a positive new habit while dropping an old one. For example cravings for sugar, alcohol, junk foods, or even drugs can all be connected to an imbalance between the hormones of the gut and brain.
As one part of the four-part Ultimate Herbal SLIM program, Satisfed plays an important role in controlling such cravings.
As part of this picture, blood sugar balance, appetite regulation, and metabolic rate are important factors. Satisfed contains key herbs which may curb appetite, control cravings, support healthy blood sugar balance, and help maintain a healthy pancreas.
It is designed to be part of the Ultimate Herbal Slim but can be used as a stand-alone product for improving habits and against the development of type-2 diabetes.
The herbs Caralluma and Gymnema are known for cutting cravings, while Coleus and Chromium help to balance blood sugar metabolism.
Read more about these amazing herbs below.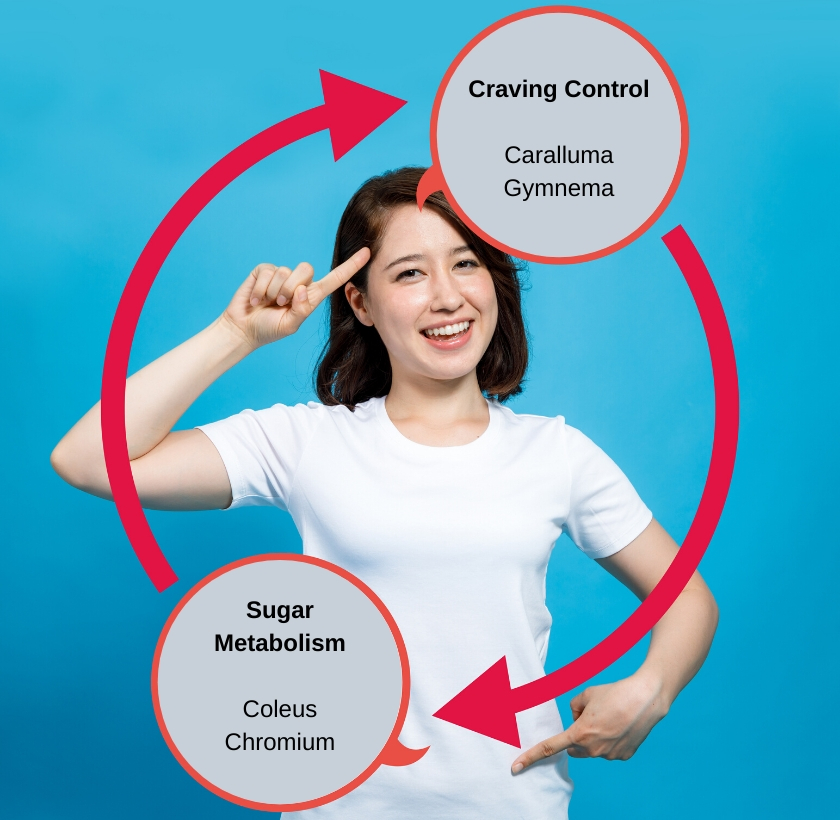 Disclaimer – Results will vary in time frame and intensity from person to person. All testimonials and reviews are authentic and submitted from actual Ultimate Herbal Health customers.
Ingredients

Satisfed Craving Control (120 capsules)
Ingredients:
PROPRIETARY BLEND
Ingredients in Detail
A brief summary of each ingredient is found below. For a more detailed insight into each ingredient, including links to the research, click on the ingredient name.
Caralluma (Caralluma fimbriata)
Supplementation with Caralluma Fimbriata extract whilst controlling overall dietary intake and physical activity may potentially play a role in curbing central obesity, the key component of metabolic syndrome.
In Western India, Caralluma Fimbriata is well known as a famine food, appetite suppressant, and thirst quencher. The green follicles are eaten, boiled, and salted. It also finds use today as an appetite suppressant and famine food during times of famine, in the semi-arid regions of India.
The tribal community treats Caralluma Fimbriata as a food item for daily consumption. They believe that Caralluma is a unique herb that cures common health problems as well as enjoying its fantastic ability to suppress appetite and thirst.
Gymnema (Gymnema sylvestre)
Gymnema reduces the taste of sugar in the mouth and can potentially help with sugar cravings.
Modern scientific methods have isolated at least nine different gymnemic acids which possess hypoglycemic activity. The effect of Gymnema extract on lowering levels of blood glucose, cholesterol and triglycerides are fairly gradual – typically taking a few days to several weeks.
The atomic arrangements of gymnemic acids to the taste buds are similar to sugar molecules which fill the receptors in the taste buds preventing its activation by the sugar molecule in the food. Similarly, in the intestine it attaches to the receptor present in the external layer of the intestine, thereby preventing the absorption of sugar molecules by the intestine, leading to a reduction in blood sugar levels.
Balanced blood sugars are crucial in preventing adult-onset type 2 diabetes. They are also crucial for reducing the formation of fat in the body because when blood sugars are raised your body is stimulated to store this excess fuel as fat.
Coleus forskohlii (Plectranthus barbatus)
Coleus is one of the commercially important herbal ingredients for weight-loss dietary supplements in the global market. Its favorable effects on body fat management have been well established.
Limited human studies have indicated that supplementation with Coleus forskohlii extract elicits favorable changes to body composition. One study found a significant reduction of body fat percentage in overweight and obese men after 12 weeks of supplementation with Coleus forskohlii extract.
It may stimulate the release of fatty acids from adipose tissue, which results in increased thermogenesis, loss of body fat, and theoretically increased lean body mass.
Chromium polynicotinate
Chromium is necessary for the uptake of sugar into the body's cells by insulin. If sugar is not taken into the cell to be used for energy then the body must take it away from the blood vessels to prevent harm.
On a molecular level, chromium enhances the effect of insulin on insulin receptors, glucose transporters, and glycogen synthase, the enzyme that converts glucose to glycogen.
If the body is supplied with chromium a healthy blood sugar balance is more easily maintained because the body is able to utilize more sugar for energy into the cells where it is needed.
How to take Satisfed
You can take 2 to 8 Capsules Twice Daily depending on your goals. 
The herbs take a little time to kick in, so Satisfed works best to reduce food cravings when taken 30 minutes before food. If you're going to use it as part of the four-part Ultimate Herbal SLIM over 1 month, then you can take 4 capsules 30 minutes before your main evening meal.
Other Directions: Satisfed is recommended along with regular exercise and a healthy diet.
See some other ideas for reducing cravings and balancing your blood sugar below.
Conquering Sugar Addiction to Lose Weight
Keto Diet & Intermittent Fasting Explained
Good Fats for Weight Loss
Type 2 Diabetes – Prevention & healing