There are many Detox program options available in the health stores and on the internet, and many various lengths and depths of detoxing and cleansing found in each.
Today we will talk about the four part detox protocol and why it is important to not only keep it simple, but to cover the main areas necessary to detox your body properly.
If you're planning to sort out your metabolism, balance digestion or resolve an annoying inflammatory or immune based health issue then a detox program is a great place to start.
Even better if you want to lose some weight on the side, as usually this is a by-product of detoxing and acts as a foundation to a better digestive function and metabolic rate.
A good detox program will cover some key areas and not leave you feeling washed out or tired, rather it should clear your channels for increased energy and vitality.
We have put together a great 4 part detox strategy below outlining the herbs involved.
Follow the links for deeper information on each ingredient.
Part 1
---
Intestinal Cleanse 
By providing bulking fiber, soothing mucilage and digestive herbs we support healthy peristalsis and regular bowel elimination, cleansing the colon. Providing the herbs Wormwood, Black Walnut, and Cloves will help rid the colon of parasites. During your Detox you can expect to eliminate backlog or build-up from the intestine which often means and extra bowel movement or two every day or two. If you add this up over 14 days, that can be responsible for some weight loss also.
Colonaid (120 Capsules)
Ingredients: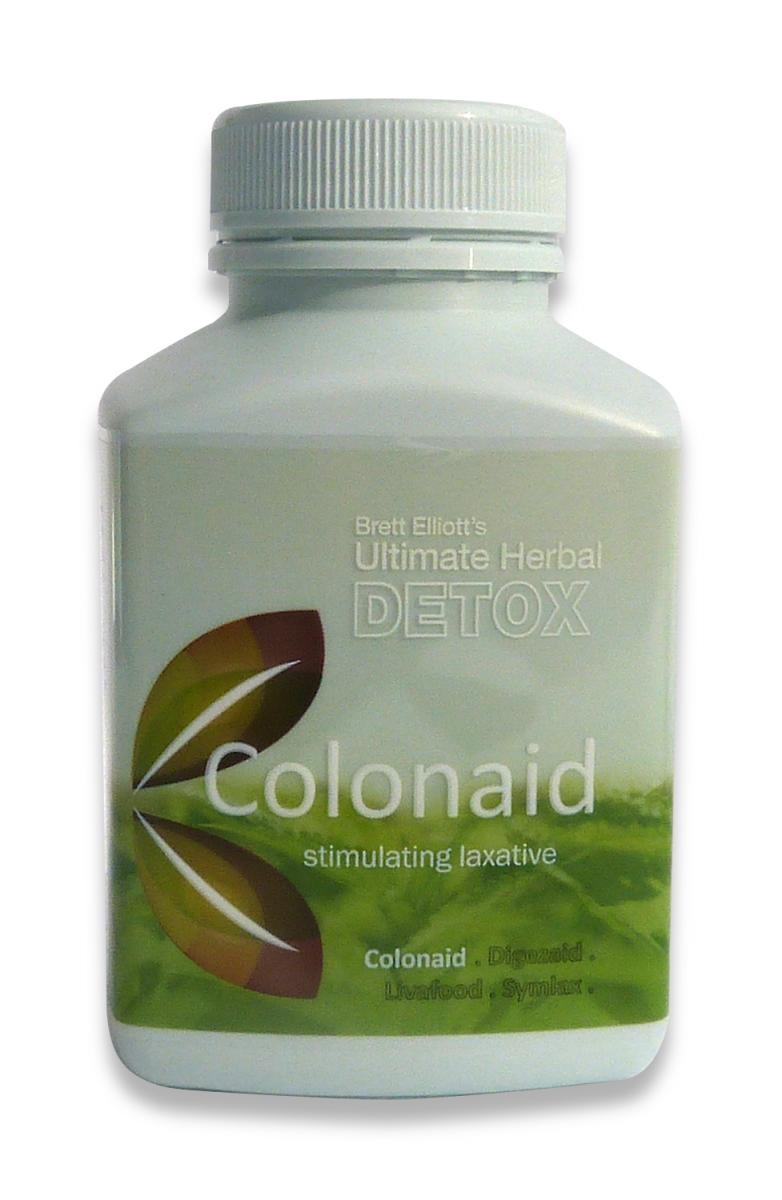 Part 2
---
Digestive Support
Because detoxing can cause a bit of disturbance in the digestive system, it is helpful to take a combination of herbs which support comfortable, healthy digestion and maintain intestinal health.
This formula should contain the enzymes Papain, Bromelain, and Kiwifruit to improve the digestion of proteins and soothing herbal agents such as Peppermint, Ginger, and Fennel to calm digestive discomfort such as bloating and gas.
Cayenne and Licorice are often included to support intestinal wall healing and to control negative bacteria that can cause ulcers and inflammation of the gut wall.
Digezaid (120 Capsules)
Ingredients: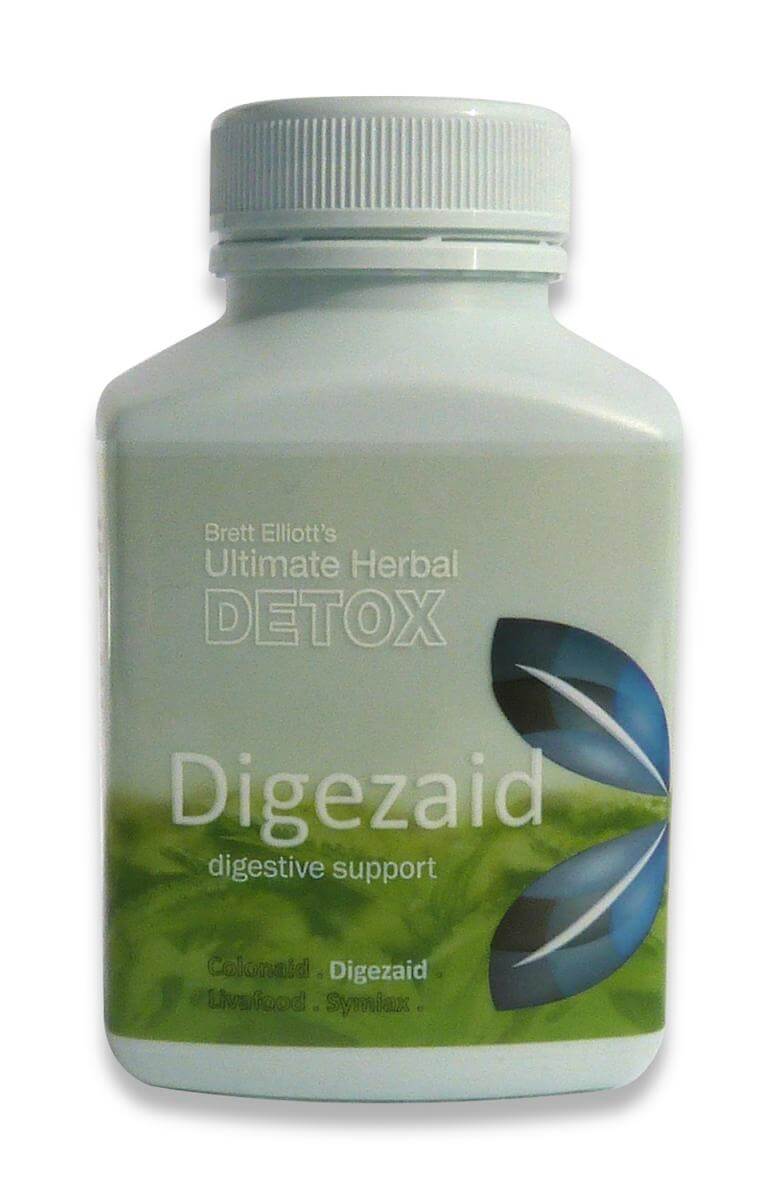 Part 3
---
Liver Cleanse
Your liver is the hub of your metabolism performing over 250 different functions and processing almost every substance that enters your stomach.
Herbs have a long history of supporting liver function, protecting the liver and assisting with detoxification.
It's good to take a formulation which supports liver function and provides a broad range of naturally occurring nutrients including superoxide dismutase which supports phase 2 liver detoxification plus the great liver protector, Milk Thistle.
The addition of Cilantro and Chlorella will promote the process of a heavy metal detox, helping to remove lead, mercury, cadmium and arsenic.
LivaFood (120 capsules)
Ingredients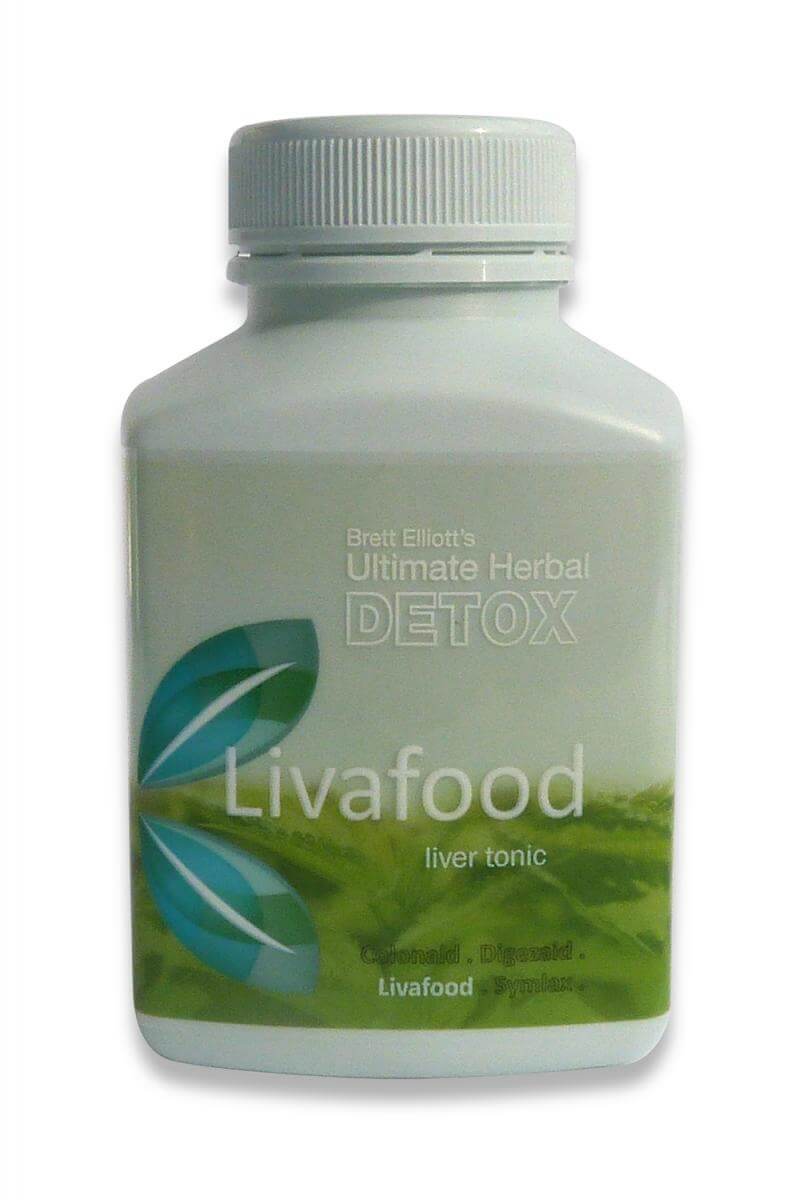 Part 4
---
Prebiotic Fibre
A good combination of soluble and insoluble fibre makes a great prebiotic, encouraging healthy colonisation of your intestine with good bacteria and other microorganisms.
Gentle bulking fiber from Psyllium husk and Chia Seeds include mucilage to support elimination and maintain bowel health. Aloe vera and Slippery elm should be included as prebiotics to help soothe and heal the gut wall.
While consuming a clean diet of fresh fruit and vegetables a great high fibre and prebiotic rich gut will be nurtured.
Symlax (120 capsules)
Ingredients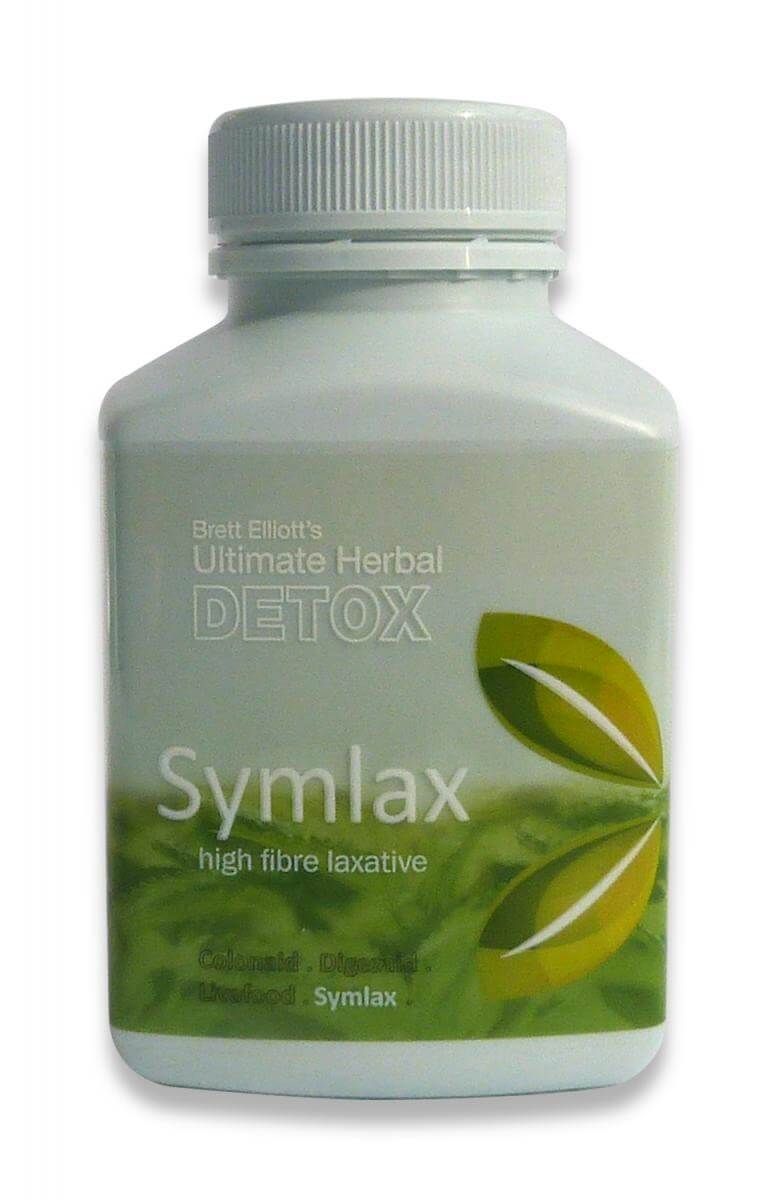 Summary
---
Combining the four-part strategy above with a clean diet with lots of herbs and spices is the real key to success. You can only achieve 50% of the result by using herbal remedies and the rest should be achieved using foods. After all, as Hippocrates said, "Let thy food be thy medicine". Actually, this is the golden rule for long term health. The more you eat whole unprocessed fruits and vegetables adding plenty of culinary herbs and spices the more you will encourage healthy detoxification on a  long-term basis. Medicinal herbs like those mentioned above will top up the equation and provide those specific actions required to complete the job on a short term basis.
It is best to perform a detox on your body once or twice a year under normal circumstances in our busy industrial and city-based lives.
You can get all four parts of the Herbal Detox Strategy in one fabulous pack, pictured below.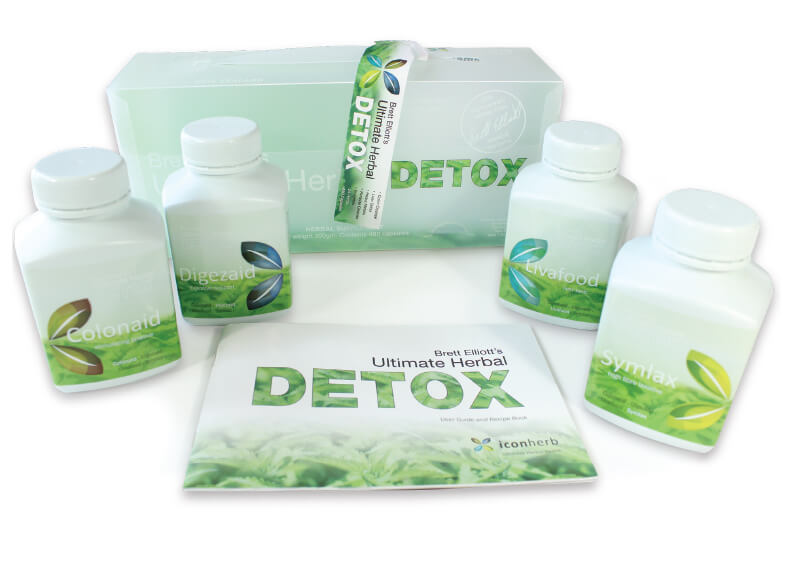 Complete Inner Body Cleanse
You've found quite possibly the most comprehensive "Do it Yourself" Practitioner quality Herbal Detox Program in the world!
With toxic overload and metabolic disease skyrocketing worldwide, the Ultimate Herbal Detox is needed more than ever. Maybe it's time to give your body everything it needs for a fresh start?
24 herbs are combined into 480 capsules within 4 unique products. Brett Elliott's Ultimate Herbal DETOX program is New Zealand's most popular detox program.
This program deals with Liver cleansing, parasites, heavy metals, and digestive health. Watch the video to learn more.
OUR COMMITMENT TO YOU
At Ultimate Herbal Health we understand that choosing to do a herbal detox program can be a daunting and new experience for many. That is why we provide full online support.
Guarantee
We provide a 100% satisfaction guarantee or your money back, so you can be assured we will be with you every step of the way.
Live Support
Our one on one support through both live chat and email, plus a library of recipes, videos, and articles mean you have our full support and will never be alone on your detox journey.
OUR MISSION
To empower millions of people to change their lives with the world's best herbal health programs.
Over 100,000 programs sold in 45 countries in the last 20 years. Backed by scientific research – click here to visit Brett Elliott's personal research database 
Will it help?
Once you have completed the Detox program you have a great foundation for your body to deal with other health issues naturally. It's just like servicing a car to make it sound and respond better. We can't make any health claims but a cleanse is well known to help your body heal itself by allowing healthy functions to return.
There is lots of support material available on this website plus we are here to help you every step of the way. Feel free to live chat with us, or join our Facebook community to see what others are saying.
Disclaimer – Results will vary in time frame and intensity from person to person. We make no claim to treat, prevent or cure any disease. None of the statements on this page have been evaluated by the FDA. Consult your physician before using the Ultimate Herbal Health Programs.