This is a fantastic recipe for energy, protein, antioxidants, fat burning, muscle building, and general ultimate health. It's the protein, fat, and other plant nutrients (vitamins and minerals) that make up a healthy body. Simple carbs or sugar really have no place in a healthy diet. You can get all you need from fruit and vegetables.
Not only is this smoothie super healthy but it tastes like a dream come true – It's the addition of the mint to the mix that really sets this drink alive and it will set you alive as well.
You really need a high-speed blender like the Ladyship Blender to do this properly, otherwise, you will end up with some of the orange skin and pith as small lumps in your drink. You can peel your orange if you don't think your blender will do the trick.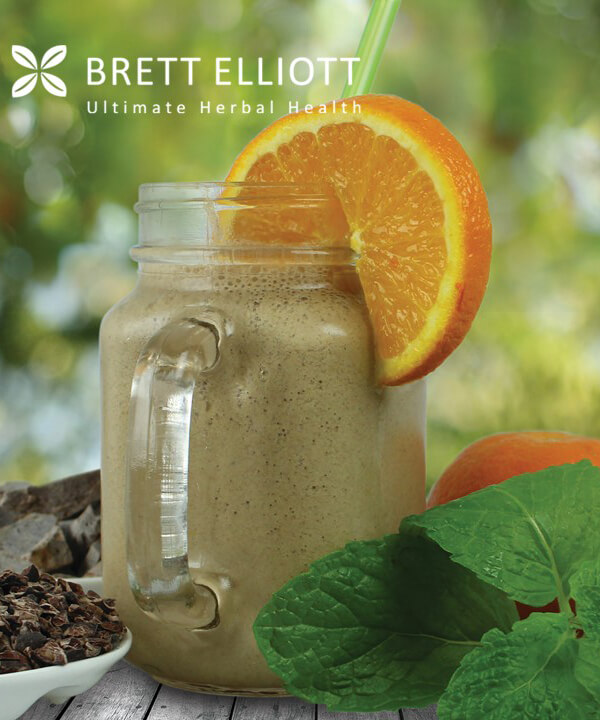 Ingredients:
1 whole Orange with skin on
1 peeled Banana (substitute with an apple if on a 14-day program or less)
1 cup of plain unsweetened yogurt
1 x DETOX 'n SLIM sachet
2 Stevia tablets or 2 tsp honey (honey is healthy)
3 dstp of raw organic Cacao powder
1/2 cup of raw milk
8-10 cubes of ice
1 tsp Vanilla essence (for a delicious flavor)
6-8 large mint leaves (for the dreamy taste)
1/2 cup water
Blend until super smooth and creamy.
This is a complete meal in itself and will give you the treat of your life.
Perfect for: