Get ready to tantalize your taste buds with this mouth-watering recipe that's perfect for any time of year! Whether you're on a detox program or not, this dish is sure to make you forget all about your dietary restrictions.
We're talking about the ultimate Kumara fries and salad combo! You can use red, purple or orange Kumara, but trust us, the red ones are the real deal here.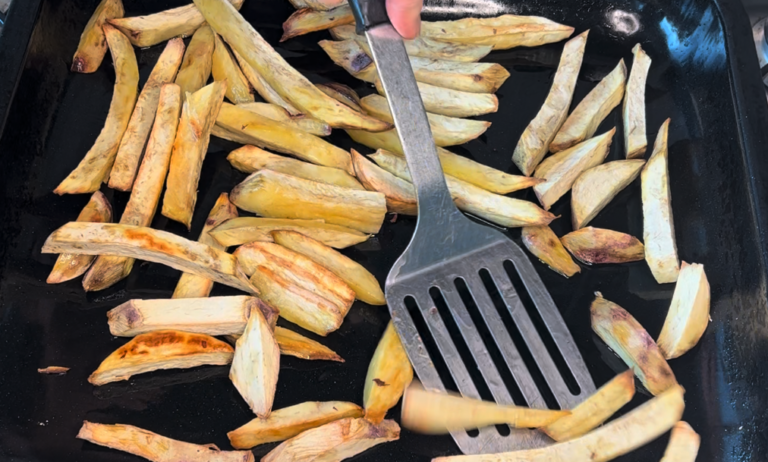 What you will need:
For the fries
2 large red Kumara
4 Tablespoons Coconut oil
For the Salad
A handful of baby spinach greens
1 x large shredded carrot
1 x Avocado
1/2 shredded beetroot
1/4 red onion
2 x Tomatoes
Half a small cucumber, or some pickled cucumber
Some pea or radish shoots
Method:
First, preheat your oven to just under 200°C and get your largest roasting dish ready. Add in 3 to 4 tablespoons of coconut oil and let it warm up while you peel and chop the sweet potato into relatively large 1 cm fries. Once the oil is heated, throw in those fries and set the timer for 35 to 40 minutes. While the fries are cooking, we can get started on the salad.
Shred some carrots and beetroot and douse the beetroot with some olive oil and balsamic vinegar, letting it sit while you prepare the rest of the salad. On one side of your plate, lay out some fresh baby spinach leaves. Finely slice some red onion and sprinkle it over the spinach greens. Layer on some shredded carrot, juicy tomatoes, shredded beetroot, and sprouts, and sprinkle some olive oil, balsamic vinegar, or even pesto or aioli to give it that extra zing.
You will need to turn the fries and wait a further 10-15 minutes until they are well-cooked and a little crispy.  
With the Kumara fries hot out of the oven, it's time to plate up and dig in! The combination of the crispy fries with the fresh and flavorful salad is a match made in heaven. So go ahead and give it a try, your taste buds will thank you!