Nothing is healthier than an all vegetable meal full of greens, antioxidants, and warming herbs. This is another simple 30-minute meal that uses Sweet Potato once again. Delicious and filling with a warm Chili flavor.
Serves 2 people
Ingredients:
2 large carrots
2 medium (or 1 large) sweet potato (Kumara)
Large Handful of spinach leaves
Cut sweet potato and carrots into wedges and pan fry or roast until cooked. While these are cooking prepare the salsa as below. Once the root vegetables are cooked, serve on a bed of fresh spinach leaves and cover with salsa. You can add a little feta if you're on a one-month plan.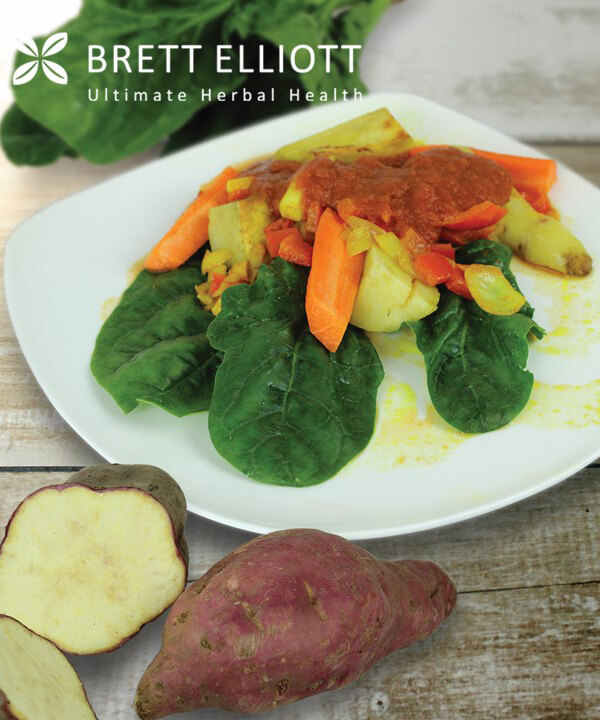 Salsa:
A swirl of olive oil in a pan
1/2 red capsicum
1 onion
6 cloves garlic
3 x pureed tomatoes (or a 400g can) See Brett's Tomato Base Recipe Here
50ml of tomato sauce or tomato paste (use my tomato base recipe)
1 tsp mixed herbs
1 tsp turmeric
1/2 tsp cayenne pepper (or 6 chopped fresh chilies)
Dash of soy sauce
1 Tablespoon of honey
Stir-fry Garlic, onions until soft then mix in herbs and spices. Add capsicum, soy sauce, tomato paste, honey, and puree. Mix until thick and hot.
Spinach Superfood
It is well known that spinach is a superfood because of its very high levels of many nutrients. The cartoon character Popeye was seen to get big muscles whenever he ate spinach! A recent study has shown that Nitrates may, in fact, increase muscle strength. (1) This explains the mechanism behind the theory, so if you want to hit the gym during your health program eat more spinach.
Perfect for:
References:
(1) The Journal of Physiology, Dietary nitrate increases tetanic [Ca2+]i and contractile force in mouse fast-twitch muscle http://onlinelibrary.wiley.com/doi/10.1113/jphysiol.2012.232777/full