The zucchini boats are made with 100% whole foods, with no flour eggs or other binding agents. I have used chia seeds instead. This makes it suitable for eating during your BodiClenz program, or Ultimate Herbal Detox. The great thing with Chia seeds is that they release this gel which is actually composed of soluble fibre and helps the whole process of cleansing plus they are super high in protein and other nutrients.
You will be amazed how the vegetables with pureed have this meeting flavour and texture, can you can add a sprinkle of cheese if you're on the Herbal Slim or Boditune programs.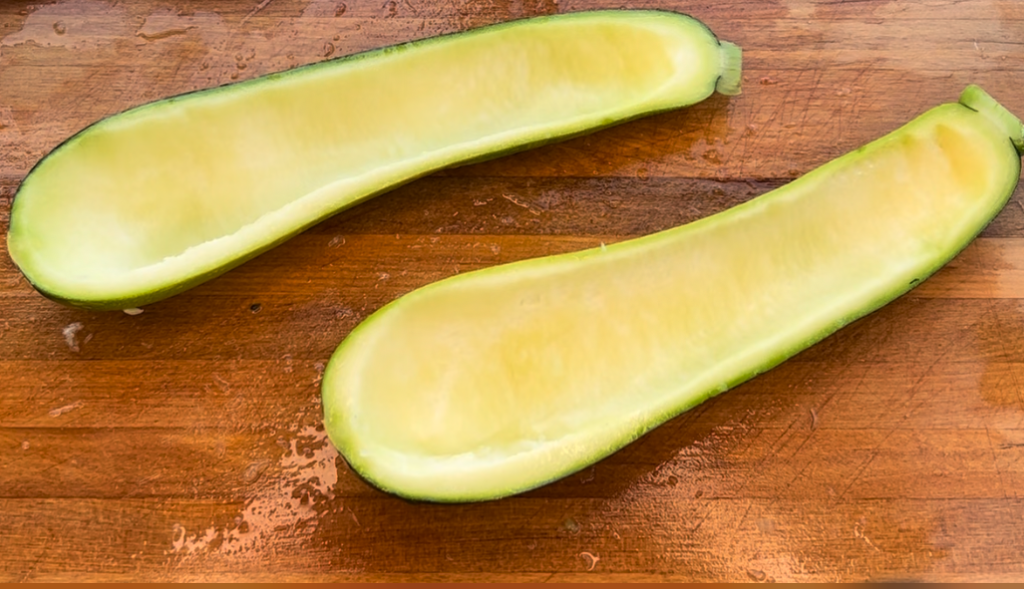 Prep time: 20 minutes
Cook time: 45-60 minutes
Serves 2
Ingredients:
1 x large or 2 medium Zucchinis
6 x large button Mushrooms
1 x large red capsicum
2 x Tomatoes
1 x White onion
6 x Cloves of Garlic
1 x large red chilli (or 1tsp Cayenne pepper)
4 x Tablespoons Chia seeds
1 x Dessertspoon Italian herbs
1 x Dessertspoon Cajun spice
Cheese topping optional
Method:
Set your oven to 200°C and Fan bake. Slice of the zucchinis lengthwise and scoop out the centres with a desert spoon and put to one side. Peel the onions and garlic and take the seeds out of the capsicum. Then place a quick chopping blade in your food processor, and chop all the filling ingredients, (or dice them manually). Take half of these ingredients and put to one side, and put the rest back in the blender along with the Chia seeds Italian herbs and Cajun spice. Change the blade to a grater, and run the zucchini centres through the grater so you get a pulp. Then go ahead and purée everything in the blender with the chopping blade until you get a thick paste. Take the paste and combine it with the remainder of the ingredients in a large bowl until mixed together. Place the zucchini boats in a roasting dish with some coconut oil and fill with all of your fillings. Bake for 45 to 60 minutes until firm and lightly browned, you can add some grated cheese in the last 10 minutes if you're on a herbal slim or boditune program.