Article
Eggplant may not be high on the menu for many people, but during the cleansing detox diet, it makes a very nourishing and filling food for those missing the usual meaty protein.
It also has the ability to absorb moisture from the sauce and take up flavors, which makes it favorable in place of meat.
References
Depending on how long you continue cleansing, eggplant can become an indispensable part of your menu as it's low in sugar and very filling. It is recommended as a part of a healthy diet for balancing blood sugar.
The dark skin is full of antioxidants known to have anti-cancer properties.
You will be surprised just how much of medicinal plant this is.
Eggplant Nutritional Value
From USDA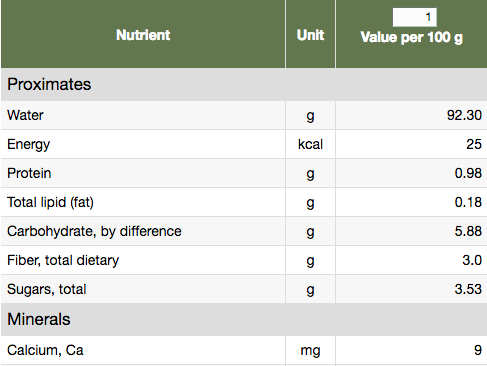 Eggplant Health Benefits
Due to their low carbohydrate and high antioxidant content, eggplants are beneficial for the human diet.
Anti-Cancer
Exposure of cancer cells to glycoalkaloids produced by eggplants inhibits the growth of the cells in culture (in vitro) as well as tumor growth in vivo (in living organisms).
Reports indicate apoptosis (cancer cell death) of bone, breast, cervical, colon, gastric, glioblastoma, leukemia, liver, lung, lymphoma, melanoma, pancreas, prostate, and squamous cell carcinoma cell lines in vitro and the in vivo inhibition of tumor formation and growth in human skin cancers. (1)
Heart Protection
The results of one study demonstrated eggplants as containing potent cardioprotective compounds judging by their ability to increase heart muscle function. There was no difference in cardio-protective ability between raw and grilled eggplant. (2)
Type 2 Diabetes
National Diabetes Education Program of NIH, Mayo Clinic, and American Diabetes Association recommend eggplant-based diet as a choice for management of type 2 diabetes. The rationale for this suggestion is the high fiber and low soluble carbohydrate content of eggplant.
It is also suggested that inhibition of specific enzymes provide a strong biochemical basis for management of type 2 diabetes by controlling glucose absorption and reducing associated hypertension, respectively. (3)
Conclusion
You can bake it, fry it, grill it or even soak it and make a smoothie. Either way, eggplant is a great way to fill the gap without having the simple sugars present in many other foods. If you want to lower your blood sugar, look after your heart and generally avoid metabolic disease then eggplant should definitely be part of your strategy.
Try these recipes: