Description
Ultimate LiverClenz Program
The Liver can become overloaded and poisoned with the very toxins it's meant to process and start to break down, become diseased and even fail completely. This program is designed to cleanse your Liver to help it cope with today's overstressed lifestyle.
The LiverClenz – Ultimate Liver Detox Program program is particularly good at encouraging healthy liver functions, combatting fatty Liver, and protecting the liver from toxic damage. The herbal combinations have been researched and formulated to help improve liver health.
LiverClenz Combo Deal – Itemized value (NZD)
Total Value NZD $432.00
Combo Price $324.00 Savings 25% Discount (Save up to $108.00)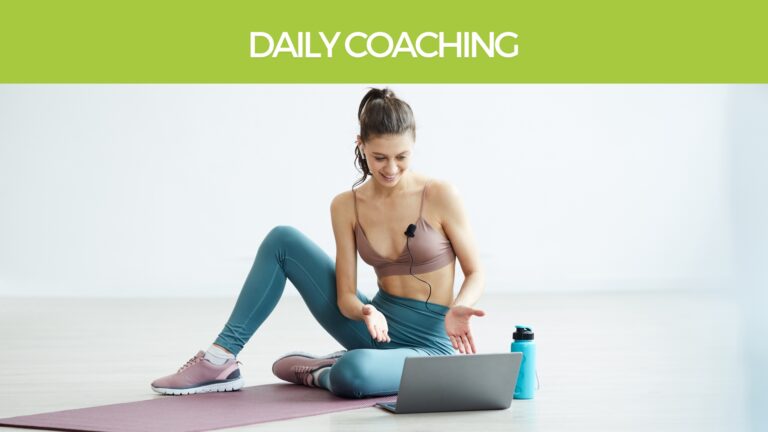 BONUS ITEM – Personal Coaching Valued at $99
Get Daily emails from Brett with links to research on all the medicinal herbs and healing foods, plus recipes, tips, and advice to keep you on track throughout your program. This is included Free with your LiverClenz program.
LiverClenz Program in Depth
Herbal supplements that address the entire digestive system indirectly support the Liver. By clearing undigested, built-up matter from the colon these herbs will reduce the amount of re-circulating waste substances straining the Liver.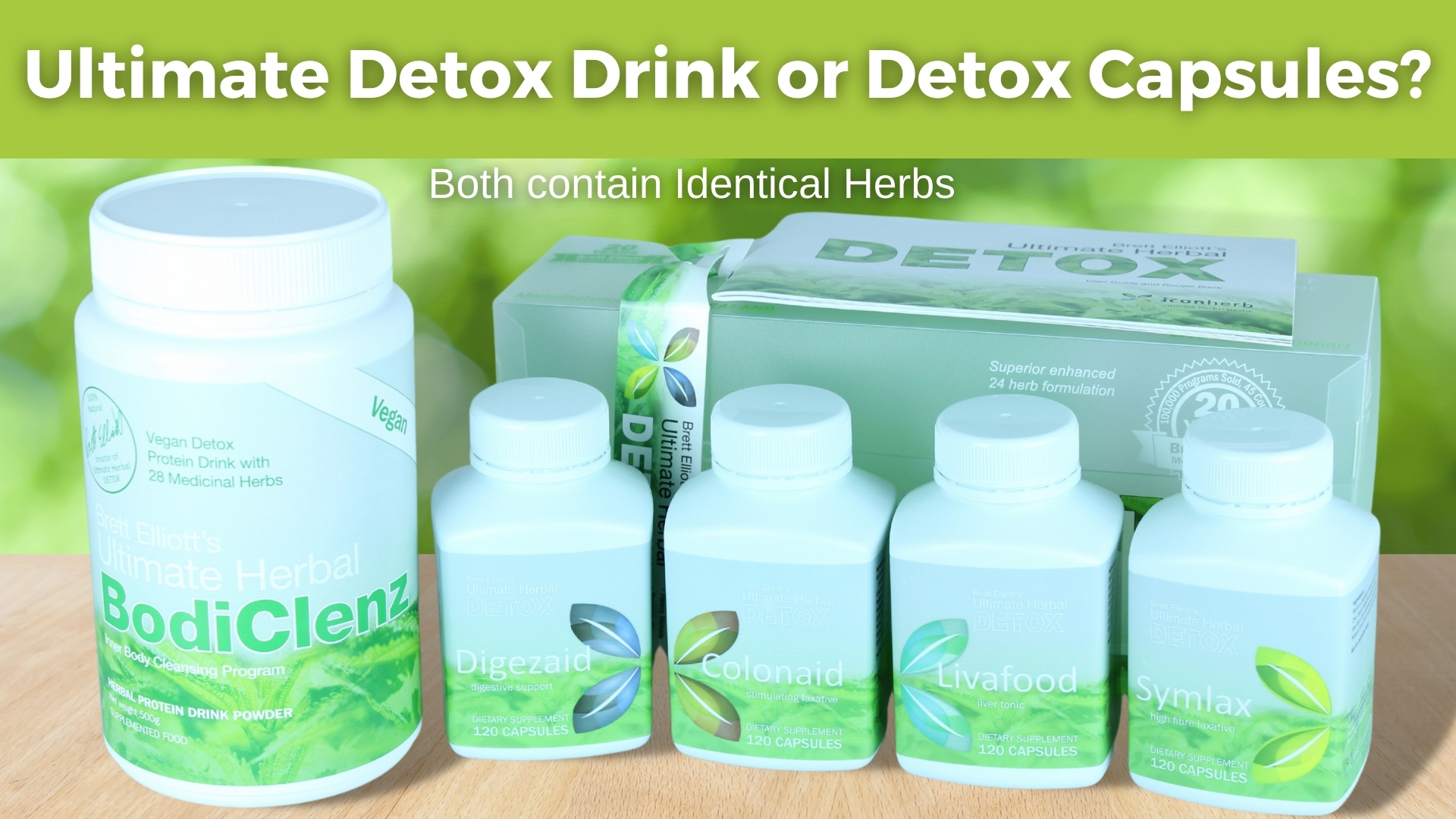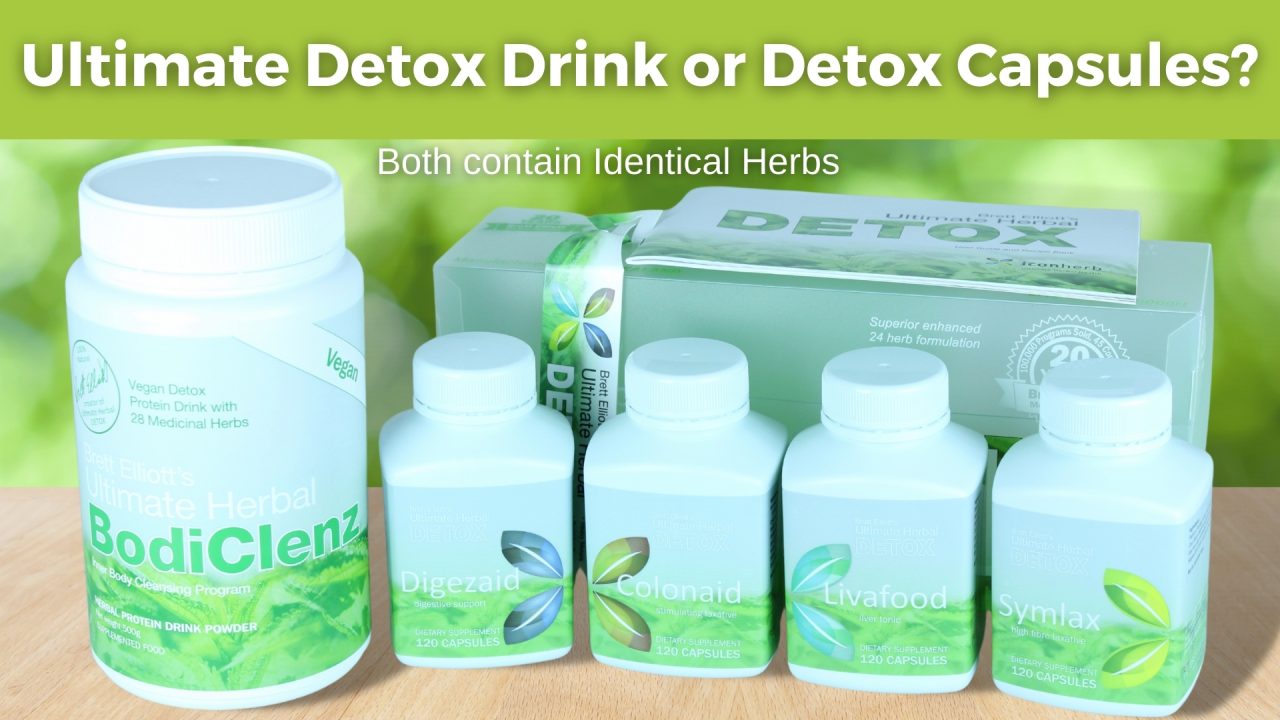 The Ultimate Herbal Detox and BodiClenz
The Ultimate Herbal Detox or BodiClenz programs both give the benefits of most of the very effective herbs we have talked about, including Milk thistle, Globe Artichoke, Goldenseal, Dandelion, Wormwood, Turkish Rhubarb, Kiwifruit, and Barley grass. It is the combination of these foods along with the specific foods mentioned above which give you an excellent liver cleansing program.
You should use these programs over 14-days following what's called the Deep Cleanse Program. Read more about the Deep Cleanse program here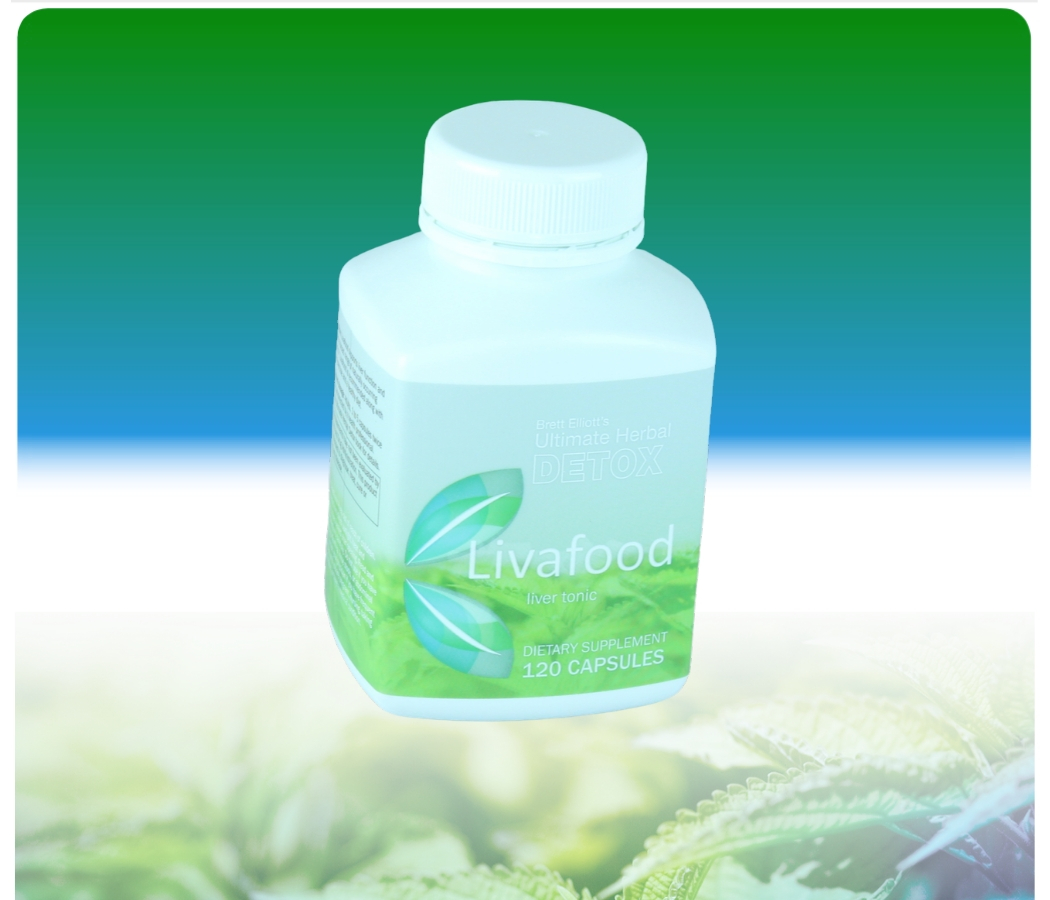 LivaFood Tonic Capsules
Livafood is a nutrient-rich formulation that supports liver function and provides a broad range of naturally occurring nutrients including superoxide dismutase which supports phase 2 liver detoxification plus 700mg of Milk Thistle herb per capsule. The addition of Cilantro and Chlorella promotes the process of a heavy metal detox, helping to remove lead and mercury.
Ingredients: Barley grass (Hordeum vulgare), Globe Artichoke (Cynara scolymos) root, Dandelion (Taraxacum officinale) root, Cilantro (Coriandrum sativum), Chlorella (Chlorella Vulgaris), Golden Seal (Hydrastis canadensis) root, Milk thistle (Silybum marianum) seed.
Take 4 capsules daily for one month directly after completing the Ultimate Herbal Detox or BodiClenz 14-day Deep Cleanse.  
LiverClenz Liquid Tonic
LiverClenz Liquid Tonic contains a blend of classic liver tonic herbs formulated by Brett Elliott, Medical Herbalist.
The formula includes the following herbs: LIcorice, Milk thistle, Dandelion, Bupleurum, Andrographis, Gentian, Goldenseal
Take 10ml three times daily alongside the 14-day Deep cleanse program
Liver Detox Supplements - Frequently Asked Questions
What is the Ultimate LiverClenz Program, and how can it benefit my liver health?

The Ultimate LiverClenz Program is a holistic and empowering journey towards rejuvenating your liver health.

Our liver detox supplements are specially designed to assist your liver in its vital functions, protecting it from toxic damage and supporting overall well-being.

By combining the power of herbal liver detox and nourishing ingredients, this program can encourage a healthy liver, combat fatty liver, and help your liver cope with today"s busy lifestyle.

Your liver plays a pivotal role in your overall health. It processes and eliminates the toxins we encounter daily. The Ultimate LiverClenz Program, featuring liver detox tablets and a liver detox tonic, is your key to revitalizing this crucial organ.

Experience a life full of energy and vitality, free from the burdens of an overloaded liver. Choose the best liver detox supplement in NZ with Ultimate LiverClenz and embark on a transformative journey toward a healthier, more vibrant you.
Can you explain the specific herbs and ingredients included in the LiverClenz program and their roles in liver detoxification?

Our LiverClenz program incorporates a blend of powerful herbs, meticulously selected to support your liver"s detoxification journey.

These herbs, such as Milk Thistle, Globe Artichoke, Dandelion, and more, are carefully chosen for their ability to promote healthy liver functions, protect against toxic damage, and encourage the removal of waste substances.

Each ingredient serves as a crucial part of this holistic process, making our liver detox supplements an exceptional choice for those seeking comprehensive liver health support.
How long should I follow the Deep Cleanse Program as part of the LiverClenz Program, and what does it entail?

The Deep Cleanse Program, an essential part of our LiverClenz program, is typically followed for 14 days.

It involves incorporating either our Ultimate Herbal Detox or BodiClenz programs. These liver detox supplements provide the benefits of potent herbs like Milk Thistle, Dandelion, and more, which collectively enhance liver cleansing.

This holistic approach focuses on dietary adjustments, promoting natural detoxification, and supporting overall liver health.

The herbal liver detox offers a transformative journey to help your liver thrive and cope with modern-day stressors.
What is LivaFood, and how does it support liver function and detoxification?

LivaFood is a powerful nutrient-rich liver detox supplement designed to bolster liver function and facilitate detoxification.

Packed with 700mg of Milk Thistle per capsule and supplemented with Cilantro and Chlorella, LivaFood aids heavy metal detoxification, helping eliminate substances like lead and mercury.

This holistic herbal liver detox, combined with the natural nutrients within LivaFood, promotes a healthier liver, empowering it to perform optimally.

It"s a vital component of our LiverClenz Program, contributing to your overall liver health and vitality.
Are there dietary recommendations that I should follow while on the LiverClenz Program?

While on the LiverClenz Program, we recommend a diet rich in liver-loving foods.

This includes vegetables from the brassica family like broccoli and cabbage, which support liver detoxification"s phase 2.

Incorporate raw fermented vegetables to boost nutrients and aid colon health, ultimately benefiting the liver.

Onions and beetroots are essential for their natural compounds that support detox processes. Additionally, add turmeric to your dishes for its protective and detox-enhancing properties.

Grapefruit and berries like blueberries are excellent for liver health. Embrace these dietary recommendations to maximise the benefits of your liver detox supplements.
What kind of benefits can I expect from using the LiverClenz Program, and how soon will I notice results?

The Ultimate LiverClenz Program offers a holistic approach to liver health, providing benefits like liver support, detoxification, and protection.

While individual experiences may vary, many users of the herbal liver detox report improved vitality, enhanced liver function, and a sense of well-being.

Positive changes can often be noticed within weeks, with the program"s thorough cleansing and nourishing effects on the liver.


Consistency is key, and embracing the liver detox supplement program can lead to long-term health benefits for your liver and overall well-being.