This recipe makes an ideal lunch or dinner during your one or two-month Detox or Slim program. (Without the Feta it is suitable for 7 to 14-day DETOX program)
This is very quickly prepared, using cubes of kumara or sweet potato leftover from a previous night's meal.
Serves 2 people
Ingredients:
1 x Cooked sweet potato (Kumara), chopped into mouth-size pieces
A Handful of Mesculin salad
1 x chopped red capsicum
50g of diced Feta cheese
Method:
Blend all together. The Kumara and feta give substance to an otherwise light and leafy salad. Cottage cheese or ricotta may be substituted for feta.
Aioli Dressing:
Peel 6-10 cloves of garlic. Add these into blender or grinder along with 1 cup of yogurt, 1/2 cup extra virgin olive oil, 1/2 peeled lemon, 1 tbsp of apple cider vinegar, 1 dstsp whole grain mustard. Blend until smooth.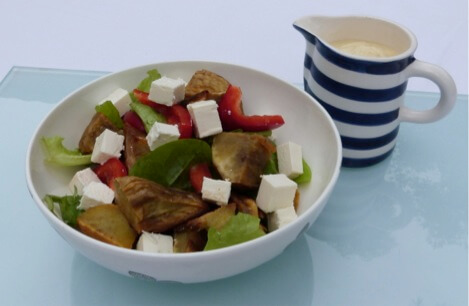 Perfect for: