This is a great little warmer for your two-week or one-month Detox program. It has the benefit of coconut milk which is good fat, especially if you can get good quality organic coconut cream. The combination of coconut and chili (in the red curry paste) is truly rewarding.
Serves 4 people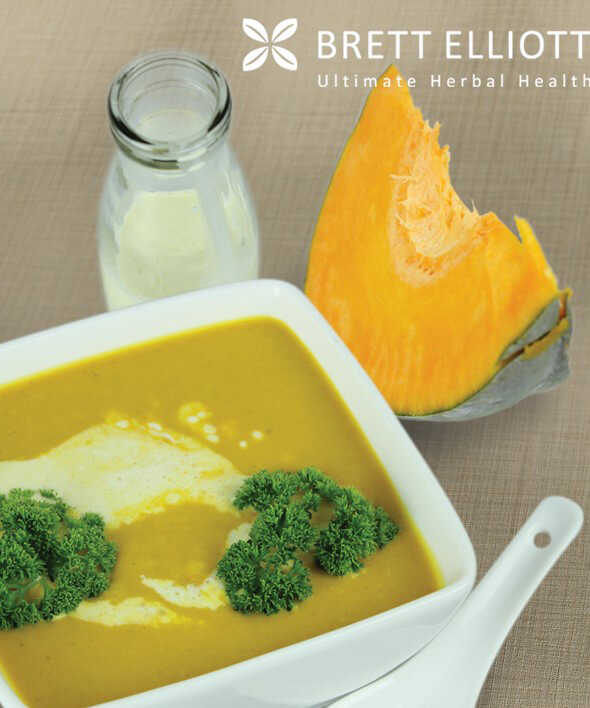 Ingredients:
½ Crown pumpkin
2 stalks of celery
1 x 440gm can of coconut cream
200ml water
2 dstsp butter
2 dstsp authentic Thai red curry paste
1 dstsp crushed garlic or 6 cloves
1/2 tsp cumin
1/2 tsp ginger
1 tsp thyme
Method:
Chop pumpkin into 1-inch cubes and boil until soft. Drain mash and set aside. Melt butter stirring in dried herbs and spices and sauté for 1 minute. Stir in garlic, curry paste, and coconut milk. (If you like to warmer you can increase the Thai curry paste) Finally, add the pumpkin and allow it to simmer, stirring gently. Blend the soup in a blender until smooth and creamy. Serve with fresh cilantro and a swirl of cream.
Perfect for:
Powerful Pumpkin:
Pumpkin is one of the best-known sources of beta-carotene, an antioxidant that gives orange the color to vegetables. The body converts it into vitamin A in the body. Foods high in beta-carotene may reduce the risk of developing certain types of cancer and can delay aging and body deterioration.
Blood pressure: Eating pumpkin is good for the heart! The fiber, potassium, and vitamin C content in pumpkin all support heart health. Consuming adequate potassium is almost as important as decreasing sodium intake for the treatment of hypertension (high blood pressure). Other foods that are high in potassium include bananas, oranges, pineapple, spinach, and tomatoes.