This is a nice variation on Chinese sweet and sour.
You can use these ingredients or try other vegetables of your choice.
If you're doing the one or two-month Herbal DETOX program then you could include some cubed fish, and if you're doing the Herbal SLIM program then you could even try cubed chicken. Just quickly stir-fry the meat first, place aside and add back in just before serving.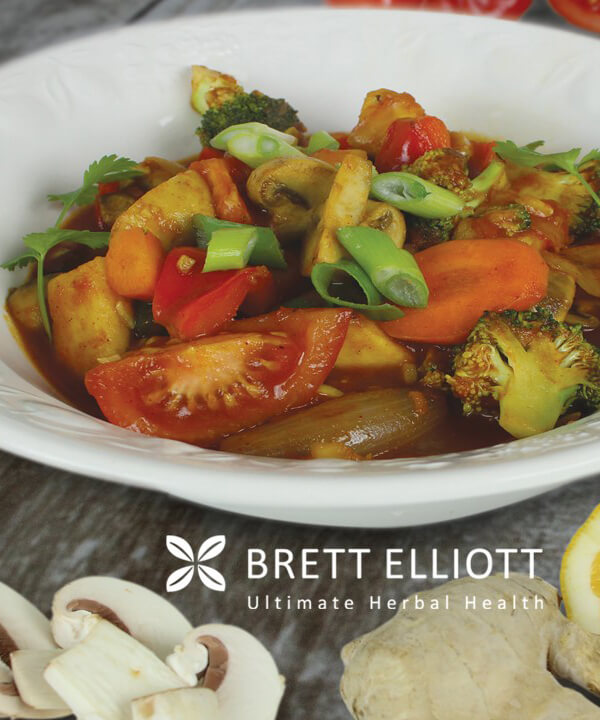 Serves 4 people
Ingredients:
Vegetables:
1 x large onion
6 x cloves of garlic
2 x carrots
2 x capsicums
1 x small head of broccoli
6 x flat mushrooms
1 x handful of spinach greens (or green runner beans)
1 x ring of pineapple chopped into pieces
Sauce:
1⁄2 cup tomato paste
2 tbsp fresh ginger
1 small lemon
1 tsp paprika
1 tsp turmeric
2 dstp honey
1 tsp cayenne
1 dstp soy sauce
Method:
First of all mix the sauce, by melting the honey in hot water. Place dry ingredients in a bowl and mix, while adding soy sauce, lemon juice, and melted honey. Combine with tomato paste and fresh ginger.
Then chop all vegetables into bite-size pieces as you desire. Slice and stir fry the mushrooms first and place to one side. Sauté in olive oil the onions, garlic for 2 minutes, then add the carrots, broccoli until half cooked and still crunchy. Add the spinach greens, mushrooms, pineapple and sauce and allow to come to a gentle simmer to 2 minutes. Serve fresh with a sprinkling of fresh cilantro.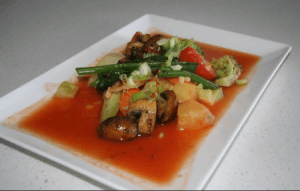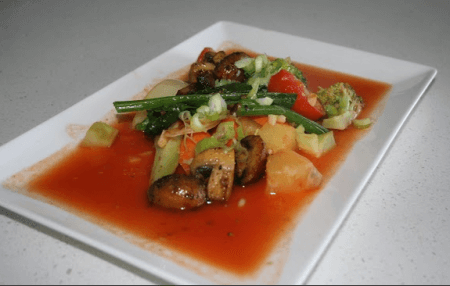 Perfect for:
Precious Pineapple:
1 cup of fresh pineapple yields 130% of your daily Vitamin C, 2% of vitamin A, 2% of Calcium, and 2% of your iron requirements. Pineapple is a rich source of vitamins and minerals including thiamin, riboflavin, vitamin B-6, folate, pantothenic acid, magnesium, manganese, and potassium.
Pineapple is the only known source of the protein-digesting enzyme Bromelain, which has been studied in relation to alleviating joint pain, arthritis, reduce inflammation, inhibit tumor growth, and shorten recovery time following plastic surgery.