Description
The Ultimate Herbal BodiClenz Smoothie Drink
Your program includes:
28 powerful herbs in a 500g drink powder pot
A recipe sheet and user guide
A wall planner for your meals with links to video instructions
FREE BONUS 1 – Detox 'n Heal Yourself Mobile App
FREE BONUS 2 – A daily coaching program by email, with recipes, tips, and inspiration, worth $99.00
Are you ready to take your health and wellness to the next level? 
We're thrilled to introduce you to BodiClenz, the Ultimate Herbal Detox in a Vegan protein drink! 
It's a simple, effective, and delicious way to cleanse your body from the inside out, and with our easy program guide, you'll have everything you need for your best cleanse ever.
If you've tried the Ultimate Herbal Detox before, then you know how powerful it can be. Our new vegan protein drink takes things to the next level, providing you with not just an inner-body-cleanse and metabolic reboot, but also the added benefits of gut health, enzymes, prebiotic fiber, and liver support.†
With two different pot sizes available – 500g and 1kg – you can choose the perfect option for your needs. The 500g is perfect for a single person, while the 1kg is ideal for two people or if you're looking to do two detoxes, one now and one in the future.
So what are you waiting for? Say goodbye to toxins and hello to a healthier, happier you with the Ultimate Herbal Detox in a Vegan protein drink. Order now and experience the benefits for yourself!
† This statement has not been evaluated by the Food and Drug Administration.
Ingredients - Benefits and Research
In a 20% Protein Base the 24 herbal ingredients below make up the remaining 80% of BodiClenz Powder.
Base & Nutritional Ingredients:
Pea protein, Rice Protein, Acacia gum, Guar gum, Natural Flavours – Orange peel, Stevia and Banana,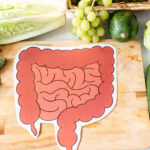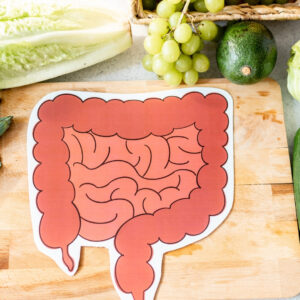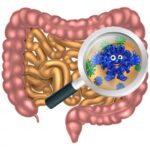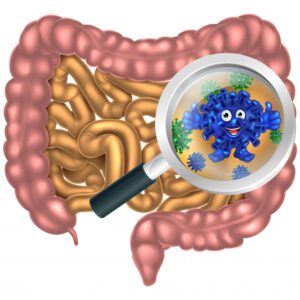 BodiClenz contains Pea protein plus 28 key Detox herbs including anti-parasitics, heavy metal chelators, and gentle stimulant laxatives.
† This statement has not been evaluated by the Food and Drug Administration.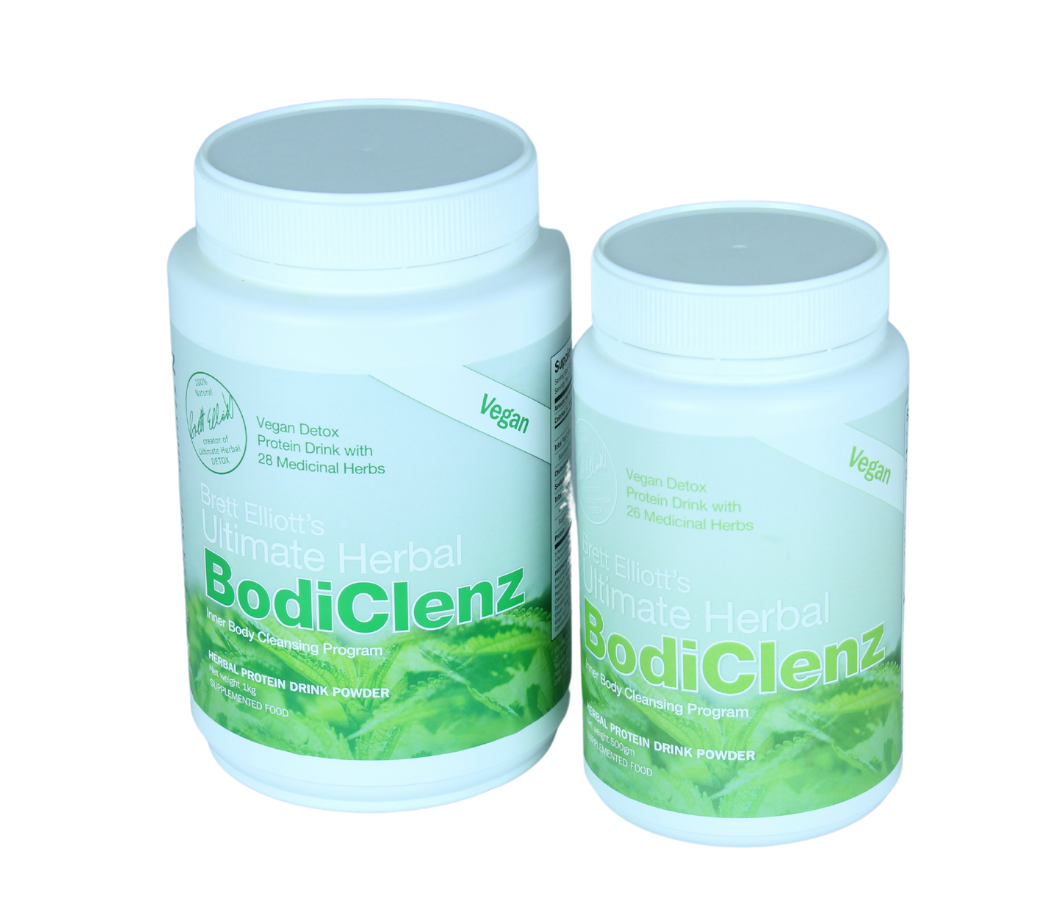 BodiClenz – the easy and effective way to get all the active herbal ingredients from the Ultimate Herbal Detox capsule program.
Developed by Brett, our founder with over 20 years of experience, BodiClenz is a time-tested and proven formula that's now mixed into a protein and natural fruit powder blend. 
This means you can easily drink the herbs, without having to take 40 capsules a day!
BodiClenz is perfect for anyone who wants to cleanse their body from the inside out, but without the hassle of taking so many capsules. With our protein and natural fruit powder blend, you can get all the benefits of the Ultimate Herbal Detox capsule program, in a convenient and delicious drink.
So if you're looking for an easy and effective way to detox your body, try BodiClenz today! Your body will thank you for it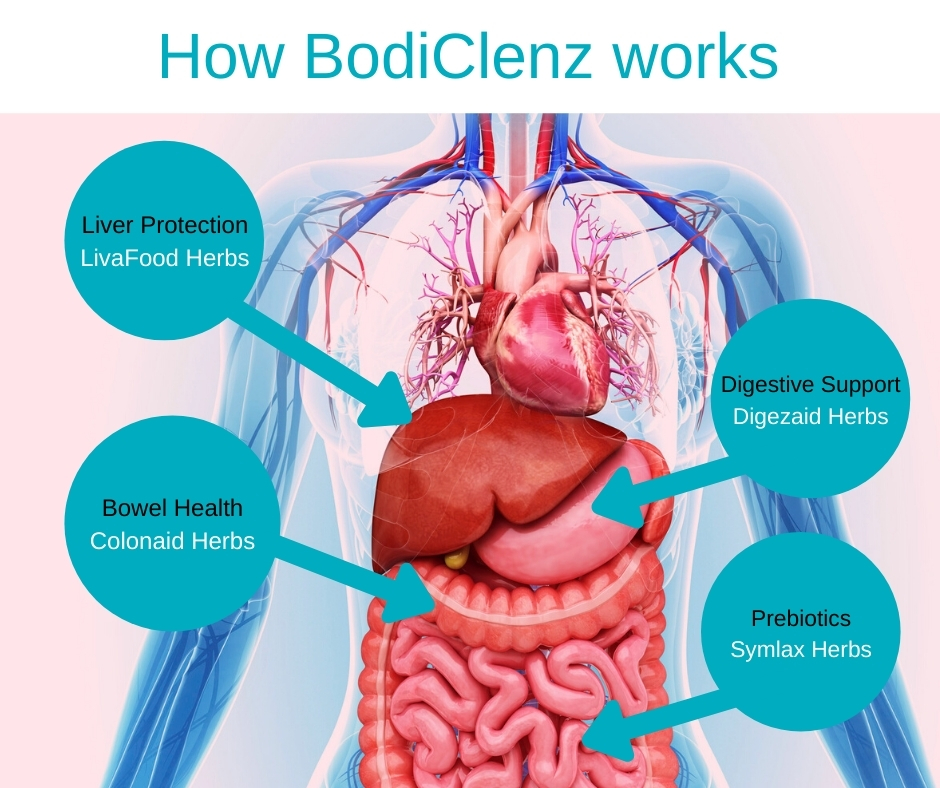 How to do the BodiClenz Program
Power Cleanse Program – 4 Scoops Daily.
Over a period of 7 days, you will consume nothing but superfood smoothies and a little fresh fruit. Smoothies will include a range of fruits and vegetables and can be your breakfast, lunch, and dinner. Great for a quick full-body cleanse. See the 7 Ultimate BodiClenz Recipes here
Deep Cleanse Program – 2 Scoops daily.
Over a period of 14 days, you will consume superfood smoothies for breakfast and lunch along with a little fresh fruit during the day. You can still have a hot dinner but only made from fresh or stir-fry vegetables. See the Deep Cleanse Diet plan summarized here
Gentle Cleanse / Maintenance Program – 1 Scoop daily.
Can be used for long-term digestive health, and to keep you on track with healthy eating.
Diet plan – Detox recipes
Because this program is basically designed to achieve the same thing as the Ultimate Herbal Detox, you can apply the same dietary guidelines.
This means avoiding meats, processed food, starches like rice, pasta, potatoes, and bread, as well as all grains, nuts, seeds, and legumes.
See a brief outline of the DETOX diet plan here
You can also tailor the BodiClenz program to suit your specific needs by targeting the various systems of your body.
Brett has designed 7 specific recipes that aim to support these various systems including stomach, liver, colon, kidneys, heart, brain, and blood.
See Brett's Seven Ultimate BodiClenz Smoothie recipes her
BONUS 2 - Free Daily Coaching Included
14-Day DETOX Coaching Program – With Brett Elliott

$

59.05

Join the 14-day DETOX program for improved health and happiness with daily videos, tips, and recipes delivered by email, along with personal coaching, research articles, and follow-up plan. Additionally, get free live support via webinars, live chat, and email with Brett to answer any personal questions about the detox process.