Description
Get Ready to Detox & Heal Yourself with the 2-Month 'Transform Yourself' Program
Are you ready to take your health and wellness to the next level? Look no further than the 2-Month 'Detox & Heal Yourself' Program!
With over 25 years of experience and over 120,000 people having completed the herbal programs, Brett's second book completes the entire Ultimate Herbal Health program package, providing you with everything you need to transform your life.
Experience a double deep full body detox and cleanse, followed by a 1-month metabolic reset and craving control. This program is perfect for those ready to launch into the next phase of personal growth and achieve deeper levels of healing.
Say goodbye to toxins and hello to a healthier, happier you with our program. Transform your life today and start your journey toward ultimate wellness!
The Program includes the following parts:

Total Package Value NZD $1,043.00 Combo Package Deal ONLY $499.00
SAVE over 50% Total Savings NZD$544.00
How It Works
Stage 1: CLEANSE
The Ultimate Herbal Detox and BiodiClenz is used over 1 month. This is called a Double Deep cleanse Combo.
Recommended reading, Book 1 – Cleansed & Cured.
Stage 2: TUNE UP
The Ultimate Herbal SLIM and BodiTune are used over the second Month. This is called a Rapid Slim Combo.
Recommended reading, Book 2 – Unconditional Energy Healing.

Program Breakdown
Outline
Double the herbs over Double the time frame = double the Deep Cleanse. Instead of a 14-day deep cleanse this is a 1-month deep cleanse.
If you've done a detox before or you are super serious about doing a deep cleanse that will potentially reset your entire body from the ground up, then this is the program for you.
For some people, the 40 capsules a day can be too much, while for others 2 smoothies a day can be overwhelming. The great thing with this combo is you only need to consume half the amount of each. A total of one smoothie and 16 capsules.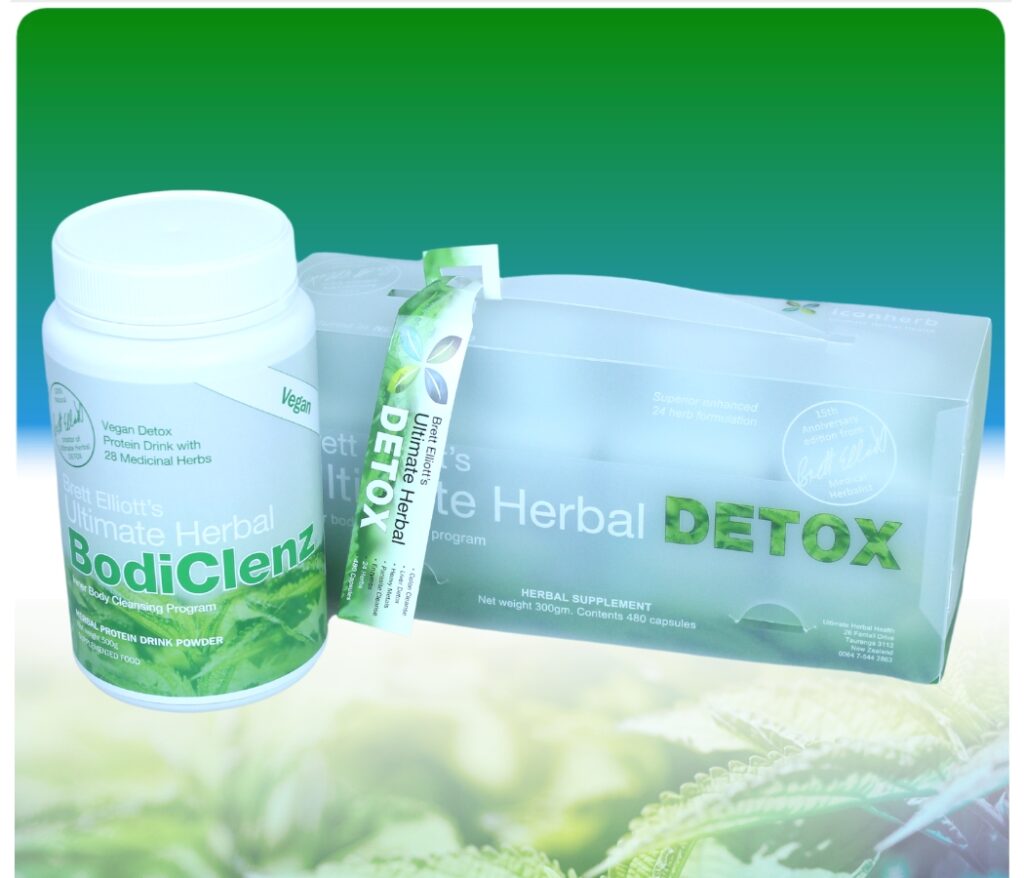 The Double Deep Cleanse
What You Get
1 x BodiClenz drink powder (500g Pot)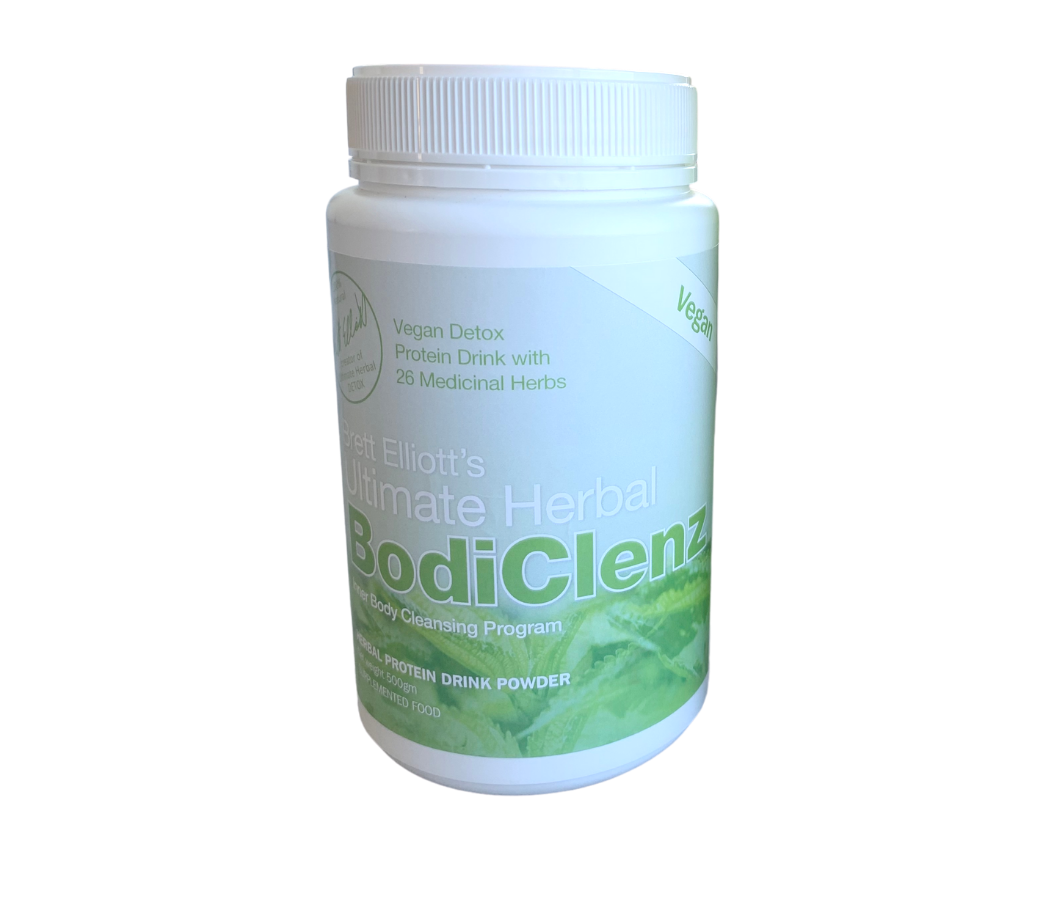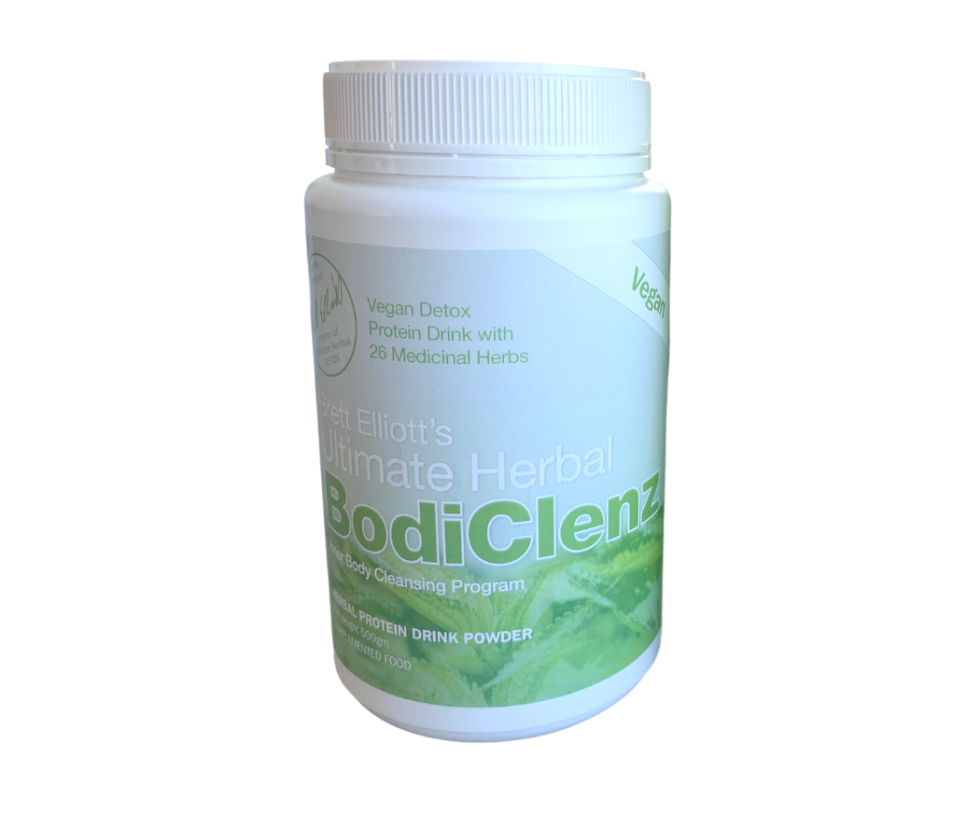 1 x Ultimate Herbal DETOX (4 bottles, total 480 capsules)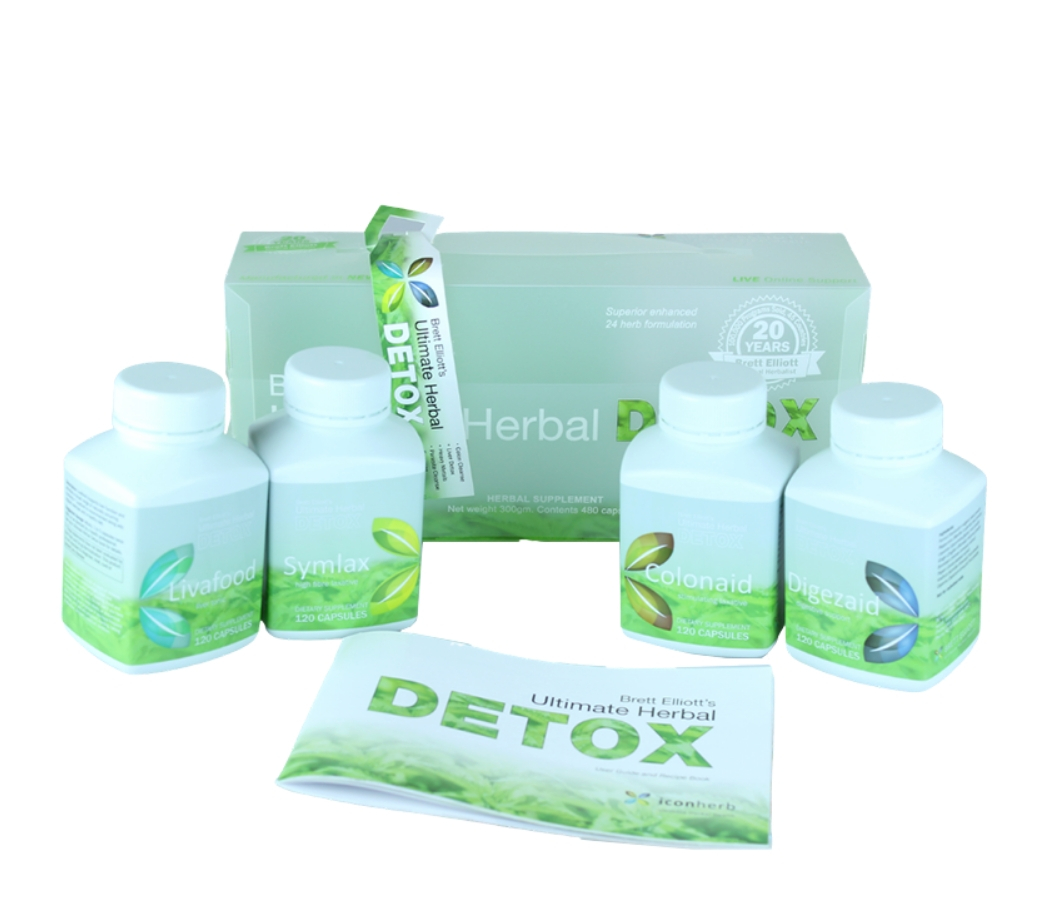 How to do the Double Deep Cleanse
For 30 days.
Each Morning for Breakfast
Make one smoothie from the BodiClenz Ultimate 7 Smoothies.
I recommend starting with the first recipe for 4 days, then moving onto the second recipe for another 4 days, and so on through the list.
During the Day
Eat light snacks of fresh fruit, or have a light salad. (no nuts, large seeds, or any processed foods)
See the Deep Cleanse recipe finder here.
Dinner
Choose from the recipes under Deep Cleanse on the recipe finder here.
At Bedtime
Take 4 capsules from each of the four bottles in the Ultimate Herbal DETOX pack.
Read the Cleansed & Cured Book if you can.
It's that simple!
BOOK Bonus 1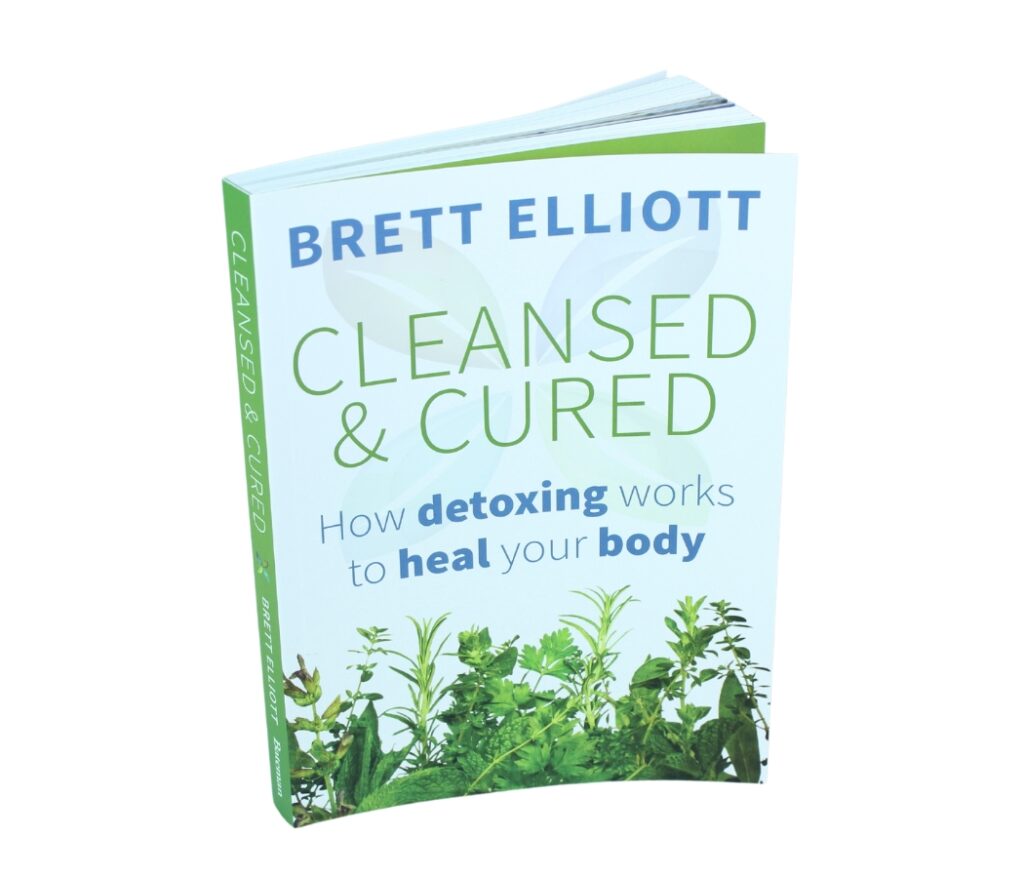 Cleansed & Cured Book
In this beautifully illustrated book, Brett shares his extensive knowledge of detox diets, along with other healing methods, to help you heal your body naturally. You'll learn how to reduce chronic inflammation, the underlying cause of many major health problems today.
Through specific natural herbs and foods, Brett teaches you how to solve the world's most common health conditions simply by treating the underlying cause. You'll even find Brett's favorite detox diet recipes included!
But this book is not just about health and wellness – it's about transforming your life. Brett shares his healing secrets and principles for achieving what he calls "ultimate health," leading you on a transformational personal journey toward realizing your full potential in life.
After all, health is your biggest asset, and you can't buy it. So why not invest in yourself and your well-being today with "Why Detox Diets Actually Work: Healing Your Body with Herbs and Foods"?
Outline
The Rapid SLIM Combo gives you the benefit of the morning smoothie for energy and craving control throughout the day, along with the targeted craving control and a metabolic boost from the Herbal SLIM capsules.
Your morning or lunch BodiTune smoothie also provides a maintenance dose of the Detox and BodiClenz herbs to keep the liver and digestive organs running smoothly.
The ideal follow-up to stage one allows you to get your good habits set in stone for the long term.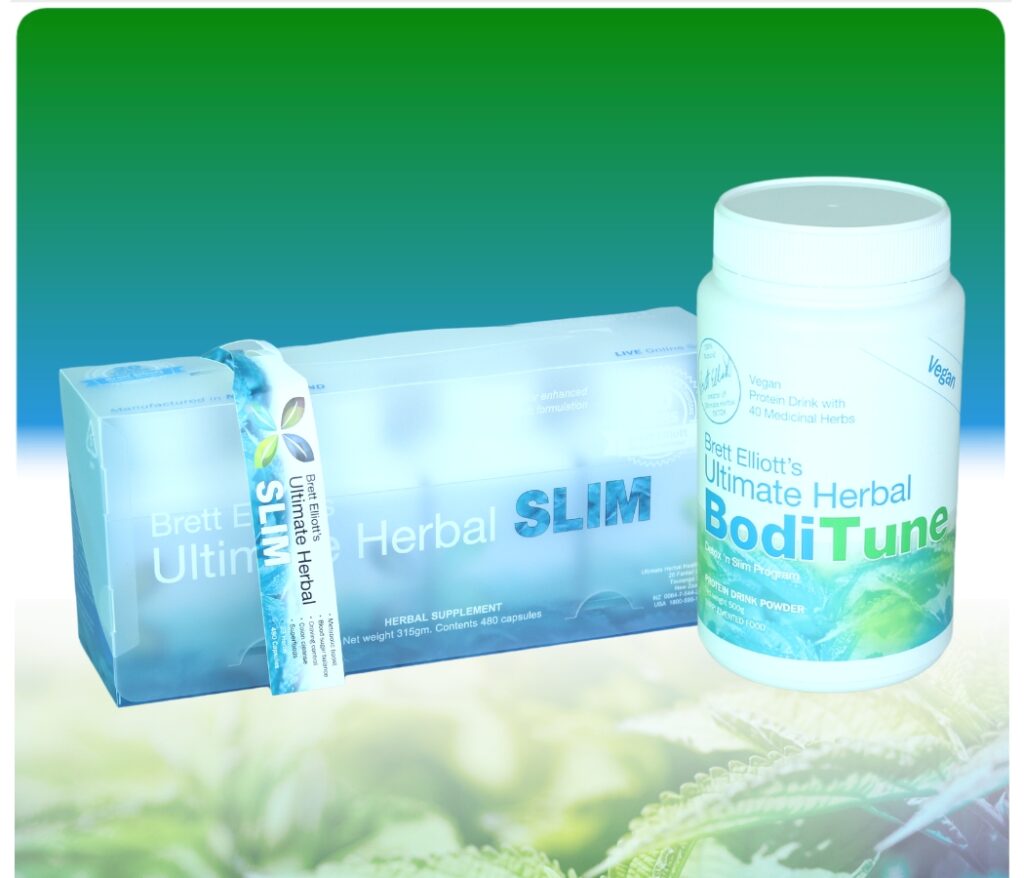 One Month Rapid SLIM
What You Get
1 x The Ultimate Herbal SLIM pack (4 bottles, total 480 capsules)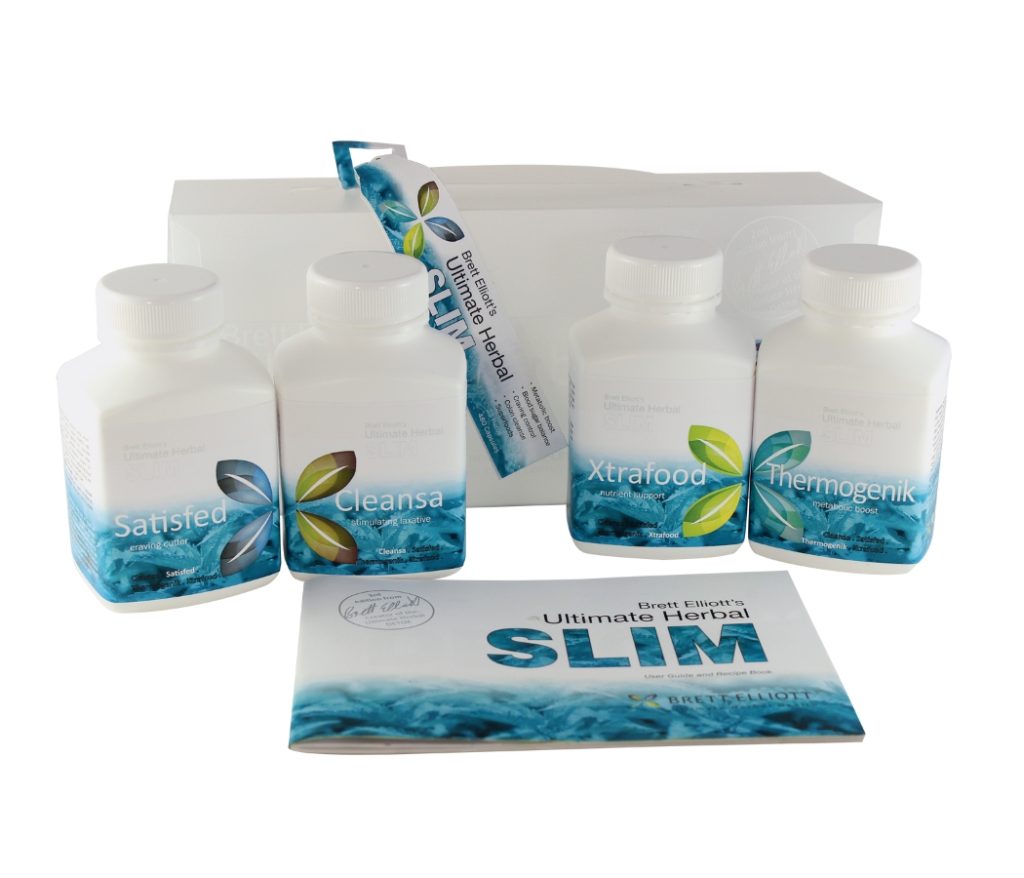 1 x Ultimate Herbal BodiTune (500g powder pot)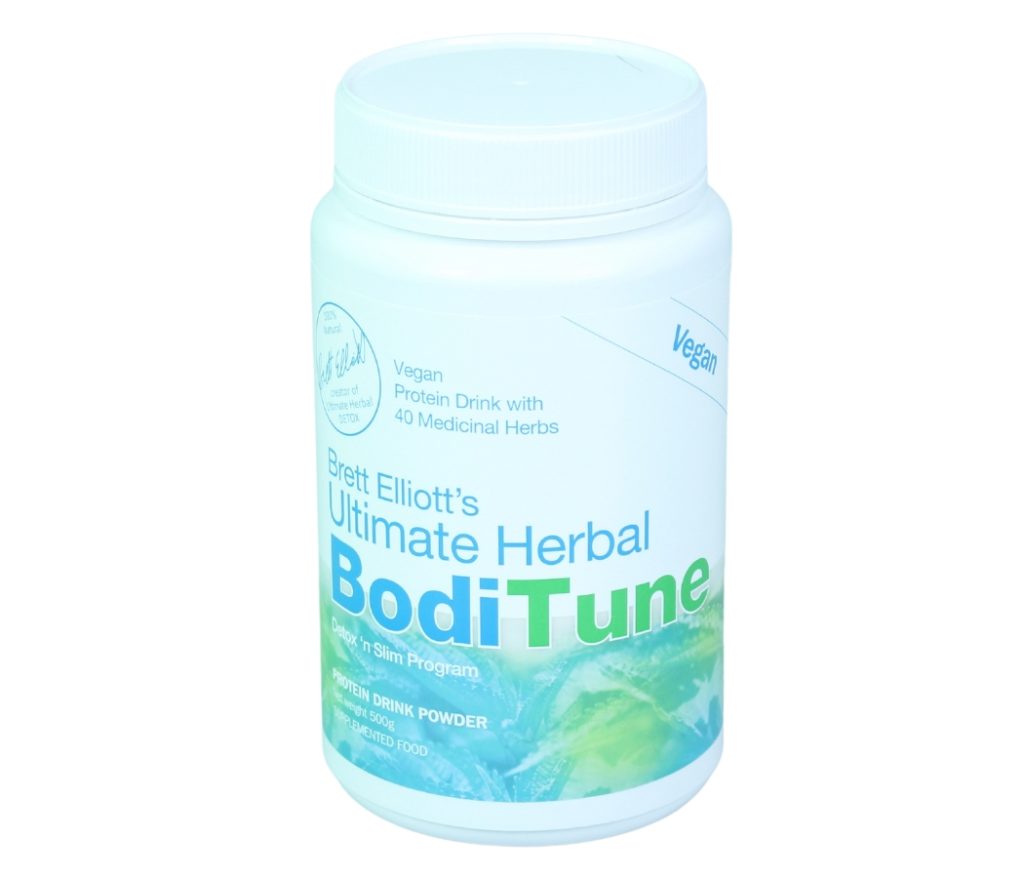 How to do the Rapid SLIM Combo
For 30 Days
The Ultimate Herbal SLIM is the ultimate metabolic boost and craving controller, plus a gentle bowel regulator.
Follow the 1-month Rapid Slim plan and follow the food guide provided inside the pack.
From Ultimate Herbal SLIM 480 Capsules you will be taking 4 capsules daily from each of the four bottles.
For best results:
Take 4 x Thermogenik and 4 x XtraFood with your morning BodiTune smoothie.
Take 4 x Satisfed 1/2 hour before dinner or before your normal naughty snack time.
Take 4 Cleansa at bedtime.
The Ultimate Herbal BodiTune is also a metabolic boost, craving controller, and bowel regulator.
Take 1 x 15g scoop of powder in your morning or lunchtime smoothie. Food Guide Provided.
Read the Unconditional Energy Healing Book if you can.
It's as simple as that!
BOOK Bonus 2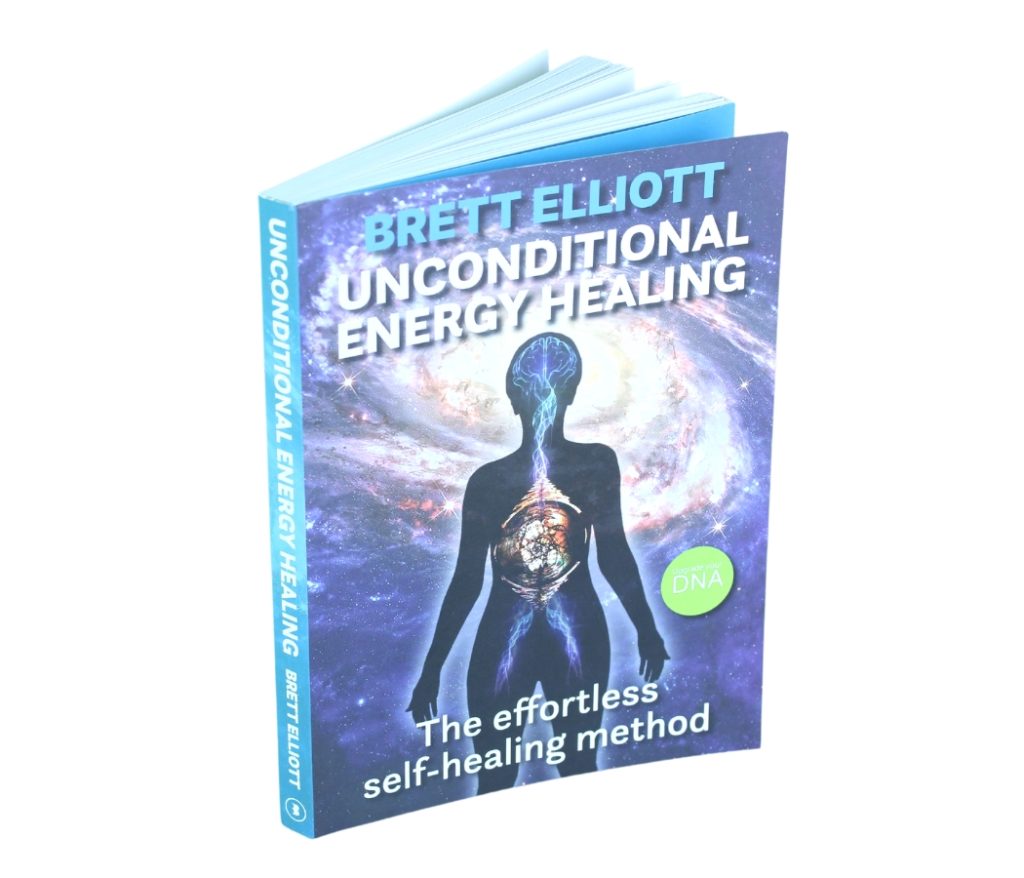 Unconditional Energy Healing Book
Using commonly accepted laws of physics, Brett explains the Unconditional Energy Healing method in a way that is easy to understand and practice at home. You will discover new pieces of code that you can receive and accept with your very own DNA to bring about absolute healing. By tapping into your deepest healing power, you can not only learn how to heal yourself but also help others to heal.
This book is not just about healing; it's about unlocking your full potential in life. Prepare to tap into the great intelligence that is behind the universe and experience unparalleled peace and health. The power is in your hands to unlock your deepest healing power with Unconditional Energy Healing. 
Daily Coaching Bonus – Value NZ$299.00
With this program, you'll receive a comprehensive at-home coaching program that will help you improve your health and happiness in just 2 months. Our program is designed to help you succeed with a series of short videos, tips, and recipes that will guide you every step of the way.
We believe in setting you up for success, which is why we provide you with a 3-day preparation period and a 2-day lead-in to ensure you're ready to take on the 2 months of herbal products. Plus, with 56 days of personal coaching, inspiration, tips, recipe videos, and links to research articles, you'll have everything you need to stay motivated and on track.
But our program doesn't stop there. We also provide a suggested long-term follow-up plan to help you continue your healthy lifestyle beyond the 2 months. And to top it all off, you'll receive all of this right to your email inbox each day!
But that's not all! As part of our program, you'll also receive FREE access to any of Brett's Live Webinars, where you'll learn even more about how to improve your health and wellness. And if you have any specific questions about your healing journey, Brett is available via live chat and email to provide you with personalized support.
So what are you waiting for? Start your 2-Month Transform Yourself program today and take the first step towards a healthier, happier you!
In this video, Brett clearly explains how the various parts of this holistic health program all work together to transform your life.